President Rouhani says Iran won't develop nuclear weapons
 10-11-2013
The US National Security Agency is able to access smartphone data such as contacts and text messages, according to reports.
The German news magazine Der Spiegel cites internal documents from the intelligence agency and its British counterpart GCHQ in which the agencies describe setting up dedicated teams to crack protective measures on iPhones, BlackBerry and Android devices.
This data includes contacts, call lists, SMS traffic, notes and location data about where a user has been.
A 2009 NSA document states that it can "see and read SMS traffic".
It also notes there was a period in 2009 when the NSA was temporarily unable to access BlackBerry devices when it changed the way it compresses its data.
But in March 2010, an NSA department regained access to BlackBerry data and celebrated with the word, "champagne!".
Der Spiegel says the documents do not indicate that the NSA is conducting mass surveillance of phone users but rather that these techniques are used to eavesdrop on specific individuals.
The article published on Sunday does not say how the magazine obtained the documents.
But one of its authors is Laura Poitras, an American filmmaker with close contacts to NSA leaker Edward Snowden.
The latest revelations come after documents handed to The Guardian by Snowden showed the NSA had developed the capability of breaking encryption codes protecting millions of websites.
Radiation level spikes further near toxic water tanks at Japan's Fukushima plant
Egypt's Government Thugs Beat Me Up at the Rabaa Sit-In
Scores of protesters are feared dead after a day of violence in Cairo. Mike Giglio was among the foreign reporters arrested and beaten by security forces
Mohamed Abd El Ghany/Reuters
There were several cops punching and slapping me in the head so I said okay and typed in the password.
How to End the War in Syria
The conflict, now in its third year, has cost the lives of more than 100,000 people and displaced millions. Irena L. Sargsyan on what the West should do
Ahmed, center, mourns his father Abdulaziz Abu Ahmed Khrer, who was killed by a Syrian Army sniper, in Idlib, north Syria. (Rodrigo Abd/AP)
Bodies of Syrian rebels lie on ground where they were killed during an ambush by Syrian forces near the Damascus suburb of Adra, Syria, August 7, 2013, according to the Syrian official news agency SANA. (SANA/AP)
The time has come for the United States to shift its focus.
Goodbye, Ahmadinejad: Rouhani takes over as Iran's president
The Ironies of  America`s cold war with Russia come full circle…
 July 31
Egypt army ousts Morsi, who decries 'coup'
Snowden rumors temporarily ground Bolivian president's plane in Europe
Bolivian President's Plane Rerouted Under Suspicion That Edward Snowden Was Aboard
President Evo Morales flew out of Russia Tuesday after expressing sympathy for the former National Security Agency contractor. Bolivian officials said Snowden did not get on the plane with him.
Iranians revel as new president hails 'victory of moderation'
Syria President Bashar al-Assad says Golan will be new war front
SYRIA'S President Bashar al-Assad has threatened to open "a new front" against Israel in the Golan Heights, as his country's civil war worsens.
He also blamed "Israeli escalation" for the growing role of the militant Shia group Hezbollah in trying to shore up his regime.
In an interview on the Hezbollah-owned TV station al-Manar, Assad said Hezbollah was now in Syria because Israel was involved.
"There is pressure by the people to open a new front in the Golan," he said. "Even among the Arab world there is a clear readiness to join the fight against Israel."
Assad also insisted that Russia would deliver all the weapons his regime had purchased, which would include the S-300 anti-aircraft missiles Israel has called on Russia not to provide to Syria.
Sweden Sill  Hunts Suspects After A Week Of Violent Riots
Frontier Fire
NBA Star Rodman Asks N. Korea to Release Jailed American
U.S. Federal Government Hunkers Down For Massive Cyber Attack Tuesday
"On 7 May 2013, a group of mostly Middle East- and North Africa-based criminal hackers are preparing to launch a cyber attack campaign known as 'OpUSA' against websites of high-profile US Government agencies, financial institutions, and commercial entities," reads a warning sent across federal agencies earlier this month. "The attacks likely will result in limited disruptions and mostly consist of nuisance-level attacks against publicly accessible webpages and possibly data exploitation. Independent of the success of the attacks, the criminal hackers likely will leverage press coverage and social media to propagate an anti-US message."
AFTER THE MELTDOWN
 Arrested
Former Pakistani President Detained After Dramatic Escape From Court
Nicolas Maduro Wins Venezuelan Presidential Election.. Chavez's Heir Earns 50.7 Percent Of Votes To Challenger's 49.1 Percent.. Margin Of Victory Just 235,000 Ballots.. Capriles: 'The People Don't Love You'.. Expert: 'Official Winner Appears As The Biggest Loser'
U.S. government, business leaders push China on cyberattacks, Internet censorship
MARGARET THATCHER DIES AT 87 OF A STROKE
Iran steps up weapons lifeline to Assad
By Louis Charbonneau

Mexico's President Sends Warning Shot To Party… But Critics Say These Are The Same Old Tactics
Kenya's Upcoming Election Haunted By '07 Violence
U.S. To Send $60 Million In Nonlethal Aid To Syrian Rebels.. Direct Support Marks Washington Policy Shift.. 'No Nation, No People Should Live In Fear Of Their So-Called Leaders'.. U.S. Aid To Up Pressure On Assad To Step Down
The cult of Silvio Berlusconi: Why Italians keep voting for 'Il Cavaliere'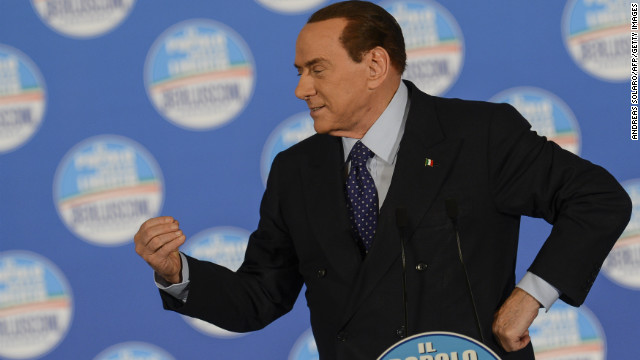 Scandal-plagued three time ex-premier Silvio Berlusconi finished second in Italy's election
Italians and non-Italians have very different views of Berlusconi, argues journalist Bill Emmott
For all his faults, Emmott says Berlusconi did better than most at listening to his voters
New IAEA Report Reveals Iran's Nuclear Advances.. Israel: 'Iran Is Closer Than Ever To Achieving Enrichment For A Nuclear Bomb'.. U.S. Calls Move 'Yet Another Provocative Step'
Iran's Supreme Leader Accosts Ahmadinejad For Attacking Political Rivals.. Mudslinging Reveals High Stakes In Upcoming Presidential Election.. Ahmadinejad Shows No Signs Of Going Quietly Into Retirement
Ahmadinejad Vs. Ayatollah Khamenei: Iran's President, Supreme Leader Clash Over Political Authority Iran's Supreme Leader Rejects U.S. Offer Of Direct Negotiations.. Washington Tightens Sanctions To Target Censorship
Egyptian Opposition Claims Police Kill Activist Through Beating, Electrocution And Choking.. 60 Dead In Two Weeks Of Protests.. Brutal Crackdown Caught On Video
Human Rights Watch: Authoritarianism in Russia Reaches Level 'Unknown In Recent History'.. Political Crackdown Under Putin Worst Since Soviet Era..
Israeli jets strike convoy along Syrian border
China's mass annual New Year migration begins
Chinese travellers arrive to board trains as the annual Lunar New Year exodus begins at Beijing train station on January 26, 2013. The holiday also known as the Spring Festival sees tens of millions of migrant workers who provide the labour in the country's prosperous cities return to their villages and towns to spend time with the famillies left behind.
Chinese travellers arrive to board trains as the annual Lunar New Year exodus begins at Beijing train station on January 26, 2013. Passengers will log 220 million train rides during the 40-day travel season, the Ministry of Railways estimates, as they criss-cross the country to celebrate with their families on February 10.
Protests in Cairo  Commemorate 2 Years of Revolution
Thousands of protesters remained in Cairo's Tahrir Square late Friday despite thick clouds of tear gas, after a day of nationwide demonstrations on the second anniversary of the revolution that toppled President Hosni Mubarak.
Algeria Hostage Crisis Enters 4th Day; Foreigners Still Trapped
Algerian militants are claiming that as many as 34 hostages, including at least six foreigners, and 15 of their kidnappers were killed on Thursday in a helicopter attack undertaken by the Algerian military as the hostages were being moved to another location. A day earlier, 41 foreigners — including Norwegian, Japanese, British and American citizens — and more than 100 Algerians had been kidnapped at a natural gas complex in the southern part of the country. According to the Algerian military, the operation is "ongoing."
UPDATE:  According to the Algerian APS news agency, four foreign hostages have been freed by the Algerian army, though no other details have been provided. BBC News security correspondent Frank Gardner reports the following:
A UK Government official has confirmed to me that a "proactive Algerian military operation to free the hostages is under way". They cannot confirm if there is any truth in militant claims of a helicopter strike killing kidnappers and captives in a bus.
BP is withdrawing non-essential workers from Algeria, says CNBC. They have since released a press release, which you can read here.
Australian Wildfires Devastate Hundreds.. 'People Have Lost Everything'.. Mind-Blowing Photos Capture Destruction.. Incredible Survivor Stories.. Record-Breaking Heat Due To Climate Change?..
 Point of View: The British and their bizarre view of Americans
We lap up their culture, adopt their economics and are obsessed with the "special relationship". So why do British people have such a confused – even negative – view of Americans, asks writer Will Self.
In 1976 my American mother took me to see Tom Stoppard's two short plays, Dirty Linen and New-Found-Land. The former was a rather prescient – or possibly only perennial – farce about libidinous politicos and a prurient press.