Each day we bring you the very best in visual journalism
Know More Read Less




Protests turn violent in Egypt ahead of vote on constitution
Protesters threw rocks at police, who tear-gassed the protesters in Alexandria, Egypt
Clashes come day before second round of voting on controversial constitution
The protesters included those for and against President Mohamed Morsy
TOP DIPLOMAT
December 21, 2012 —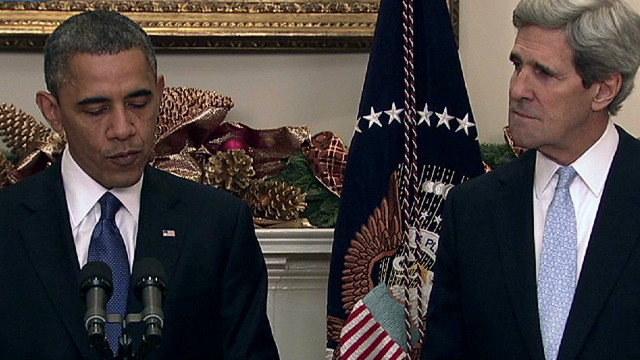 NEW: Secretary Clinton praises the choice and says Kerry "has proven his mettle"
The Massachusetts senator has Republican support
Obama has given Kerry important diplomatic assignments
Kerry has 'played a central role' in foreign policy for nearly three decades, Obama said
U.S. condemns 'provocative' Israel settlement building
The Obama administration called Israel's settlement-building programme "provocative" and a threat to peace in one of its harshest condemnations yet of Benjamin Netanyahu's policy.
A construction site in the east Jerusalem neighborhood of Ramat Sholmo
Pyongyang Displays Kim Jong Il's Body, His Yacht And Train Carriage On First Death Anniversary.. Rocket Scientists Invited To Join Mourning Rituals.. Party Top Eulogizes Kim, Praises Son.. Missile Named After Deceased Leader
North Korea Successfully Launches Long-Range Missile.. Rocket Boosts Kim Jong Un's Credentials.. Move Likely To Bring New Sanctions.. White House: 'Highly Provocative Act'.. Celebrations In Streets Of Pyongyang.. WHY NOW?
Egypt's Army Takes Over Security Ahead Of Vote On Constitution.. Country Split Over Referendum.. Islamists And Their Opponents Plan Rival Rallies
Nelson Mandela 'has stopped talking'
South African leaders issued assurances about the health of former president Nelson Mandela on Sunday night after the 94 year-old was airlifted to hospital having reportedly stopped speaking amid a "troubling" deterioration in his condition.
U.S. And Russia Set For Surprise Meeting On Syria.. Chemical Weapons Threat Forces Negotiations With UN Mediator.. U.S. Insists Tide Turning On Assad.. Regime Allegedly Has Deadly Weapons Ready For Action
Mexico's Institutional Revolutionary Party Reclaims Presidency After 12 Years Out Of Power Clashes between supporters and opponents of President Mohamed Morsi erupted across Egypt on Friday following the president's decree to expand his power in a nation increasingly polarized by its troubled transition to democracy after last year's revolution.
Offices of the Brotherhood Freedom and Justice political party were set ablaze in Alexandria and reportedly in other cities. Pro- and anti-Morsi demonstrators clashed in Cairo and in towns across southern Egypt.
The unrest highlighted the anger that arose after Morsi's decision on Thursday to free himself from judicial oversight. With no new constitution or parliament, the president holds wide executive and legislative powers.
"Morsi is ignorant, he will burn down the country," protesters chanted in Cairo.
Police fired tear gas at rock-throwing youths near Tahrir Square, where tens of thousands of protesters, led by Nobel laureate Mohamed ElBaradei and other opposition leaders, gathered.
Miles away in north…
Egyptian President Morsi Makes Huge Power Grab.. Thousands Of Supporters Gather Near Palace.. Newspaper: 'Morsi A Temporary Dictator'.. U.N. Expresses Concerns Over Human Rights.. Supporters, Opponents Clash In Cairo..
'There Was A Disease But This Is Not The Remedy'
Gazans Pick Up Pieces After Cease-fire With Israel.. 161 Palestinians Killed In 8-Day Offensive.. Negotiations Could Open Blockade.. Mixed Feelings In Israel.. The HUGE Price Tag Of Israel's 'Iron Dome'..
Tanks, Gunships And Airstrikes Hit Gaza Amid Truce Talks.. UN Chief: Further Escalation Benefits No One.. Militants Call Leaflets Dropped On Gaza 'Psychological Warfare'
Israel And Hamas To Present Ceasefire Conditions Monday.. Palestinian Death Toll Approaches 100.. Israel Steps Up Attacks On Suspected Hamas Homes.
Target Unknown… Stray Syrian Shells Had Hit Israel… Obama: Israel Has 'Right To Defend Itself'… 5th Straight Day Of Israeli Stikes On Gaza… 11 Palestinians Killed In Deadliest Civilian Attack… Journalists Wounded…
Rockets Fired By Militants Hit Tel Aviv… More Than 200 Launched… 3 Dead In South… Heaviest Fighting In 4 Years… Netanyahu: Army Prepared For 'Significant Widening' Of Conflict… 16 Dead, Over 100 Injured In Gaza… BBC Journalist's Infant Son Dies In Attack… Israel Launches New Air Raids…
Israel Considers Militant Assassinations Amid Rocket Attacks.. Hamas Dismisses Threat As 'Psychological Warfare'.. Bibi Faces Tough Choice Heading Into Election
12 Nov 2012
Obama's Victory In Moscow: Time For Another Reset?
Barack Obama's re-election has allowed many people in Moscow to sigh with relief: The Cold War really is over. And that is the most important take-away from the Russian capital after the 2012 presidential election in the United States.
The Republican candidate, Mitt Romney, had surprised everyone during the campaign by citing Russia as America's No.1 geopolitical opponent. So his defeat means the Kremlin can stop worrying about such caveman-like announcements. Indeed, Russia can be assured that Romney, who is 65 years old, will not be running in the next U.S. elections.
Does Obama's re-election mean that Moscow and Washington have a second chance at a reset? The answer is obvious: yes, of course. However, the fact that history is giving these two former foes a second chance does not necessarily mean that the opportunity won't be wasted.
In the wake of the U.S. election, there is a wave a new expectations that every new term ushers in. It is a good time for the governments in both countries to work past their previous mistakes. Both administrations should figure out the reason why towards the end of the presidential elections in the United States the 'reset' with Russia morphed from a promising foreign relations project into the subject of increasing criticism and open derision from hawks in both Moscow and Washington.
It's not possible to build something with your right hand and destroy it with your left. Moscow cannot declare its commitment to a strategic partnership with the United States while at the same time fanning the flames of anti-Americanism, which has returned recently in the Russian media and to the lips of Russian officials after a brief historical respite.
That should be the lesson for Moscow from Obama's first term. It is not possible to build a serious partnership with someone whom you don't trust or whom you are constantly flipping off behind his back.
SENATE BATTLE: Dems Looking Good… HOUSE: GOP Favored… UH OH: Even Congressional Candidate Has Voting Problem… GOP Robocalls Spread Wrong Polling Info… Long Lines In Sandy-Damaged NJ… Six-Hour Wait…
OBAMA, ROMNEY FACE OFF IN FINAL SHOWDOWN
President Sinks Mitt's Battleship.. Romney's Red Lines.. Apology Tour?
Bush Dragged Into Crossfire.. Schieffer Slips Up.. Big 'Whopper' Called Out
ELECTION MAPS.. LATEST POLLS.. MORE UPDATES
Obama Hits Romney For Switching Foreign Policy Positions.. Candidates Leave Key Topics Untouched.. Romney: 'U.S. Can't Kill Its Way Out Of Extremist Threats'.. Obama: 'U.S. Will Stand With Israel'.. WATCH: Romney Completely Avoids Libya.. Obama: 'We Also Have Fewer Horses And Bayonets'
21 Oct 2012
BAIN RETURNS
The Obama-supporting super PAC Priorities USA Action is going back to Bain in a campaign-closing television ad campaign that attacks GOP presidential nominee Mitt Romney for his time in private equity. The group, which just reported raising $15.2 million in September, is re-releasing its most effective ad from the summer in key swing states. The spot features an employee at a Bain-controlled company discussing how he had to build a stage for a company announcement, only to find out that the announcement was that workers had been fired
FEISTY… Obama Makes His Case… 'His Best Performance'… Andrew Sullivan: 'I Am Bloody Elated'… Mark Halperin: 'I Don't Think Anyone Could Say Romney Won'… Instant Polls: O Scores Narrow Win
War-scarred Baghdad places little faith in U.S. election
Crisis Group calls EU "one of greatest conflict resolution mechanisms ever devised"
Italian protester has a complaint: Europe's economy "works in favor of the banks"
The Nobel Committee has "no ambitions" to save the euro, committee chairman says
We must work hard for "peace, for democracy, for freedom," German chancellor says
Merkel Meets Mass Protests On First Athens Visit During Debt Crisis
GRAPHIC PHOTOS: Agony In Aleppo
Turkey and Syria Trade Cross-Border Attacks
The most recent shelling on 3 October 20l2, which caused the death of five Turkish citizens and injured many, constitutes a cause of greatest concern for, and is strongly condemned by, all Allies.
In the spirit of indivisibility of security and solidarity deriving from the Washington Treaty, the Alliance continues to stand by Turkey and demands the immediate cessation of such aggressive acts against an Ally, and urges the Syrian regime to put an end to flagrant violations of international law.
Iranians Clash with Police as Their Currency Plummets
 The dramatic fall of the rial seems to be the first solid evidence that the strict oil sanctions placed on Iran because of their nuclear energy program are starting to have the desired effect. Their economy is on the verge of collapse and average citizens are beginning to lash out in anger at the government. Whether it's a bump in the road, the prelude to another crackdown, or the start of a legitimate uprising is still unknown, but if the regime lets the economic situation continue to deteriorate, the risk of a major upheaval could become very real.
October 2,  2012
A video, released by The Huffington Post and Mother Jones, showed Romney at a Florida fundraiser, saying that 47 percent of Americans are "victims" who are "dependent on government" and who he is not going to "worry about" in the campaign.
Hundreds Clash Outside U.S. Embassy As More Demonstrations Turn Violent.. Protesters Demand Punishment For Anti-Islam Filmmaker
Armada of British naval power massing in the Gulf as Israel prepares an Iran strike
An armada of US and British naval power is massing in the Persian Gulf in the belief that Israel is considering a pre-emptive strike against Iran's covert nuclear weapons program.
 Battleships, aircraft carriers, minesweepers and submarines from 25 nations are converging on the strategically important Strait of Hormuz in an unprecedented show of force as Israel and Iran move towards the brink of war.
PROTESTS SPREAD… Spokesman: Protesters Ejected From U.S. Embassy In Sudan… U.S. Marines Arrive In Yemen… Report: 2 Dead, 29 Injured In U.S. Embassy Protest In Tunisia… Protester Killed In Egypt… Report: 3 Killed In Sudan… Fire At German Embassy In Sudan… Libya Arrests 4 Over Embassy Attack… U.S. Drones Fly Over Benghazi…
'Death To America'… AFP: Protester Shot Dead… Protests In Cairo, Teargas Fired… 7 Embassies On High Alert… Yemeni Embassy Apologizes For Attack… Obama Calls Libyan, Egyptian Leaders..
9/11 Anniversary 2012: New York Ceremony Held For September 11
Ecuador: UK Has Threatened To Raid Embassy To Capture Julian Assange
North Korea announces that Kim Jong-un is married, prompting speculation that her may have already become a father.
Artillery And Attack Helicopters Strike Syria's Largest City.. Top Diplomats Defect.. Turkey Seals Shared Border.. Regime Focuses Forces On 2 Biggest Cities
Iraq attacks in Baghdad  'kill 107'
A wave of bomb attacks and shootings in Baghdad and north of the capital has killed at least 107 people, say security and medical officials.
Iraq deals with the aftermath of the attacks, questions arise about their timing and any link they might have to internal differences and regional developments.
But this kind of violence is not new to Iraq. It began just a few months after the US-led invasion and occupation of the country in 2003, and has never really stopped.
Since then, the country has been governed by an American civil administration, then by multiple Iraqi governments operating under US supervision.
Even after the US pulled out at the end of last year, the attacks continued, suggesting two constants – weakness on the part of Iraq's security forces, and the perpetrators' persistent ability to strike across the country.

U.S., Israel developed Flame computer virus to slow Iranian nuclear efforts, officials say
'We're Talking About One Of The Greatest Financial Rescue Operations The World Has Seen'
Beijing says China, Russia   ! united on Syria !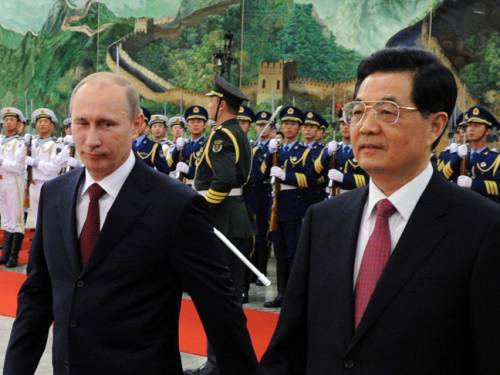 TRIPOLI – Clashes broke out between rival Libyan militias at Tripoli's international airport on Monday after gunmen drove armed pickup trucks onto the tarmac and surrounded planes, forcing the airport to cancel flights
To crown the festivities
Firefighters and rescuers search for victims at the site of a bomb attack in the central Bab al-Muadham area in Baghdad, Iraq, Monday, June 4, 2012. A suicide bomber detonated explosives in a car outside Iraq's main religious affairs office for Shiite Muslims tearing down part of the three-story building and killed and wounded scores of people, police said.
Promise of Arab Spring eluding Egypt
Shadi Hamid: Elections have left Egypt more polarized than ever
In June run-off, Ahmed Shafiq of Mubarak regime faces Muslim Brotherhood candidate
Hamid: Should Shafiq have role in new Egypt? Can Brotherhood share power with runners up?
Hamid: Brotherhood must reconcile with opposition before runoff or risk losing to Shafiq
US special forces 'parachuted into North Korea'
US and South Korean special forces have been parachuting into North Korea to gather intelligence about underground military installations, according to a senior US officer.