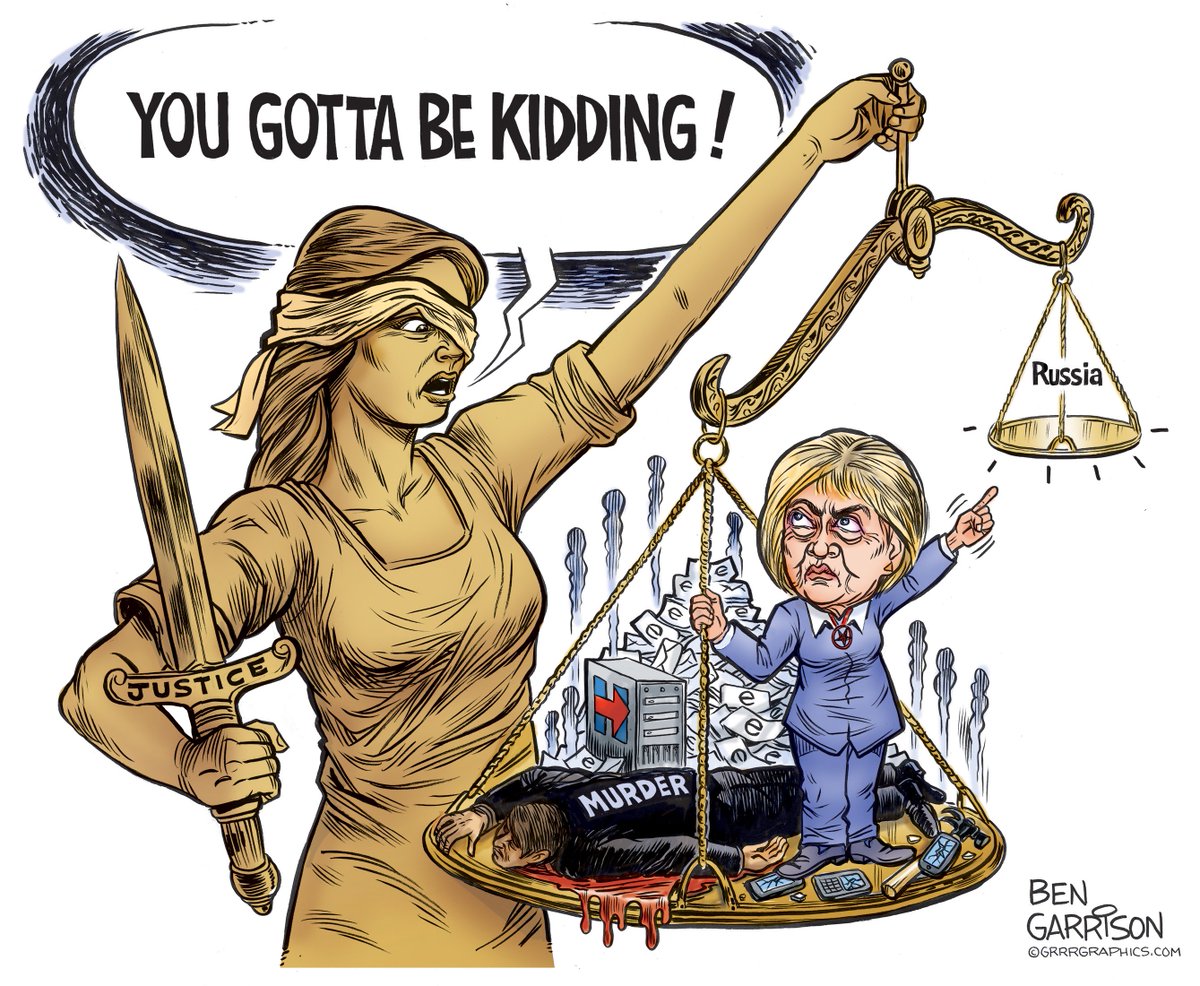 An internal Facebook document reveals that the social media giant monitors its users' offline behavior as part of how the company determines whether a person should be classified as a "Hate Agent," according to Breitbart's Allum Bokhari who has reviewed the document.
Titled "Hate Agent Policy Review," the document reveals that Facebook employs a series of "signals" which include a person's behavior both on and off the platform. Once determined to be a "hate agent," a person is banned from the platform.
If you praise the wrong individual, interview them, or appear at events alongside them, Facebook may categorize you as a "hate agent."
Facebook may also categorize you as a hate agent if you self-identify with or advocate for a "Designated Hateful Ideology," if you associate with a "Designated Hate Entity" (one of the examples cited by Facebook as a "hate entity" includes Islam critic Tommy Robinson), or if you have "tattoos of hate symbols or hate slogans." (The document cites no examples of these, but the media and "anti-racism" advocacy groups increasingly label innocuous items as "hate symbols," including a cartoon frog and the "OK" hand sign.)
Facebook will also categorize you as a hate agent for possession of "hate paraphernalia," although the document provides no examples of what falls into this category. –Breitbart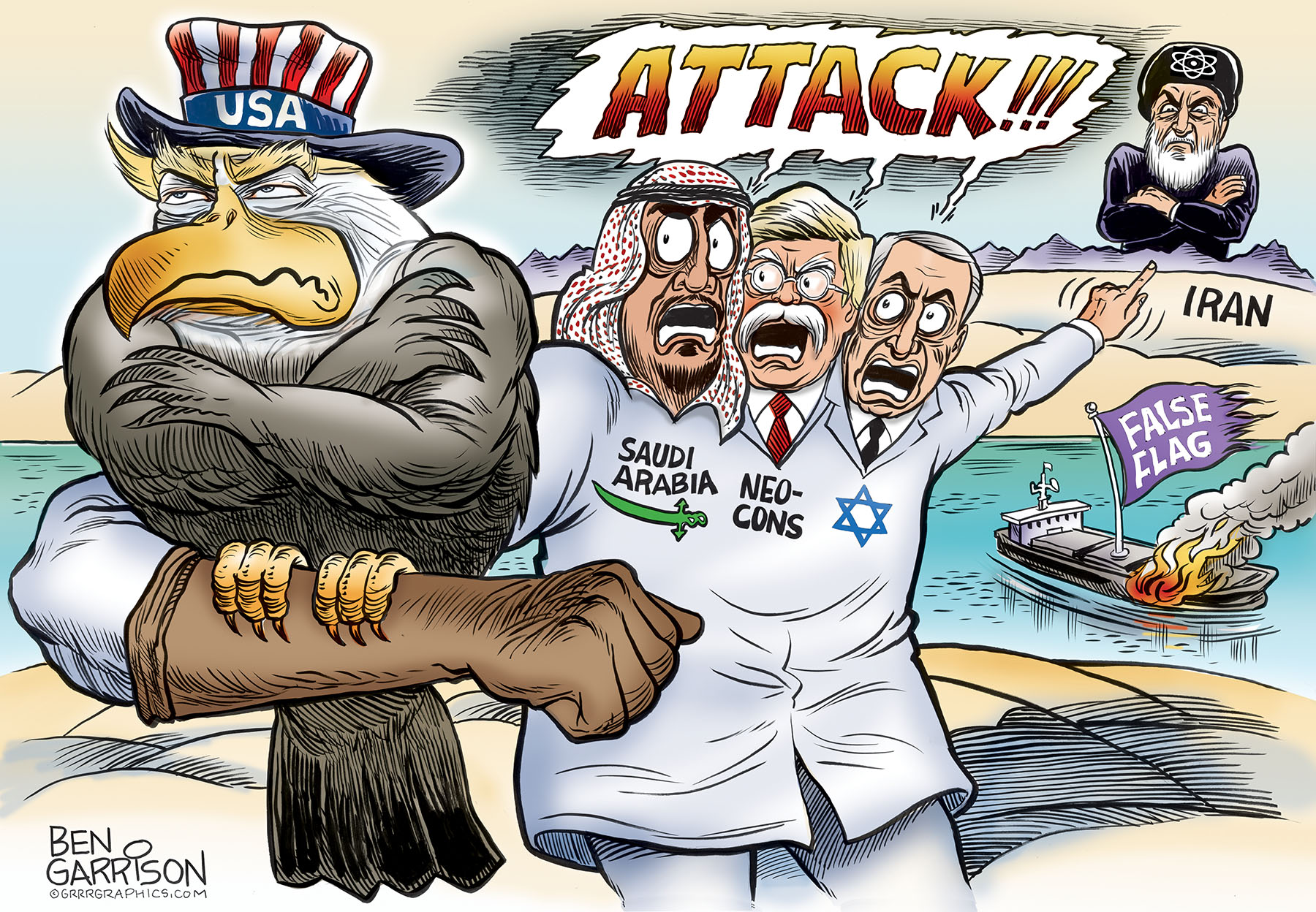 BAD  ADVICE
The globalists continue to push for war.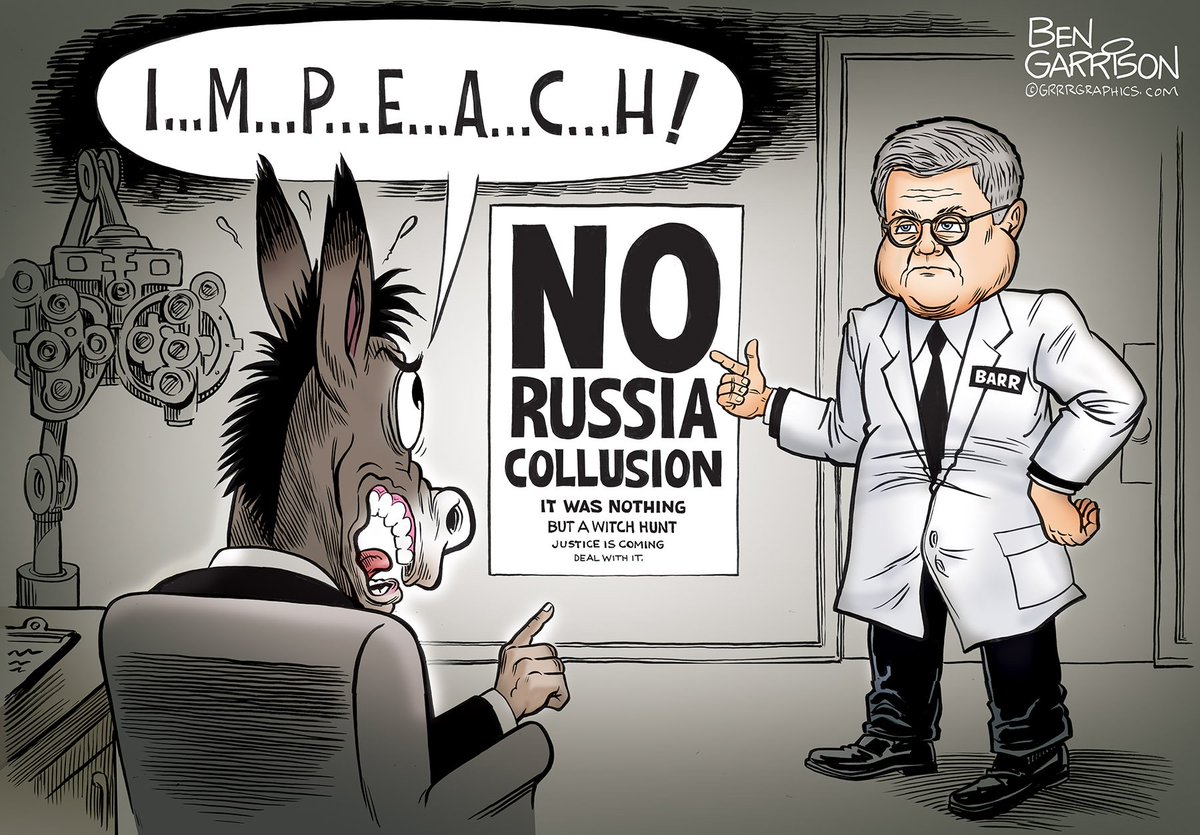 Mexican officials said Tuesday they were beginning deployment of the country's National Guard for immigration enforcement, but on Wednesday morning, commuters, merchandise and occasional groups of migrants continued to flow freely across Mexico's porous southern border. AP
Police officer fires tear gas at protesters during a demonstration against a proposed extradition bill in Hong Kong, China June 12, 2019. (Reuters/Athit Perawongmetha)
The proposed amendments have drawn opposition from across all sectors of Hong Kong society. Opponents say the bill could allow the Chinese Communist Party to charge and extradite within impunity, jeopardizing the city's autonomy.
Around 3 p.m. local time, the scene descended into chaos after some protesters attempted to break the police line. Local police used pepper spray, tear gas, rubber bullets, and bean bags in an attempt to remove protestors from the streets.
The Hong Kong government said debate on the bill that was due to take place at the city's Legislative Council (LegCo) on June 12 would be delayed until further notice. The LegCo is controlled by a pro-Beijing majority; the bill is thus likely to pass if it proceeds. LegCo head Andrew Leung has vowed to fast-track the bill and bring it to a vote on June 20.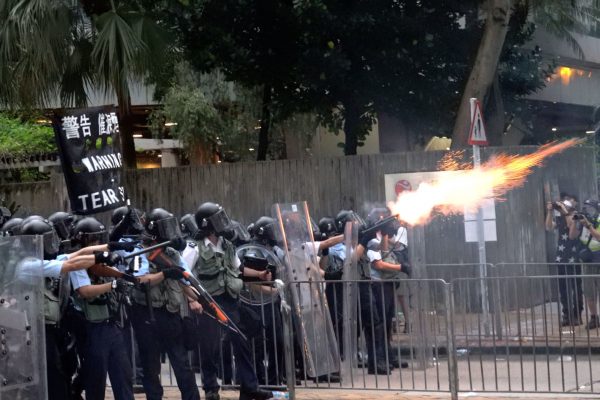 Hong Kong police fired off tear gas at the protesters on June 12. (The Epoch Times)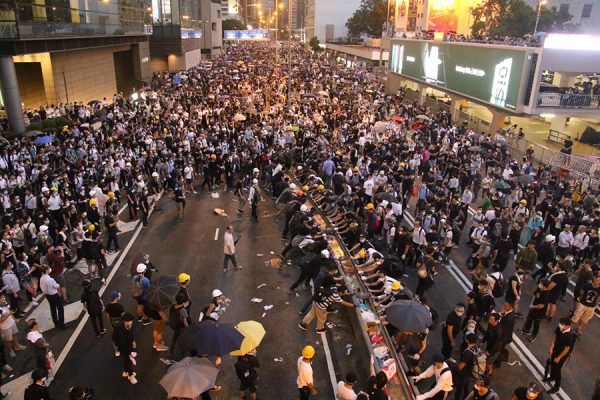 Protesters retreated to the street near the Far East Finance Centre in Hong Kong after police fired off tear gas and pepper spray to disperse the crowd. (Dennis Law/The Epoch Times)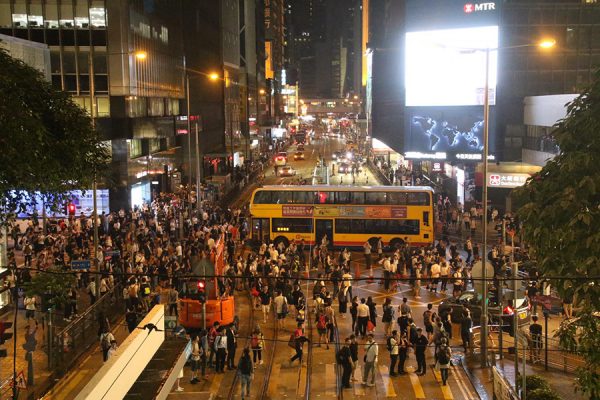 Protesters retreated to the street near the Far East Finance Centre in Hong Kong after police fired off tear gas and pepper spray to disperse the crowd. (Dennis Law/The Epoch Times)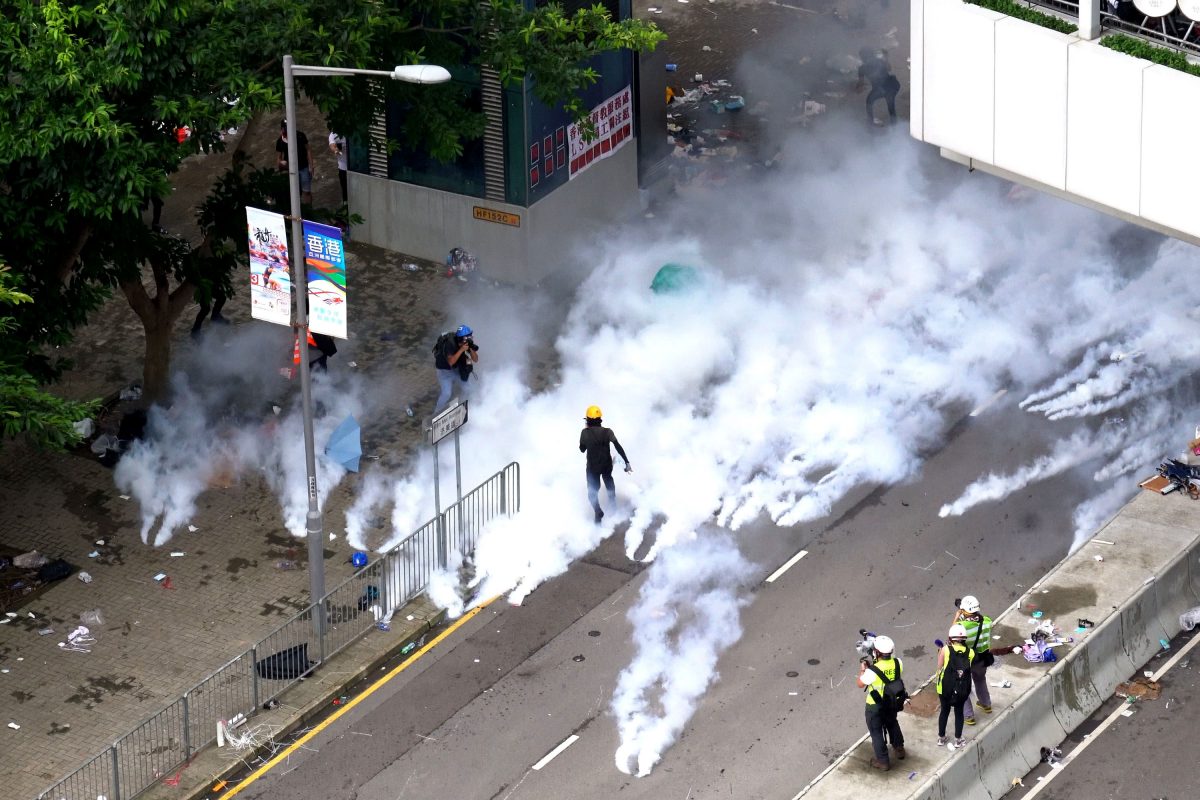 Police fired off tear gas on Tim Mei Avenue in Hong Kong on June 12, 2019. (Li Yi/The Epoch Times)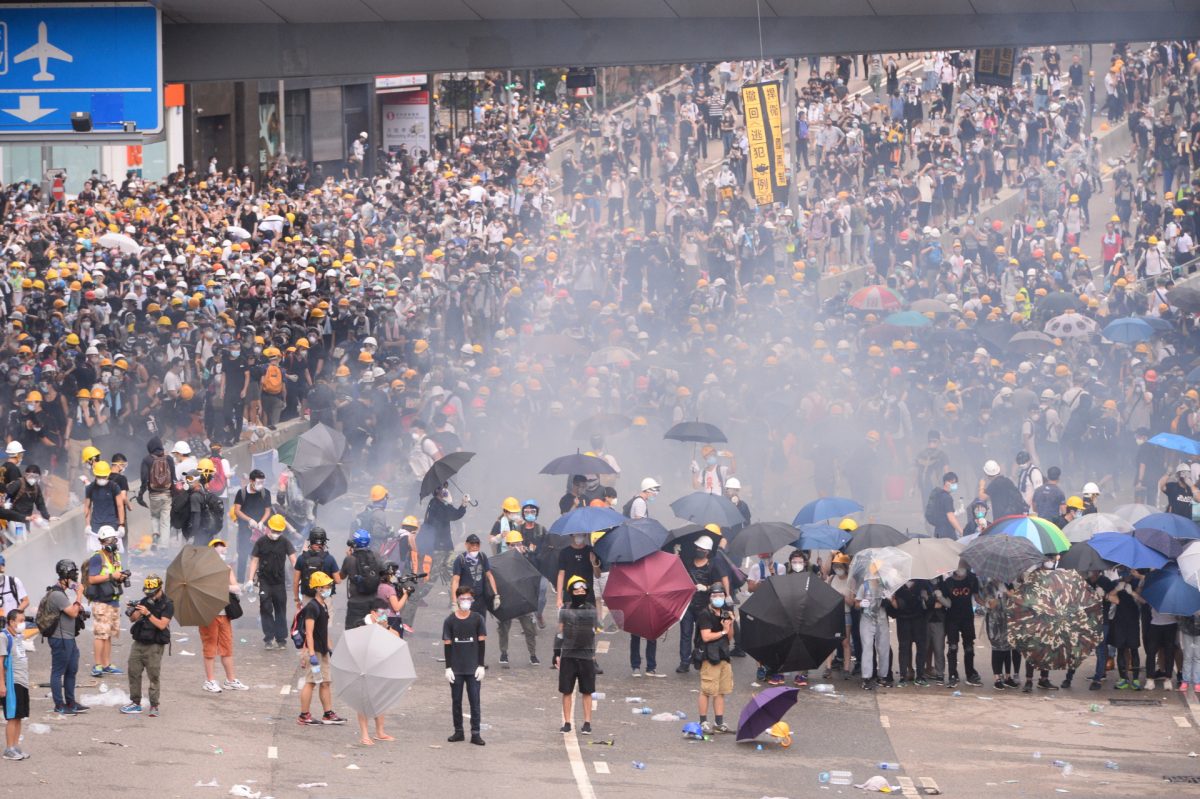 Police fired tear gas toward the protesters over 10 times near the Legislative Council of Hong Kong, on June 12, 2019. (Song Bilong/The Epoch Times)
Police fired tear gas toward the protesters over 10 times near the Legislative Council of Hong Kong, on June 12, 2019. (Song Bilong/The Epoch Times)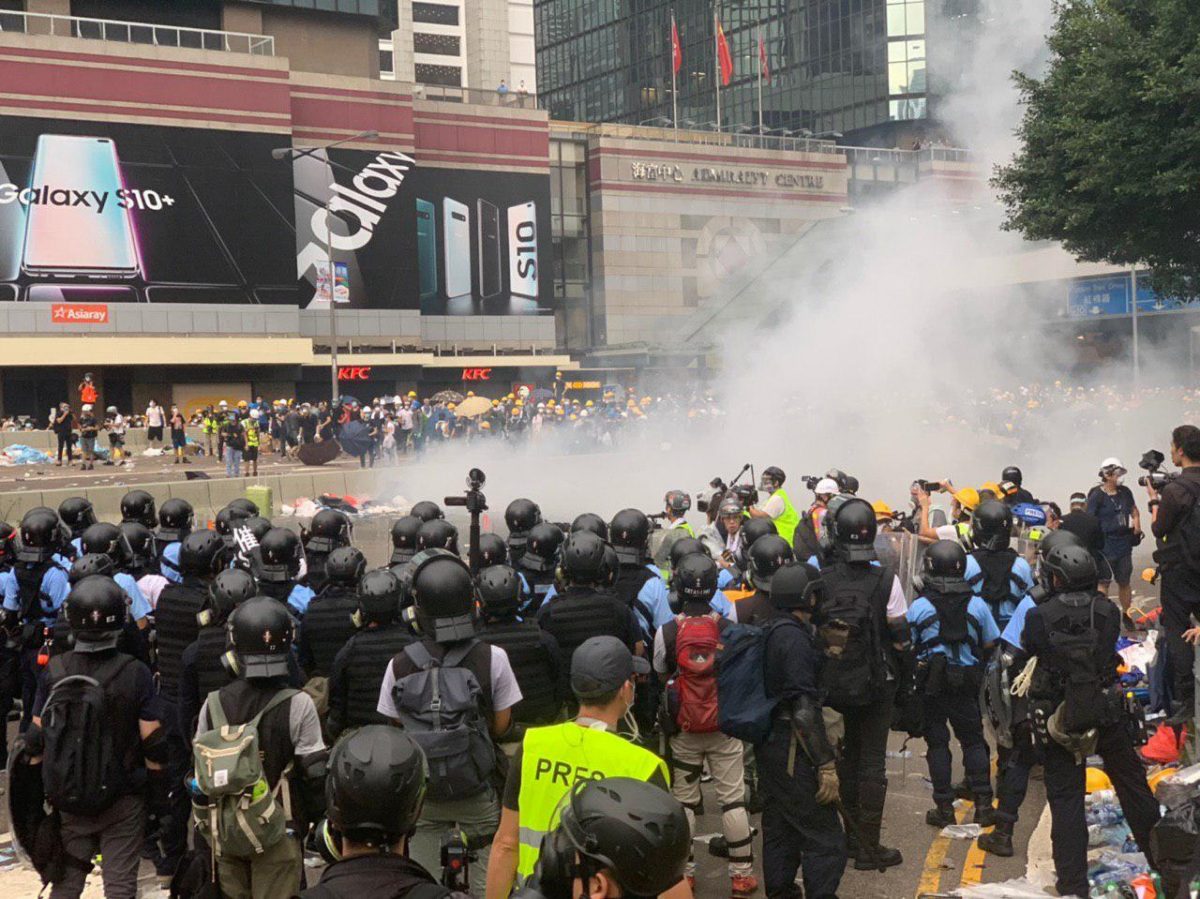 Police fired tear gas toward the protesters at the Admiralty Centre in Hong Kong, on June 12, 2019. (Li Yi/The Epoch Times)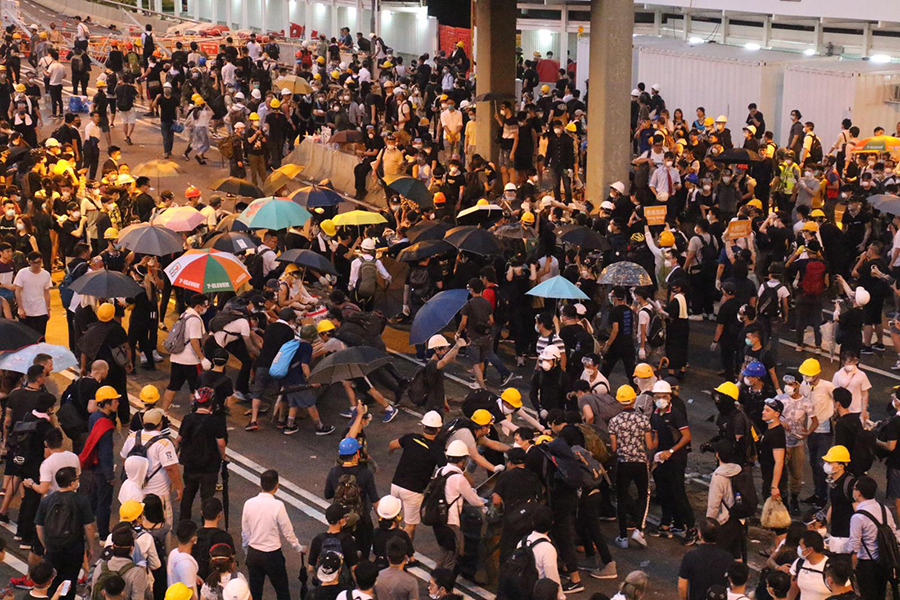 At least 22 protesters were injured after Hong Kong police used tear gas, rubber bullets, and bean bags to clear the crowd, on June 12, 2019.
PATRICK LAWRENCE: Regrouping the Nuclear Dealmakers
Allied Powers Intervening
Alarmed by the swift escalation of tensions between Washington and Tehran, allied powers are now actively intervening in behalf of negotiations to settle a crisis the U.S. has singlehandedly precipitated. Russia has also stepped up its diplomatic efforts. In effect, these nations are challenging Washington to declare its objective: Is it diplomacy, or another dangerous "regime change" operation with the threat of military conflict?
Emmanuel Macron made this clear during Trump's visit to the Normandy beaches last week. While supporting Trump's stated intent to reopen the nuclear accord he abandoned last year, the French president also listed "a regional situation as peaceful and secure as possible" among the goals he purports to share with Trump. Macron's challenge to the Bolton–Pompeo axis could hardly be plainer.
While Trump and Macron marked D–Day's 75thanniversary, Tokyo announced that Prime Minister Shinzo Abe is to travel to Tehran this week for talks with President Hassan Rouhani and Supreme Leader Ali Khamenei. There is an even-or-better chancethis will prove crucial to growing international efforts to defuse the Iran crisis.
The Japanese premier secured Trump's approval for his diplomatic demarche when he offered to mediate between the U.S. and Iran during Trump's four-day state visit to Japan late last month. Jiji, a Japanese wire service, reported Sunday that Abe intends to propose a Trump–Rouhani summit while in Tehran. If he does, the Japanese leader will effectively confront Trump head on: What will it be, Mr. President, war or peace?
Last Tuesday the Tehran Times reported that Sergei Rybakov, Russia's deputy foreign minister, proposed new talks — a joint commission, as he called it — convened by the signatories of the Joint Comprehensive Plan of Action, or JCPOA, as the 2015 pact governing Iran's nuclear programs is known. These are seven: the "P5+1" group — the U.S., Britain, France, Russia, China and Germany — plus Iran. While France and the other European signatories were prepared to renegotiate the accord as soon as the U.S. withdrew from it last year, Russia and China initially supported Iran's resolute refusal to refashion a hard-won agreement whose terms it has rigorously observed.
Questions arise. Should Iran now capitulate? Should it assent to new talks on the nuclear deal and related issues in response to Washington's abrogation of the accord? Reversing his earlier position, Mohammad Javad Zarif, Iran's gifted foreign minister, now signals that Tehran is open to renewed negotiations provided they are based on parity and mutual respect — conditions that, it must be said, may prove beyond the Trump administration's capacities to meet.
There are three reasons Zarif is right to alter course.
US Actions Require a Response
First, the layers of sanctions the Trump administration continues to impose — and now its threatening displays of military power in the Persian Gulf — are highly volatile "facts on the ground" that take the Iran crisis well beyond the nuclear accord alone. These require a response, as the French, the Japanese and the Russians now acknowledge. "Convening a joint commission would be a right step to take," Rybakov explained last week, "because we need to look into all aspects of the current, I would say, crisis situation around the JCPOA."
Airing of Tehran's Perspective
Second, new talks would allow Tehran to air its perspectives on the questions the U.S., with the acquiescence of its European allies, wants in a rewritten accord. Chief among these are Iran's ballistic missile program and its support for the Assad government in Syria and for militias active in Iraq. The U.S. has relentlessly distorted Iran's positions on these issues. Assuming renewed negotiations would be multi-sided, this could now be corrected in an international context.
Washington's complaints about Iran's missile tests do not stand up to scrutiny on any number of grounds. Iran is not developing missiles designed to carry nuclear warheads, as Washington contends, and in any case the U.S. argument is circular: Iran has no fissile material to make warheads by virtue of the JCPOA. It is active in Syria and Iraq at the invitation of both governments and to combat Sunni extremism — the very terrorism the U.S. accuses it of backing.
Not to be missed in this latter connection, Zarif has long called for a regional security mechanism through which diplomatic solutions to conflicts of all varieties can be negotiated. In its latest iteration, announced two weeks ago, he proposed a non-aggression pact to be signed by Iran "and its neighbors in the Gulf," as Zarif put it. Is this the thought of a "terrorist" state intent on destabilizing the region?
Sergei Lavrov, Russia's foreign minister, said four days after Zarif's announcement that Moscow was prepared to facilitate such an accord. As Rybakov put it, making a delicately veiled reference to the U.S. and its Sunni-nationalist allies, "You have a positive political alternative to a very destructive course that unfortunately prevails in some places."
Effective Multi-Sided Format
Finally, new talks convening the JPCOA's signatories would amount to a variant of the six-party talks on North Korea that began in 2003. While those talks were discontinued early in the Obama administration, the multi-sided format proved an effective mechanism in the intervening years. The advantage is that all issues can be negotiated among the nations with a direct interest in them. In this case, this would include Iran, the P5+1 group, and possibly Japan, given its close relations with Tehran and Premier Abe's surprising diplomatic initiative this week.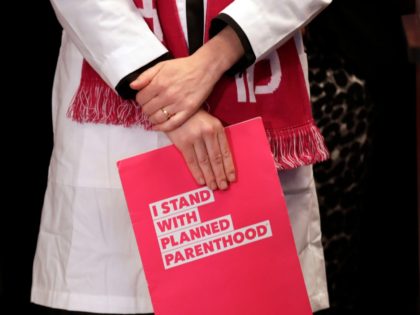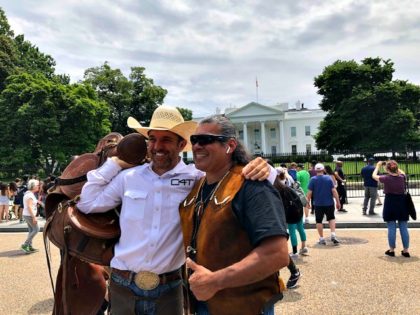 Last year, the FBI arrested American citizens Yi-Chi Shih and Kiet Ahn Mai on charges of scheming to steal military technology from an American company to export to China. Yi-Chi Shih's brother, Ishiang Shih, a Canadian professor teaching electrical engineering at McGill University, is also suspected of helping in the scheme.
La Presse says a PowerPoint presentation filed in a Los Angeles court, which was seized by the FBI as part of their investigation into the case, shows details on latest models of Japanese and American missiles, as well as the latest fighter jets and combat systems used by the United States and its allies.
The presentation, which includes the names of the Shih brothers on the bottom, also includes plans for a large factory in China to produce microchips capable of competing with the presented technology from other countries.
According to the French-language publication, the FBI alleges that the ultimate goal of the technology theft—which the brothers began plotting in 2006—was to build a high-tech factory in China to produce microchips for use in business and military applications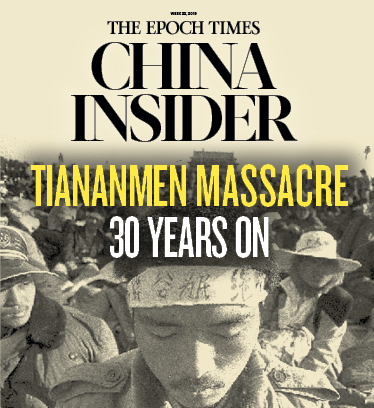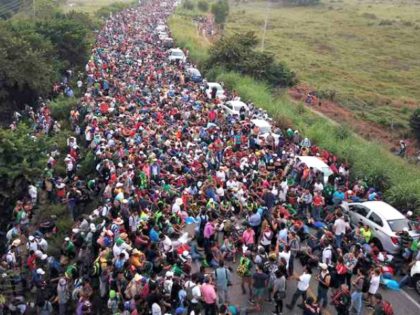 A migrant argues with a federal police officer during a joint operation by the Mexican government to stop a caravan of Central American migrants on their way to the U.S., at Metapa de Dominguez, in Chiapas state, Mexico June 5, 2019. REUTERS/Jose Torres
According to Reuters, the response from Mexico marks a major step in compliance with President Trump's demands that the country halt the flow of illegal immigration, primarily from Central America, in order to avoid 5% tariffs which are set to begin on Monday. According to the report, and INM officials told Reuters that migrants were being asked to show papers to show their status in Mexico.
The operation in Chiapas coincided with a meeting of Mexican and U.S. officials at the White House on Wednesday to thrash out a deal that would avoid blanket tariffs on Mexico threatened by U.S. President Donald Trump last week. –Reuters
"That many sailors and military police, yes, it's new" – said Salva Cruz, a coordinator with Fray Matias de Cordova located in the southern border town of Metapa in the state of Chiapas, where most of the Central Americans have been crossing into Mexico.
Migration officials detained 350 to 400 people, the official said, noting that federal police and agents from the National Guard were present. Mexico's government recently created a militarized police force called the National Guard made up of soldiers and federal police.

…

Mexico's National Migration Institute (INM) said in a statement that a group of about 300 people entered Mexico by a border bridge Wednesday morning, and another 120 people joined the group as they walked to the city of Tapachula.

The migrants later agreed to be taken by bus to a migration office to be processed, the INM said. –Reuters
In May, US border patrol officers arrested over 132,000 people crossing into the country from Mexico, which is 1/3 more than in April, and the highest monthly figure since 2006 in what US officials have repeatedly said are "crisis" levels.
Meanwhile, Mexico is also cracking down on groups which help to facilitate illegal migration.
On Wednesday afternoon in Mexico City, police detained Irineo Mujica, director of the U.S.-Mexico migrant aid group Pueblo Sin Fronteras, and Cristobal Sanchez, a migrant rights activist, according to Alex Mensing, a coordinator with the group.

Pueblo Sin Fronteras has for several years guided annual caravans through Mexico, seeking to protect migrants and to advocate for their rights along a 2,000-mile trail ridden with criminals and corrupt officials who prey on lone travelers through kidnapping, extortion and other forms of assault. –Reuters
After Wednesday's talks failed to result in headway, Fitch downgraded Mexico's credit from BBB+ to BBB, while Moody's lowered Mexico's outlook from stable to negative.
President Donald Trump, left and Queen Elizabeth II toast, during the State Banquet at Buckingham Palace, in London, June 3, 2019. Trump is on a three-day state visit to Britain. (Dominic Lipinski/Pool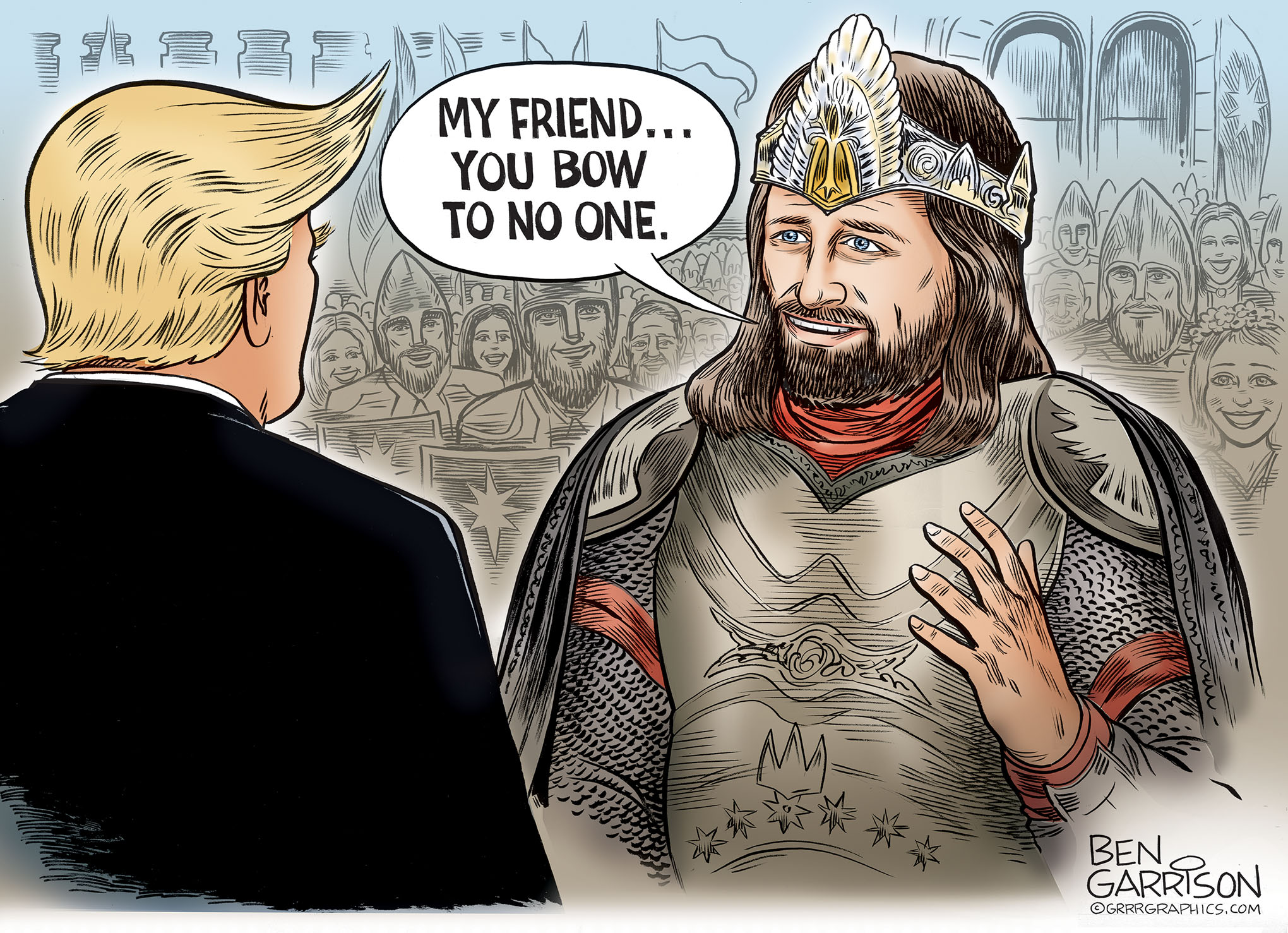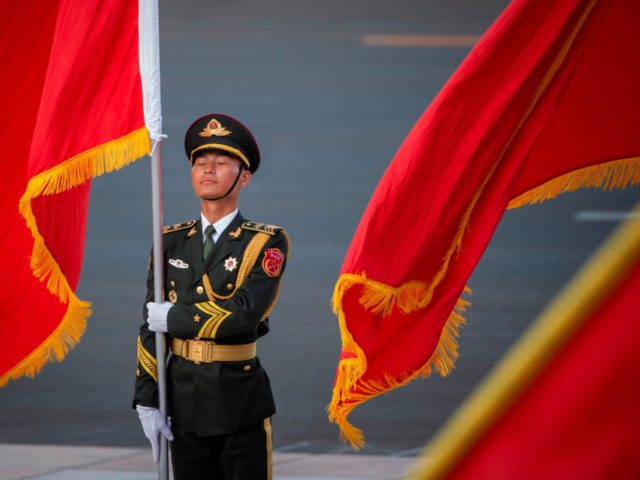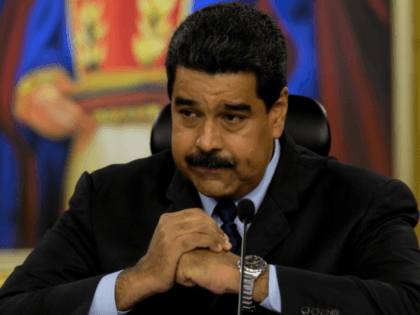 PHOTOS: Trump at Buckingham Palace…
…Meets Royal Family, Inspects Guard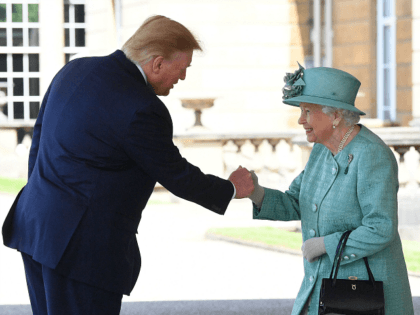 "Trump's Chile Pepper Recipe"

Now it's Mexico's turn. Also for far too long, the corrupt, quasi-narco state of Mexico has allowed a free flow of drugs across our southern border along with tens of millions of illegal aliens–Mexican and otherwise.  Congress has been complicit and possibly bribed to allow this.
President Trump's campaign cornerstone was the wall. Very little of it has been built because Congress (including some Republicans) just won't go along.The stock market looks crashy as a result of Trump's tactic, but that's just too bad. Avocados may become pricier. Also boo hoo, too bad. Nobody said there wouldn't be pain involved.It's necessary to stop the Republic's downfall, which will be a lot more painful.Becoming an American citizen should not be as easy as stepping over a border illegally.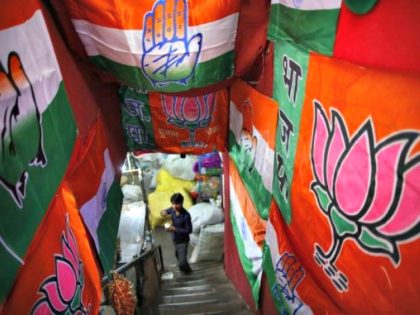 Brexit Party Tops Parliament Polls for First Time
Farage on Fire