These Stories Are Shaping The Future
An instant reflection of what the conversation is about at any given moment.
Gerald Herbert / Associated Press
Posted By: Jerome Adamstein
New Orleans celebrates Mardi Gras, Fat Tuesday, in the streets of the French Quarter, with all its traditions of elaborate floats, shameless revelers and flying beads. This is New Orleans' sixth Mardi Gras since 2005's devastating Hurricane Katrina, and this year's parades echoed the slow but steady recovery of the city. Mardi Gras marks the last day before Lent
Female Freedom Fighters
When Your Brand Rests On One Man
New York Oscar Night Party
"The Kings Speech" winner of Best Picture
In the Arena Wisconsin Budget Debate
I look in their eyes – there is hate in their eyes.
They don't want to hear any kind of viewpoint that is different from their own. That's why they do what they do."
Tens of thousands rallied in Madison and other US cities to denounce the state's proposed curb on union rights.
It appears that, effectively, Gaddafi no longer controls the situation in Libya.
Final Mission
RUNNING SCARED
International media is following protests across the 'Arab world' but ignoring those in Africa.
Massacre`  in   Libya
Visit msnbc.com for breaking news, world news, and news about the economy
Giving people free stuff is a great way to convince them to do something, especially when they get that free stuff just by cutting down their energy bills.
Earth Aid is a web app that operates a lot like Mint.com for your energy bill. Signing up for the free service will allow it to read your meter and track your output over time, giving you an online energy budget. The more energy you save on your electric, water, and gas bills, the more points you earn. These points can then be redeemed for rewards from local businesses and big brands such as Starbucks and Dove. The goal is to help you decrease your energy use and save some cash month-to-month.
Ferguson Slams Obama on Egypt
Niall Ferguson has this Valentine's Day message for President Obama: You really blew it on Egypt. On Morning Joe Monday, Newsweek's columnist blasted Obama as one of the "least experienced" presidents, in terms of foreign policy.
THE FIRST INTERNET REVOLUTION VICTORY
Elizabeth Taylor has been admitted to a Los Angeles hospital to treat symptoms of congestive heart failure, her spokesperson said.
The 78-year-old was taken to Cedars-Sinai Medical Center for the "ongoing health problem", spokesperson Sally Morrison said.
It is not clear how long she will be in hospital, Ms Morrison added.
Dame Elizabeth has a long history of medical problems and underwent heart surgery in 2009.
"Her family and close friends are appreciative of the warm support and interest of her loyal fans but have asked that people respect her privacy and allow her medical team the time and space to focus on restoring her back to health," a statement issued on Friday said.
The actress had been scheduled to attend an award at a benefit gala for HIV/Aids charity amfAR on Wednesday in New York, but missed the event.
An award given in recognition of her support to HIV/Aids work was accepted by Sir Elton John on her behalf.
Dame Elizabeth won best actress Oscars for Butterfield 8 in 1961 and Who's Afraid of Virginia Woolf? in 1967.
Gabrielle Giffords Wants Toast
Congresswoman Gabrielle Giffords has begun to regain her speech a month after being shot in the head in an assassination attempt, media organizations reported on Wednesday.
Giffords is speaking again while a patient at TIRR Memorial Hermann hospital in Houston, KHOU television reported, citing unnamed staff members.
She verbally requested toast as she was being fed a meal on Monday, according to the political journalism organization Politico.
Giffords' spokesman in Arizona, was not available to comment.
The Arizona lawmaker was shot in the head outside a grocery store in Tucson, Arizona, on January 8. Six people, including a federal judge, were killed and 12 others were wounded. Jared Loughner has been accused in the shootings.
Bill Maher: O'Reilly 'unpatriotic' for handling of Obama Super Bowl interview
During all the Bush years, there were few harsher critics of the White House than HBO "Real Time" host Bill Maher. Now, Maher is taking issue with Fox News Channel host Bill O'Reilly's Super Bowl interview with President Barack Obama. On Tuesday night's "The Last Word with Lawrence O'Donnell" on MSNBC, Maher attacked O'Reilly for his treatment of Obama.
"Well, actually he tried so hard. I mean, this man – I saw him with Bill O'Reilly as I'm sure a lot of people did in this country before the Super Bowl," Maher said. "And all I could think of is – I would never be that way. I just do not have it in me to take that much, really, that much guff, shall we call it, since I'm not on HBO."
Maher's view on how presidents should be treated is curious given his public statements on former President George W. Bush (calling for his impeachment in 2006) and former Vice President Dick Cheney (lamenting a failed assassination attempt). Maher praised Obama for containing "the rage" he must feel from what Maher views as disrespect.
"I just feel like the most difficult part of his job must be to squelch the rage that somewhere must be inside him to say, 'I'm the president of the United States. You don't talk to me like this. I'm not some left – I'm not Al Sharpton, you know? I won this job,'" Maher said. "And Bill O'Reilly who claims he's such a patriot, how unpatriotic in my view to treat a president that way. How does that look to other countries when you;re interrupting and belittling —
President Barack Obama is calling for a six-year, $53 billion spending plan for high-speed rail, as he seeks to use infrastructure spending to jumpstart job creation.
An initial $8 billion in spending will be part of the budget plan Obama is set to release Monday. If Congress approves the plan, the money would go toward developing or improving trains that travel up to 250 miles per hour, and connecting existing rail lines to new projects. The White House wouldn't say where the money for the rest of the program would come from, though it's likely Obama would seek funding in future budgets or transportation bills.
Obama's push for high-speed rail spending is part of his broad goal of creating jobs in the short-term and increasing American competitiveness for the future through new spending on infrastructure, education and innovation. During last month's State of the Union address, Obama said he wanted to give 80 percent of Americans access to high-speed rail within 25 years.
Steve Jobs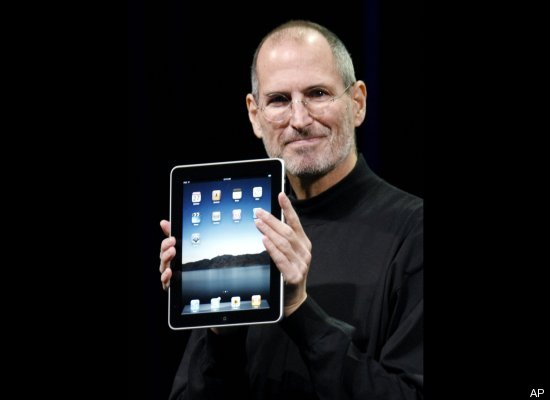 Armani Goes Gaga
The reclusive designer has found his muse in Lady Gaga. In this week's Newsweek, Robin Givhan says the outrageous frocks he has designed for the pop star have freed him from his gilded cage. Plus, a Gaga gallery.
After winning two Grammy Awards last year and swanning down the red carpet like a celestial debutante with her own orbiting moons, Lady Gaga is now up for Album of the Year for The Fame Monster. One can only assume—hope, pray—she will arrive at the Staples Center in Los Angeles wearing a costume more marvelously atrocious than anything even her most ardent fans, the little monsters, could fathom.
Stefani Joanne Angelina Germanotta, 24, steamrolled into the popular consciousness with accessible pop beats, an outré public persona, and a well-crafted personal history founded on the irresistible fable of the misunderstood outcast who now finds herself with more than 10 million Facebook friends. No matter how much one adores her songs or despises their ubiquity, it's impossible to separate her musical success from her fashion—a manner of dress that blurs the line between costume and couture. Her sensibility is too self-consciously considered to be madcap stagecraft. Yet it doesn't have the kind of eloquence that exemplifies French couture. It is, in essence, couture kitsch.
Gaga's relationship with the fashion industry is, as one might imagine, complicated. It is symbiotic, exploitative, audacious, and, at times, embarrassing. In the past, when fashion designers have glommed on to a new star, they have bent her to their will. If she is fat, she soon loses weight. If her hair is a jungle of curls, it's quickly flat-ironed. If her taste is too down-market, she swiftly goes upscale. The poor dear doesn't stand a chance when set upon by an industry of self-appointed Pygmalions.
This time, however, Gaga is calling the shots.
She reinvigorated Giorgio Armani, the veteran Italian designer who has often felt stifled by his own success. American Gigolo, Oscars, power suits. Gaga set him free. When her hoop-skirted, crystal-studded extravaganza appeared on the red carpet last year, Armani's staff sent an email across the fashion world identifying it as the work of the ever-discreet designer. One could only respond with "Holy bedazzlement!"
Gallery: Armani Goes Gaga
Paolo Pellegrin / Magnum; Mark Davis, CBS / Landov
The experience left the septuagenarian designer sounding positively gob-smacked. "True creativity knows no bounds," he enthuses. "Life has an extra dimension made up of dreams, pleasure, and irony." Little monsters, please discuss and, if you can, tell us what that means.
Gaga's personal daring opened doors for her collaborator Nicola Formichetti—the stylist and fashion editor responsible for the meat frock she wore at the MTV Video Music Awards last fall. Formichetti now serves as the creative director of Thierry Mugler and is charged with raising the French brand from its moribund state. He's doing so based on what might be described as the Gaga Doctrine.
"The way I work with Gaga is to be free and creative and to do something new," Formichetti says. "The starting point is always to be art, fashion, music, and performance art. That's how I deal with all my projects. And that's how I started with Mugler… the Internet, digital communications, and marketing the clothing is as important as designing the clothing."
"I'm not an elitist," Formichetti says. "I want everyone to share what we're about."
Gaga is not some high-strung fashion icon. She isn't setting a standard of dress for the masses. She has donned a coat stitched out of Kermits, worn dominatrix gear to a nursing home, and walked down the street in little more than her underpants. Fans might doll up for her concerts in wigs and colorful makeup, but Gaga hasn't popularized any major trends—and for folks with a sensitive stomach or a quaint devotion to propriety, this is probably for the best.
Instead, she is the video vixen next door, a fashion shoot come to your street corner, performance art in your living room.
She was spawned by an entertainment industry that produced Madonna, David Bowie, and Grace Jones, who built stage personas that toyed with prescribed gender roles, sexual prohibitions, and social power. They might not have been wholly intellectual in their costuming, but their message was multilayered. (Jones in a gorilla suit is an image rich enough to engage a battalion of sociologists for a lifetime.) Gaga hasn't expanded that conversation; instead, she luxuriates in the space carved out long ago.
Morning Tech Wrap: AOL, Super Bowl
AOL is buying The Huffington Post, an influential news, analysis and lifestyle web site for $315 million, the Internet company announced this morning, as it seeks to grow its presence as an online media powerhouse. AOL said the acquisition would help it create a media group with  a combined base of 117 million visitors a month in the United States, and reach 270 million people globally.
Huffington Post co-founder Arianna Huffington said on her blog that she would lead newly-formed The Huffington Post Media Group,  integrating all Huffington Post and AOL content:
By combining HuffPost with AOL's network of sites, thriving video initiative, local focus, and international reach, we know we'll be creating a company that can have an enormous impact, reaching a global audience on every imaginable platform.
——-
Green Bay Packers World Champions
Iran's supreme leader Ayatollah Ali Khamenei leads Friday prayers in Tehran on Feb. 4. Khamenei spoke out about Egypt's antiregime protests Friday, declaring an 'Islamic awakening' across the region that is resulting in the 'irreparable defeat' of American and Israeli influence.
Ayatollah Sayyed Ali Khamenei, Iran's supreme religious leader, addressed Egypt's protesters in Arabic on Friday, calling President Mubarak a 'traitor dictator' who has betrayed Egyptians.
Blizzaster 2011 continues all across the United States. The gigantic snow storm has resulted so far in 12,000 canceled flights, up to 60mph polar winds and thousands of car accidents like this one, sent by a Gizmodo reader:
Governor Cuomo wants to slash funds for schools, Medicaid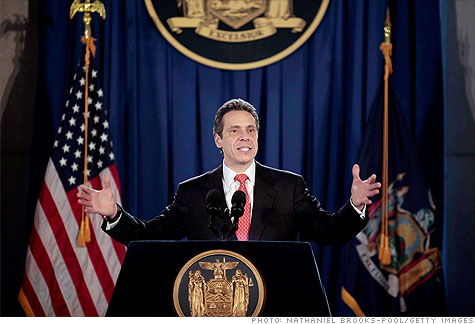 New York Gov. Andrew Cuomo wants to cut funding for state operations by 10% to close a $10 billion budget gap. By Tami Luhby
NEW YORK   Funding to New York's schools and Medicaid program would get slashed under a budget unveiled by newly installed Gov. Andrew Cuomo Tuesday.
Seeking to close a $10 billion budget deficit, the governor is proposing $8.9 billion in overall spending cuts, while raising $340 million in revenues and $805 million in one-time action.
In keeping with his campaign pledge, the governor is not calling for a tax increase, instead looking to improve collections and enhance the lottery.
Cuomo is proposing reducing school aid by $1.5 billion and Medicaid by $982 million. A 27-member Medicaid redesign team would offer cost-savings suggestions by March 1.
Education and Medicaid are the largest drivers of state spending. State law uses formulas to set the budgets in those areas, which would have resulted in 13% increases for each in the coming year. Cuomo made headlines Monday by calling attention to these automatic increases and labeling the budget process "a metaphor of Albany dysfunction."
"New York is at a crossroads, and we must seize this opportunity, make hard choices and set our state on a new path toward prosperity," Cuomo said. "We simply cannot afford to keep spending at our current rate
Canadians evacuated from Egypt AFP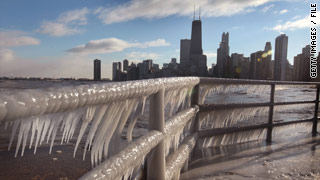 Cairo's airport is jammed with foreigners scrambling to leave Egypt as riots spread across the nation. Meanwhile, President Hosni Mubarak swears in a new Cabinet.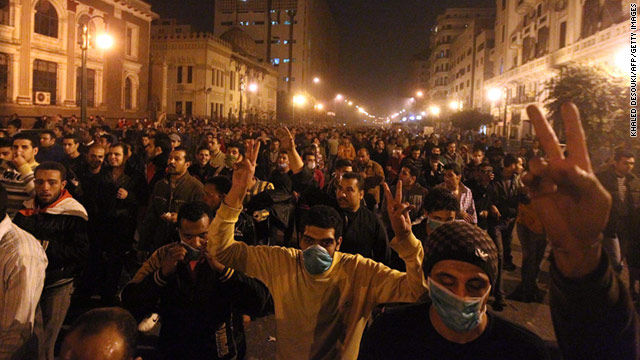 Editor's note: Blake Hounshell is managing editor of Foreign Policy. Hounshell formerly lived in Cairo, where he worked for the Ibn Khaldun Center for Development Studies.
This is the big one.
For years, Egyptian demonstrators raged against Hosni Mubarak's military regime, calling on their fellow citizens to take to the streets and oust the agents of their oppression. For years, earnest U.S. officials urged Mubarak to open up Egypt's political system, crack down on the grand and petty corruption that pervades Egyptian life and deliver economic progress to the masses. For years, analysts — myself included — dismissed the possibility of real change as long as Mubarak, now approaching his 83rd birthday and his third decade in power, still breathed.
It seems the Arab street had other plans.
Inspired by events in Tunisia, a smart, tech-savvy network of young activists seized upon January 25 — a holiday ironically celebrating the country's police — to organize mass rallies demanding Mubarak's ouster. The Egyptian interior minister dismissed them as "a bunch of incognizant, ineffective young people." Longtime Egypt watchers tried to keep their hopes low, expecting the same disappointing results as before.
Now, four days into an uprising in the Arab world's most populous country, the beating heart of its media culture, and the historical strategic leader of the region, it's no longer possible to argue that Egypt is a stable country.
The Future is America`s to Win
Ex-Guantanamo Detainee Receives Life Sentence NPR
Since the Tucson shooting on Jan. 8, federal gun control advocates have made little headway and many states are considering expanding gun rights.
Image Credit: Art Streiber/OWNOprah Winfrey promised to reveal a big family secret today on her show, and the Queen of All Media did not disappoint: According to the Associated Press, Oprah introduced her heretofore-unknown half-sister, Patricia. The talk-show host explained that her mother, Vernita Lee, had kept her pregnancy a secret and had given Patricia up for adoption when Oprah was nine years old. Patricia apparently initiated communication after seeing Lee in television interviews discussing certain details that dovetailed with the few facts Patricia knew about her birth mother. A DNA test has confirmed Patricia's relation to Oprah.
PopWatchers,where do you rate this revelation on the Oprah scale of Huge Revelations? Do you think Patricia will now get her a show on OWN? And what sort of cosmic coincidence leads to this information only just coming out in time for Oprah's final season?