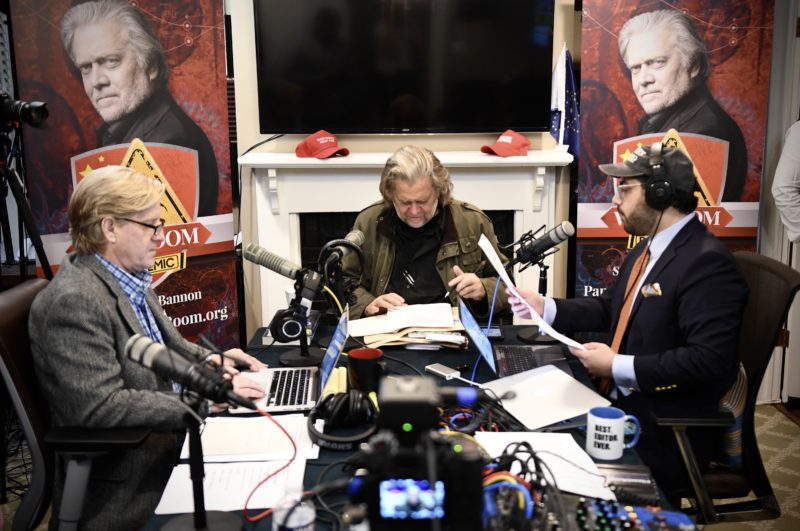 Steve Bannon War Room…
TOP POSTS
Anthony Fauci recently spoke to a conference sponsored by Wuhan lab collaborators, EcoHealth Alliance, The National Pulse can reveal. Despite a preponderance of evidence
Web Scrapers Claim to Possess and Sell Personal Data on 1.5 Billion Facebook Users on a Hacker Forum
The private and personal information of over 1.5 billion Facebook users is being sold on a popular hacking-related forum, potentially enabling cybercriminals and unscrupulous advertisers to target Internet users globally.If authentic, this may constitute one of the biggest and most significant Facebook data dump to date.
Later Update: Some forum users claim they were scammed by the alleged seller, raising questions about the authenticity and claimed magnitude of this leak.
Important Clarification: This is completely unrelated to the global Facebook outage experienced on 4 October 2021.

The timing of this news post and the Facebook outage constitutes an unfortunate coincidence leading to many incorrectly assuming a connection between the two.

Several websites and Twitter accounts incorrectly attribute the 4 October Facebook outage to this alleged data leak.

Our initial article was published 12 hours before the Facebook outage happened.

Further Clarification: It's alleged that the data was obtained by scraping publicly available data shared by users. Several media outlets and Twitter users misinterpret this to have resulted due to a hack or data breach, which is not the case.
It is seemingly unrelated to an earlier 2021 Facebook data dump, where 500 million users were affected.
Highlights:

Data scrapers are selling sensitive personal data on 1.5 billion Facebook users.
Data contains users': name, email, phone number, location, gender, and user ID.
Data appears to be authentic.
Personal data obtained through web scraping.
Data can be utilized for phishing and account takeover attacks.
Sold data claimed to be new from 2021.
Some prospective buyers claim they were scammed by the seller and no data was delivered after payment was made
In late September 2021, a user of a known hacker forum posted an announcement claiming to possess the personal data of more than 1.5 billion Facebook users. The data is currently up for sale on the respective forum platform, with potential buyers having the opportunity to purchase all the data at once or in smaller quantities.
One prospective buyer claims to have been quoted $5,000 for the data of 1 million Facebook user accounts.
According to the forum poster, the data provided contains the following personal information of Facebook users:
Name
Email
Location
Gender
Phone number
User ID
Related:Dark Web Price Index 2021 – We looked into the prices hackers charge for items such as hacked Facebook, Instagram and LinkedIn accounts and even online banking logins on the dark web
Update: After this news was initially published, a forum user and prospective buyer claimed they paid the seller but haven't received anything in return. The seller hasn't yet responded to these accusations.

All we know at this moment is that the multiple samples provided to forum users appeared to be real.
Samples presented on the forum show that the data indeed seems to be authentic.Cross-checking them with known Facebook database leaks resulted in no matches, implying that at first glance, the sample data provided is unique and not a duplicate or re-sell of a previously known data breach or scraping.The seller claims to represent a group of web scrapers in operation for at least four years, alleging that they've had over 18,000 clients during this time.
Data Obtained by Scraping
The traders claim to have obtained the data by scraping rather than hacking or compromising individual users' accounts. Scraping is a process of web data extraction or harvesting where publicly available data is accessed and organized into lists and databases.
While technically, no accounts have been compromised, this is little solace to those whose data may now end up in the hands of unscrupulous internet marketers and likely also in the hands of cybercriminals.
Unethical marketers may utilize this data to bombard specific individuals or groups of individuals with unsolicited advertising.
The fact that phone numbers, real-life location, and users' full names are included in the data is especially concerning. In addition, SMS and Push notification spam are becoming increasingly more prevalent even though most countries made these practices illegal many years agO
Data Can be Used to Jeopardize Users' Security
For example, hackers can use the scraped data to conduct sophisticated phishing attacks or social engineering attacks.
Identifying individual users' phone numbers makes it possible for cybercriminals to send fake SMS messages to affected users pretending to be various entities such as Facebook itself or even banks.
Users will then be invited to click on a link to either claim a prize, update their security settings, change their passwords, or do something similar.
After accessing the link, they will be redirected to a cloned version of the website the perpetrators pretend to represent. Then, if the user enters their actual current password, the cybercriminals will be able to hijack the affected account.
This is how Facebook accounts and even online banking logins are sold on the dark web for as cheap as just $10.
How is Facebook Data Scraped?
Scraping is the process of automatically collecting publicly available and accessible data online with the help of computer programs.
The majority of such data is obtained from simply scrapping Facebook profiles that have been set to "Public" by their owners. Unfortunately, the vast majority of personal information is freely shared and made available to the general public by Facebook users themselves.
Another popular – but illegal – method of data scraping is through fake Facebook surveys or quizzes.
Every Facebook user has seen a post such as "Find out your Game of Thrones Lookalike with this Survey" or "Take this Quiz to Find out When you Will Get Married," etc. Usually, these are schemes to obtain users' personal data.
Every time someone enters one of these surveys or quizzes, they permit the creators of these games to view their personal Facebook information such as full name, email, phone number, location, gender, and more.
Facebook Users are Advised to Enhance their Security
It's generally not recommended for Facebook users to set their accounts to be fully public.
Similarly, one should never enter random quizzes, surveys, or games on Facebook unless offered by a known and verified publisher. Almost always, these are, sadly, schemes used for data mining and scrapping
Beware of some foul language in the first 8 minutes. However, the evidence given in the remainder of this video is a MUST SEE!
MAKE NOTE …NEW MEDICINES…..below
Hydration Drops (Disease and Death are a Product of Dehydration).
PureMag (Single Most Important Mineral to the Human Body).
D-Cal Boron (Second Most Necessary Mineral in Human Nutrition).
PureDine Iodine (Most Lacking Mineral in Diets Worldwide).
Living Minerals (Nature's Most Important Supplement).
Immunize (World's Most Perfect Food – Think Immunity).
Vitalize (Think Stem Cells).
Activate (Designed to Help Control Yeast).
Fire Gel (Designed to Help Correct Imbalances in the Aura).
PureSilver (Use Full Strength or Dilute With Water to Help Control Bacteria, Virus, Yeast, Mold or Fungus).
PureCopper (Copper Has a Long List of Benefits and Works Synergistically With Iodine).
PureGold (Think Increased IQ, Improved Brain Function and Beauty Aid).
Sugar-D (Designed to Aid Pancreatic Function, Improve Metabolism and Circulation of Blood).
Siaga (Contains Chaga Mushroom, Black Cumin Seed and Licorice Root. Supports Lungs, Bronchial Tubes and Immune System)
– General Flynn is warning of an imminent false flag or "Bogus Banner" attack to distract from the explosive results of the Arizona Audits
– The Culture War has hit congress as even the Military leaders are spouting Marx, Lenin, and Communist talking points
– McAfee didn't kill himself
The Same Pattern Everywhere? Mass Vaccination triggers sharp spike in Cases and Deaths

Date: Monday, 17-May-2021

~Basil

https://www.lewrockwell.com/2021/05/no_author/the-same-pattern-everywhere/

The Same Pattern Everywhere?
Mass Vaccination triggers sharp spike in Cases and Deaths
……

The significance of this report cannot be overstated. The Salk researchers are confirming that the main damage from Covid is caused by the spike protein not the virus. And, if that's the case, then why are we injecting people with vaccines that teach their cells to make spike proteins?

It makes no sense at all.

And how does this effect our understanding of the phenomenon that we've seen in countries around the world, that is, the sharp rise in cases following mass vaccination?

Allow me to offer a plausible, but as-yet unproven explanation:

The sharp rise in cases and deaths following mass vaccination is NOT related to Covid "the respiratory illness", but Covid "the vascular disease". The vascular component is mainly the result of spike proteins produced by cells in the lining of the blood vessels (Endothilium) that are activating platelets that cause blood clots and bleeding. The other main factor is autoimmune reaction in which the killer lymphocytes attack one's own body triggering widespread inflammation (and potential organ failure.). In short, the post-injection fatalities are caused by the spike proteins produced by the vaccines and not by Covid. Once again, look at the chart of Cambodia. There were no deaths prior to vaccination. All the deaths came afterwards. That suggests that the fatalities are attributable to the vaccines.

One final thought: 118 million Americans have now been injected with a clot-generating spike protein. At present, no one seems to know of how long these potentially-lethal proteins remain trapped in the lining of the blood vessels or what damage they might eventually do. Keeping that in mind, wouldn't this be a good time to exercise a bit of caution? Now that cases have dropped sharply across the country, why not ease up on the vaccinations until we have a better grasp of the long-term risks? That would be the sensible approach, right? Just postpone further injections until product safety can be assured.

If there was ever a time for caution, this is it.




5G HAS BEEN MADE SAFE! IT WILL NOW FEED 432HZ HEALING ENERGY TO OUR CELLS!! AND MEDBEDS!
March 19th, 2021