Civil War

January .2013
Car Bomb Rips Through Syrian Petrol Station.. Site Packed With People Queueing For Fuel.. At Least 11 Killed.. Dozens Injured.. Activist: Ambulances Loaded Burned Bodies, Wounded
NATO: Syrian forces firing more Scud missiles
NEW: One missile landed only 20 miles from the Turkish border, a NATO official says
NATO chief describes Syria's launch of the missiles as "an act of a desperate regime"
Development highlights the need for a protection plan for Turkey, NATO says
Scud missiles were fired from Damascus toward Aleppo, a Turkish official says
Massive explosions reported near Syrian air force compound
Opposition member fears hundreds killed in bombings; the death toll is unclear
"This is the largest blast I have ever felt since the uprising began," one man says
Syrian state-run media have not reported any bombings near the air force compound
Opposition: At least 31 people are reported dead across Syria on Tuesday
Syria: Aleppo Bombings Kill More Than 30
State media says bombings in Syria's second city caused huge destruction – a week after opposition fighters intensified fighting.
 Syrian state TV shows the aftermath of the attacks in Aleppo
More than 30 people have been killed in a wave of suicide bombings in the Syrian city of Aleppo.
The attacks occurred in a series of three car bombings near an officers' club in the north of the country. 
State media say the bombing caused massive destruction, further trapping scores more under the rubber. The number of dead is expected to rise.
One shaken resident told state-run Ikhbariya TV: "It was like a series of earthquakes. It was terrifying, terrifying."
Local activist Mohammad Saeed said the explosions went off minutes apart at one of the city's main squares. He said the blasts were followed by clashes and heavy gunfire.
The Britain-based Syrian Observatory for Human Rights confirmed the attacks, adding a fourth car bomb went off in the Bab Jnein area near the Chamber of Commerce, causing an unspecified number of casualties there.
The conflict in Syria has now been going on for 18 months – with opponents to President Bashar al Assad's regime targeting security agencies and soldiers more regularly.
There had been unsubstantiated rumours that Mr Assad had been in the city.
Last week Syrian opposition fighters launched a new more intense campaign to take Aleppo, the commercial hub of Syria as well as its largest city.
Footage has emerged showing Austin Tice, an American journalist who has been missing in Syria since mid-August, alive.
Tice was a freelancer for the Washington Post and the McClatchy chain, among others. He had not been heard from since August 13.
A 47-second video called "Austin was posted on YouTube last Wednesday, but was not widely noticed until it was posted on Facebook on Monday. Tice's family confirmed that it was actually him in the video, saying in a statement, "Knowing Austin is alive and well is comforting to our family. Though it is difficult to see our eldest son in such a setting and situation as that depicted in the video, it is reassuring that he appears to be unharmed."
Syrian Online Battlefield: Who Is Winning The War 2.0
Syria's ex-PM Riad Hijab says regime is collapsing
Former Syrian PM Riad Hijab, who defected to Jordan last week, has said the Syrian regime is collapsing "morally, financially and militarily".
Speaking in the Jordanian capital, Amman, he said the regime did not control more than 30% of the territory.
He called on the opposition abroad to unite and on the Syrian army to stand alongside its people.
UN humanitarian chief Valerie Amos is in Syria to assess ways to increase the flow of emergency aid there.
Mr Hijab added he was joining the rebel side and urged other political and military leaders to break away from President Bashar al-Assad's regime.
"I urge the army to follow the example of Egypt's and Tunisia's armies – take the side of people," he added.
This is the first time Mr Hijab has spoken publicly since fleeing to Jordan with his family last week.
Syria ex-envoy to Iraq: Assad regime is dying
Nawaf Fares tells Al Jazeera that despite Russian and Iranian support, embattled regime will not survive.
Nawaf Fares is the second senior diplomat to quit the embattled Syrian government
Syria's former ambassador to Iraq, who defected this week, has told Al Jazeera that President Bashar al-Assad's regime is "dying".In an interview with Al Jazeera's Inside Syria programme on Saturday, Nawaf Fares said the regime is in power only due to Russian and Iranian military support, and the hesitation of the international community to take concrete action.He said he believes that 95 per cent of the Syrian people were against the regime.
"From the inside, the regime is dead – economically, socially and in all domains," he said.
Fares, who announced his defection on Wednesday, also said that Assad's forces were "shaking" amid increased defections in the Syrian army.
"The army will never stay solid as it is. [The regime is] now concentrating on the [military] elites to go to the hot areas, but there are threats of defection," he said.
"Even officers are oppressed. [The regime] will never go on forever."
Syria Crisis: Military Jet Pilot Defects To Jordan
Shells And Rockets Strike 'Once Per Minute'.. Opposition Fighters Reportedly Kill 23 Soldiers.. EU Slaps New Bans On Assad Regime Players
Syria Ghost Town
Explosions Kill Several, Tear Craters In Ground, Shatter Windows.. Government Blames 'Terrorists' In Ceasefire Setback
Wives of U.N. diplomats tell Syria's first lady to 'stop being a bystander'
Shelling In Homs Threatens 'Very Fragile' Truce.. UN Demands Freedom Of Access For Observers, Plans To Increase Advance Team
UN makes final call to halt violence as deadline looms
Annan's plan is well intentioned. Annan himself is a very intelligent man. But ultimately you cannot have this kind of diplomacy work without a credible threat of force. And I don't see a credible threat of force.
Late March, former United Nations Secretary-General Kofi Annan persuaded Syrian leader Bashar al-Assad to agree to a sensible planto stop the killing in Syria and start a process of genuine dialogue. Unfortunately, that plans seems highly unlikely to succeed.
That is because the Syrian regime is not fundamentally interested in dialogue with the political opposition. It seeks instead to brutally eradicate that opposition.
Syria President Bashar Assad Visits Devastated Baba Amr Neighborhood In Homs
March 27 (Reuters) – Syria has accepted a U.N.-sponsored peace plan, international envoy Kofi Annan said on Tuesday, as troops loyal to President Bashar al-Assad raided rebel forces who have taken refuge across the border in Lebanon.
Assad made a rare foray into the heartland of Syria's year-old uprising, visiting a rebel stronghold in the city of Homs that his forces had overrun after weeks of shelling and gunfire, apparently to make the point that he can now tour the streets of the once bitterly fought-over district.
Syrian state television showed video of Assad, wearing an open-necked shirt with a blue suit, walking casually in the devastated streets of the Baba Amr district and talking to groups of supporters and troops in combat gear.
Baba Amr was an emblem of opposition and rebel army defiance until it was reclaimed by government forces early this month after 26 days of heavy bombardment which opposition activists said was totally indiscriminate.
"Life will return to normal in Baba Amr, better than it was before," Assad said.
Activists says hundreds of civilians and opponents of Assad were killed in Baba Amr in February by shelling and snipers.
"He thinks he won and scored a great victory," said opposition activist Saif Hurria, speaking by telephone from Homs. "He wants to show the world he defeated and put down a revolution. But … it seems he can't even release the video until he has left Homs.





Syria: 'I am the real dictator', declares Asma al-Assad
Asma al-Assad, the British-born wife of Syria's president, told a friend that she was the "real dictator" in the family, according to leaked emails that suggest she holds a cherished place in the leader's inner circle.
Syria Crisis: 100 Civilians Killed A Day; U.N.: Death Toll Exceeds 7,500 Syria crisis: Iraq's Falah Fayadh 'positive' on talks
Pressure is mounting on the Syrian president to end nine months of violence
An Iraqi delegation led by National Security adviser Falah al-Fayadh says it has held "positive" talks aimed at ending the violence there.
Mr Fayadh was trying to broker a deal based on Arab League proposals, and said he would update the bloc at a meeting in Cairo on Wednesday.
Meanwhile, Syria's main opposition group held a conference in Tunisia.
The Syrian National Council is trying to present itself as a government-in-waiting set to replace Bashar al-Assad.
Pressure is mounting on the Syrian president to end the violence that the UN says has taken more than 5,000 lives since March.
Widespread anti-government protests encouraged by the Arab Spring triggered a harsh crackdown that has brought regional and international condemnation.
But after months of bloodshed and no sign of the regime falling, some Syrians have taken up arms in a bid to remove President Assad.
Arab League: Syria Sanctions Approved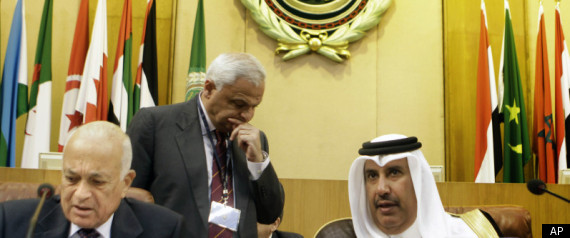 Syria Does Not Bow Down
Bashar al-Assad: Like Father, Like Son
Cartoonist Steve Breen on the Syrian president.
 Bloody civil war at hand as Syria under ultimatum
More than 3,500 people have died in months of anti-government protests in Syria, according to the UN. A UN spokeswoman blamed "the brutal crackdown on…
A UN spokeswoman blamed "the brutal crackdown on dissent" for the figure, which was based on sources on the ground.
Last week the Arab League said Syria had agreed proposals for a peace deal involving the opposition.
The UN says since then more than 60 people have been reported killed – many in the central city of Homs.
"Syrian troops continue to use tanks and heavy weaponry to attack residential areas in the city of Homs," said Ravina Shamdasani, spokeswoman for the Office of the UN High Commissioner for Human Rights (OHCHR).
Opposition activists say security forces have been mounting a heavy offensive on the city over the past few days, particularly on the contested Baba Amr district.
They say troops are going house-to-house to make arrests, although many residents are reported to have fled.
CALLING ASSAD'S BLUFF
Syria Accepts Arab League Plan
U.N. chief to Syria's Bashar Assad: 'This killing must stop'
There was no immediate response from Syrian authorities. Last week, the government accused "terrorists" of attacking the main hospital in Homs and trying to assassinate the head of the emergency room.
The U.N. chief, who has previously accused Assad of "broken promises," called on Damascus to allow a U.N. team to investigate more than 3,000 killings in Syria since large-scale protests erupted in March.
The cause of the deaths is a central source of dispute between the government and its critics. The Syrian government has restricted journalists, making it difficult to determine who is killing whom.
The Syrian regime blames armed "terrorists" acting on a "foreign agenda" for the deaths, and says that more than 1,100 security officers have been killed. But many have dismissed the government's version of events.
Groups calling for Assad's ouster allege that security officers have attacked peaceful protesters, killing civilians. The Obama administration and other Western governments have called for Assad to step down. Iran and other allies of Damascus have pledged support for Assad and denounced foreign intervention in Syria's affairs.
The Assad government says it has launched reforms, including a planned revision of the nation's constitution. Opponents dismiss the moves as a face-saving tactic.
Last week, the U.N. human rights chief, Navi Pillay, assailed a campaign of "ruthless repression and killings" in Syria and called for international steps to prevent a "full-blown civil war."
Earlier this month, Russia and China, two allies of Damascus, vetoed a U.S.-backed resolution at the U.N. Security Council condemning Syria's crackdown on protests as a "grave and systematic" violation of human rights. A new proposed U.N. resolution could be forthcoming, diplomats have said.
"It is a totally unacceptable situation that more than 3,000 people have been killed," the U.N. secretary-general said, urging Assad to accept a U.N. inquiry "as soon as possible, to find out the exact situation there."
Syria Unrest: The West 'seeks to break up' country
The West is trying to create "total chaos" to break up Syria, the country's foreign minister has said.
Speaking at the UN General Assembly, Walid Moualem blamed months-long anti-government demonstrations on "foreign intervention".
He said the reforms announced by President Bashar al-Assad had to take "a back seat" as a result.
Mr Bashar's government is accused of a violent crackdown that the UN says has killed more than 2,700 people.
The president denies the allegations, saying he is tackling armed gangs of terrorists.
In the latest violence, Syrian tanks bombarded a strategic town in the restive central province of Homs on Sunday night, injuring three people, activists and residents say.
'Hurting ordinary Syrians'
Addressing the UN General Assembly in New York on Monday, Mr Moulaem said foreign governments had sought to undermine the delicate balance between Syria's different religious groups.
"How can we otherwise explain media provocations, financing and arming religious extremism?" he said.
"What purpose could this serve other than total chaos that would dismember Syria".
Mr Moulaem also said that economic sanctions recently imposed by the US and the EU were hurting "the interests and the basic daily subsistence needs of the Syrian people".
The UN Security Council has condemned the government crackdown on protests, which erupted in March.
But the council remains divided over sanctions against Mr Bashar's regime: the call for tougher action from the US and European nations is being resisted by China, Russia and other emerging nations.
Sanctions against Syria
The United States imposed sanctions Tuesday on Syria's Foreign Minister and two other senior officials in connection with the Damascus government's five-month crackdown on protestors. Foreign Minister Walid al-Moallem was targeted for being a leading defender of the violent campaign.
The Obama administration is expanding its sanctions against the Syrian government to include what the U.S. Treasury Department describes as "principal defenders of regime activities."
A Treasury announcement said the new sanctions apply to al-Moallem, the country's foreign minister since 2006, presidential adviser and spokeswoman Bouthaina Shaaban, and the country's ambassador to Lebanon Ali Abdul Karim Ali.
The action freezes any U.S. assets the three may have and forbids Americans from doing business with them.
The United States now has imposed targeted sanctions on more than 30 Syrian officials, including President Bashar al-Assad, banned imports of Syrian oil products, and frozen all Syrian government assets subject to U.S. jurisdiction.
President Barak Obama formally called on Assad to step down on August 18.
State Department Spokesperson Victoria Nuland said al-Moallem and Shaaban are part of a "propaganda machine" that has tried to mislead world opinion about the Syrian situation.
"He [al-Moallem] has continued to beat this drum of international conspiracies, and has attempted to cover-up the regime's horrific activities by making claims that terrorist or others were responsible," said Nuland. "Bouthaina Shaaban has served as the public mouthpiece for the repression of the regime."
Nuland said the United States is concerned about possible connections between the Syrian envoy to Lebanon, Ali Abdul Karim Ali, and the harassment and apparent abduction of pro-opposition Syrian activists in that country.
"Beyond saying that we don't think his activities were compatible with his status, that he has strong ties to Syrian intelligence, I don't think I want to go any further than that," said Nuland. "Except to say that we have been concerned, and we've conveyed these concerns to the Lebanese government, about harassment of Syrians in Lebanon and the disappearance of some of them."
David Schenker, Director of the Program on Arab Politics at the Washington Institute for Near East Policy, said the sanctions against the Syrian envoy are a U.S. "shot across the bow" against a campaign by the Damascus government targeting Syrian dissidents abroad.
He said this includes alleged surveillance and harassment of activists by the Syrian embassy in Washington, now being probed by the U.S. Federal Bureau of Investigation.
Schenker said the targeted U.S. sanctions may have little immediate effect but do put Syrian officials on notice that supporting the crackdown, and the Assad government, may have long-term consequences for them.
"We're not going to see any change in behavior or immediate results from these sanctions. But it is a clear message from the Obama administration that people will be held accountable," said Schenker. "And it may dissuade, in the future, others from taking actions in support of this repression and regime that appears to be heading toward its demise."
The Washington Institute's Schenker said European Union energy sanctions against Syria, expected to be finalized within days, would be by far the strongest penalties enacted to date and would strip the Assad government of 30 percent of its income.
But he said nothing is likely to change Assad's determination to try to quell the uprising by force and said it is unclear how long the crisis might continue.