"Millennials have less in common with each other than any generation before them. They're wildly different."
Salma Hayek Talks Body Image In Hollywood And Feeling Great At 48
Salma Hayek is a woman after our own hearts.
"I never exercised my whole life, but now I do yoga," Hayek told Net-a-Porter's The Edit. "I was always borderline chubby, because I like my food and, frankly, I like my wine. I have to say, I'm pushing 50 but I feel great. I looked worse in my youth! I'm in good shape right now."
Hayek, 48, appears on the cover of the digital magazine's latest issue with a gorgeous black-and-white spread. The actress has been in the business for 30 years and has five films out in 2015, including "Septembers of Shiraz" and "The Tale of Tales."
Still, she's surprised to find suitable roles available.
"If you think about it, I'm limited by the way I talk and by the way I look. I'm 48 years old," she said. "Amazing, talented people [stop finding work] at 32, 33 sometimes! Not so much in London, but in the U.S. it's crazy. Also, for those who have never seen me in person, I'm quite short. I have an overly … wavy body. I'm not like the girl next door who is easy to cast. I don't fit into any of the stereotypes of a woman that should continue to work. I don't know what it is, but I don't think it has anything to do with planning. It has something to do with karma, maybe. I believe in karma."
Although she has denied the "feminist" label in the past, Hayek did acknowledge the plight of inequality for women, who are "constantly scrutinized" both professionally and personally.
"We have to be more demanding in the workplace," she said. "We need to be more assertive in that department, and stand our ground in our own homes, and teach our children to give us a break and be more appreciative."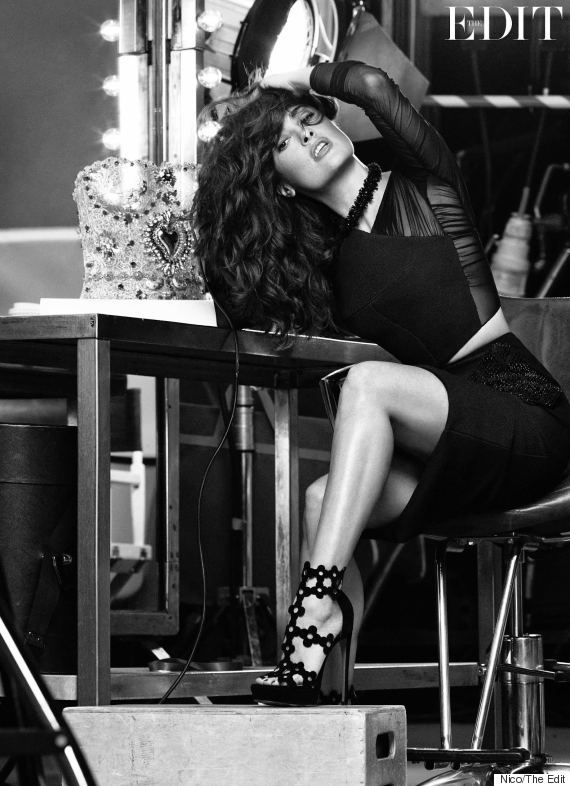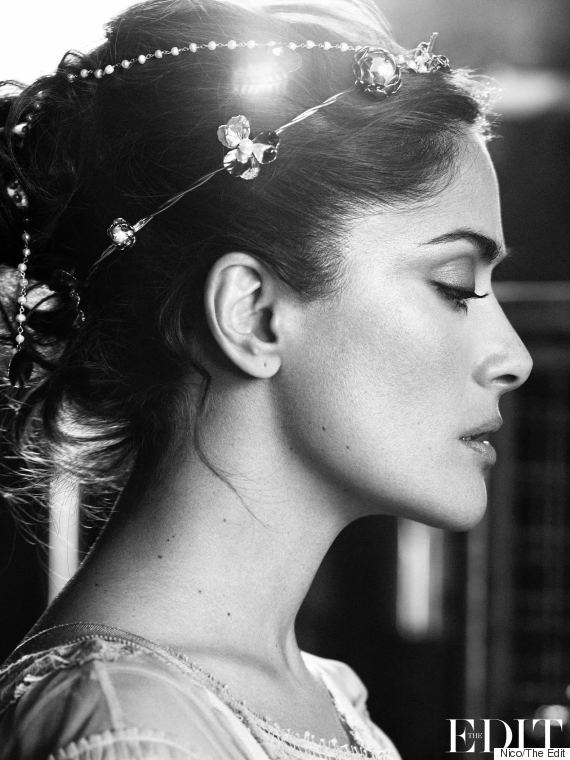 A surge of energy is pulsing across Brazil, building into a wave of celebration that crests today, the official last day of the annual Carnaval celebration. In Rio de Janeiro, the city is vibrating with the tchka-tchka beats of samba. In Salvador, Bahia, the region's African influence drives a deep-thumping rhythm
'Fifty Shades of Grey' Trailer
The first trailer for Sam Taylor-Johnson's drama starring Jamie Dornan and Dakota Johnson. The film, based on the best-selling novel by EL James, is set to hit theaters on Feb. 13, 2015. 
Inspired by the Northern Lights, DJ Yasi Remixes Young Thug, Beyoncé, and Nicki Minaj
Though Yasi's new 41-minute mix was made to be played in the dim recesses of a nightclub, the inspiration for it came while she was standing outside and looking up at the sky. "The aurora borealis is this incredible godly situation you only get to experience by placing yourself in the dark, arctic chill. And to me, the club is that same terrifying experience—it's crowded, people are messy, but I go out nevertheless to experience the music," she explains in an email. "The aurora borealis, in my eyes, is the treasure you get to experience by putting yourself in scary situations."
SUNDANCE FILM FESTIVAL 2015 PHOTO GALLERIES
"The Interview" Has Made Six Times More Online Than At The Box Office
With just $5 million in theaters added to its $31 million in VOD sales, the film's profitability still remains very much an open question.
Box Office 2014: Moviegoing Hits Two-Decade Low
Rockin' New Year's Eve Concerts: Taylor Swift and 6 More Memorable Moments

The Hardest "Devil Wears Prada" Quiz You'll Ever Take
Painting by
Evgeny Lushpin

Millennials might return home for Xmas…..
Bonnie Hammer Tops Women in Entertainment Power 100 List, Reveals Bold New Strategy
The NBCUniversal Cable Entertainment Group's chairman — and legendary visionary — takes THR inside her new plan to shake up Hollywood's biggest cable properties as she asks her group, "What the f— are we going to do?"
Star Wars Rebels' is stacked with talented actors 
Celebrities who flash more than winning smiles

<

ROME – The Black List has forged a link with Italy's Writers Guild Italia (WGI), marking the first non English-language writers' org whose members' scripts will have the opportunity to appear on the…

MEXICO CITY – A hotly anticipated Argentine title, Daniel Rosenfeld's "Al centro de la tierra," plus an instance of still rare Paraguayan filmmaking, Luis Zorraquin's "Guarani," mark two attractions…
Johnny Depp's First Trip to China (Exclusive Photos)
In Beijing, Depp jams with a local rock star, does some sculpting in the arts district, holds court with prominent Chinese artists and — yes — finds time to promote "Transcendence."
Angelina Jolie's penetrating eyes are filling with tears. "I don't want to cry, and I'm not going to cry in front of you," she vows, quickly regaining her composure. The actress-filmmaker is choked…
Hot Trailers
'Fifty Shades of Grey' Trailer
'Into the Woods' Trailer
'The Gambler' Trailer
Blue is the Warmest Color' (2013) Movie Review
Once you get beyond the talking points there's a lot more to see
BY: BRAD BREVET
PUBLISHED: FRIDAY, 
Adèle Exarchopoulos and Lea Seydoux in Blue is the Warmest Color
Photo: Sundance Selects
NOTE: This review was originally published on September 6, 2013 after I saw Blue is the Warmest Color at the Toronto Film Festival. I am reprinting it today as it hits limited theaters this weekend.
It's hard to tell if Blue is the Warmest Color (La vie d'Adèle) is going to gain more attention for its Palme d'Or win at the Cannes Film Festival, the outstanding performances from its two lead actors or for its explicit (and questionably necessary) sex scenes. Either way, once you get beyond the talking points there's a lot more to see and it's a film that won't be soon forgotten.
Running only a minute shy of three hours, the narrative, adapted from a graphic novel by Julie Maroh, follows the story of Adele (Adèle Exarchopoulos), a young high school
 junior as she begins exploring her sexuality. Sex with men leaves her feeling empty and unfulfilled as her mind wanders and she dreams of a blue-haired girl she only saw briefly on the street, a chance encounter that caused something to stir inside her and she's compelled to learn more
"Blue is the Warmest Color" is a Sundance Selects release, directed by Abdellatif Kechiche and is ratedNC-17 for explicit sexual content. The running time is 2 hours 59 minutes.
The cast includes Léa Seydoux andAdèle Exarchopoulos.
For more information on this film including pictures, trailers and a detailed synopsis click here.
Exarchopoulos' performance is the kind "break-out" was made to define. Her performance here as Adele is as mysterious, intriguing, intoxicating and emotionally draining as they come. She finds herself torn between what she knows of the world and how she feels, and director and co-writer Abdellatif Kechiche (The Secret of the Grain) explores every avenue of her self-discovery.
Initially she's unsure of her feelings as much as she is afraid of them. Unwilling to reveal her secrets, even to her closest of friends, who happens to be gay, she finally begins to loosen up once the blue-haired girl, again, enters her life. Her name is Emma (Léa Seydoux) and she's an artist and a couple years older than Adele, and not only has she captured Adele's attention, but she too is intrigued by this mysterious young girl.
Over the coming scenes they grow close while Kechiche, who co-wrote the screenplay with Ghalia Lacroix, isn't concerned with detailing just how long they've been together, but rather chooses to focus on events in their relationship and their lives. Before you know it Adele has turned 18, she's out of high school and eventually teaching
and she and Emma now live together. This style of storytelling allows the audience to focus on the relationship and the relationship alone as opposed to being concerned with the passage of time and other details that have no real bearing on the story. For those that need such details, the screenplay includes enough dialogue to give you a clear idea of just how much time has passed as the story moves briskly through the lives of these two lovers.
That word, "lovers", is one you'll want to be acquainted with before settling in. All facets of Adele and Emma's relationship are on display, including a trio of explicit sex scenes one could easily argue are hardly necessary in their extended form. Sex on film is often choreographed in such a way that a breast can only briefly be seen and the act is more of a suggestion rather than entirely on display. Here there is nothing left to the imagination as the pages of a the Kama Sutra come to life and the slapping of flesh and breathless moans of the two girls reverberates through the cinema to the point I can't find reason for the scenes to exist in their current form outside of attempting to shock.
I could understand if these scenes had some sort of arc of their own where you first see them merely as sex scenes, and then slowly begin to feel a little uncomfortable only to finally come around and see the two characters have lost themselves in one another. Admittedly there is a small amount of that there, but ultimately it comes across as unnecessary.
Explicit sex aside, the rest of the film is a revelatory window into the life of this young girl who continually keeps you guessing, leaving the audience just as unsure of what's around the next corner as she is. Exarchopoulos gives a rare performance where less is more in so many different and subtle ways. Her control of body language and ability to say so much with just a glance or even ask questions with only her eyes allows us to see the world as she does and question it. As an audience member you experience joy, frustration, jealousy and sadness right alongside her and this is largely attributable to Exarchopoulos and Seydoux's performances.
The film doesn't utilize much in the way of a score, opting to let music within a scene fill the speakers rather than layering on additional atmosphere. Instead every audible sound within a scene is heightened, particularly scenes involving food as every sip and swallow seems to be amplified. This is just another way Kechiche explores the many of life's pleasures from food to sex to art and several scenes in which literature is deeply analyzed.
Where Blue is the Warmest Color largely succeeds is in treating Adele'sjourney
 not as a lesbian, but as just another person, looking for love and a happy life. Certainly her sexuality comes with a social price, a level of confusion and even moments where ignorance finds her the victim of hate. Adele's inability to admit to everyone she knows her true sexuality also opens up additional realities. The knee-jerk reaction is to define her as a lesbian but the film is quick to prove that would merely be a label and in this case possibly a wrong one. The film finds moral grounds in asking if it's natural human instinct to love, can it really be wrong to find love and passion with anyone or anything? How can you condemn something you haven't tried simply on the basis of looks, texture or a lack of understanding?
The question of morality bubbles at the surface of every corner of Blue is the Warmest Color along with the exploration of first love and life's great passions. Ultimately Adele's future is left open to interpretation as to what it may hold. There's a suggestion passion comes with a price and it can't be forced as much as it merely ought to be left up to chance and trying new things. Whether that means stumbling into the right bar or taking a left instead of a right, a lot of life is left out of our control and we must simply embrace each twist and turn as it comes.
GRADE: B+
Leonardo DiCaprio in The Wolf of Wall Street
Photo: Paramount Pictures
After a long period of speculation it looks like Paramount has finally settled on a Christmas Day release for Martin Scorsese and Leonardo DiCaprio's The Wolf of Wall Street. After turning in a cut of the film that was said to be a little over three hours, Scorsese took to the editing room to trim some of the running time before he heads off to head the Marrakech Intl. Film Festival beginning November 29.
Originally slated for a November 15 release, the adaptation of Jordan Belfort's tell-all autobiography stars DiCaprio as Belfort, a Long Island penny stockbroker who served 20 months in prison for refusing to cooperate in a massive 1990s securities fraud case that involved widespread corruption on Wall Street and in the corporate banking world, including mob infiltration. Joining DiCaprio in the film is the aforementioned McConaughey along withJonah Hill, Kyle Chandler, Margot Robbie, Jon Favreau, Rob Reiner, Jean Dujardin, PJ Byrne and Kenneth Choi.
The switch to a December 25 release, however, pits Wolf of Wall Streetopposite a massive crop of Christmas Day films including 47 Ronin,August: Osage County, Believe, Grudge Match, The Secret Life of Walter Mitty and the limited releases of Labor Day and The Invisible Woman. There is no telling just yet if Wolf too will get a limited release and expand later in January, but it is expected Paramount's Jack Ryan: Shadow Recruit starring Chris Pine will move from Christmas Day toJanuary 17, though that hasn't yet been made official.
Fifty Shades of Grey': Jennifer Ehle to Play Anastasia Steele's Mother
Jennifer Ehle
Dakota Johnson and Charlie Hunnam will star in the adaption of the erotic novel.
Anastasia Steele has a mother.
Jennifer Ehle has been cast as Carla inFifty Shades of Grey, The Hollywood Reporter has confirmed.
PHOTOS: The Dirty Dozen: Films that Narrowly Avoided an NC-17
Carla is the mother of Anastasia Steele, the college student who falls for a 27-year old billionaire Christian Grey. Dakota Johnson is starring as Steele and Charlie Hunnam will play Grey. I
Universal and Focus Features' forthcoming adaptation, based on EL James racy and extremely popular novel, is being directed by Sam Taylor-Johnson and produced by Michael De Luca and Dana Brunetti alongside author James. Kelly Marcel wrote the screenplay.
STORY: 'Fifty Shades' Movie: Universal Hires Bodyguards for Charlie Hunnam
Ehle, who most recently shot the upcoming Robocop film, has previously appeared in Zero Dark Thirty and Contagion. She was also tapped for a role in upcoming heist movie The Forger,which started shooting today. She's repped by ICM Partners.
John Singleton: Can a White Director Make a Great Black Movie? (Guest Column)
"42" and "The Help" had white helmers; "The Butler" and "12 Years a Slave" didn't. The Oscar-nominated director questions the studios' motives in telling black stories with scant African-American input: "It's as if the studios are saying, 'We want it black, just not that black.' " 12 Years A Slave" Is The Must-See Movie Of The Year, And Should Win All The Oscars
Director Steve McQueen, star Chiwetel Ejiofor, and screenwriter John Ridley deliver a film for the ages.posted on 
Michael Fassbender, Lupita Nyong'o, and Chiwetel Ejiofor in 12 Years a Slave Fox Searchlight
International woman of mystery: Liz Hurley dons leather and an Aston Martin in new shoot
LIZ Hurley is just thrilled with her latest role – as a femme fatale playing opposite a meerkat spy in a TV commercial.
Kate Upton on Her First Sports Illustrated Cover: 'I Felt Terrible About Myself'
By Lauren Schutte | omg! – 
Kate Upton (Carter Smith/Elle and Sports Illustrated)She may be the most lusted-after woman in the world, but supermodel Kate Upton doesn't always love being the object of everyone's affection.
Shockingly, it was what came after she'd landed the coveted cover of "Sports Illustrated's" Swimsuit issue in 2012 — an honor she repeated in 2013 — that both made the 21-year-old a household name and brought out a darker side to being the new "It" girl.
[See More Photos of Kate Upton From Elle's September Issue]
"After my first Sports Illustrated cover, I felt terrible about myself for a solid month," Upton tells Elle in its September issue. "Every single guy I met was either married or about to be married, and I felt like I was their bachelor present or something. I'm not a toy, I'm a human. I'm not here to be used. I am a grown woman, and you need to figure your s**t out."
And while the Michigan-born, Florida-raised beauty didn't confirm (or deny!) the rumors that she's romantically involved with "Dancing With the Stars" pro Maksim Chmerkovskiy, she did divulge a bit a of her current approach to dating.
[Check Out Kate Upton's Hottest Red Carpet Looks]
"I really have never had a serious relationship in the industry. I'm just having fun. Obviously I have a very busy schedule at this time in my life, and I don't put relationships as a priority."
(Carter Smith/Elle)
Being seen as a sexpot isn't the model's only lament. Upton, who'll appear alongside Cameron Diazand Leslie Mann in "The Other Woman," out next year, says she also bristles at the assumption that she's just a dumb blonde.
[The 20 Sexiest Celebrity Bombshells]
(Carter Smith/Elle)
"People deal with models like they are children," she notes. "They think they can pull one over on you. It's actually funny. I'm always like, I'm about to pull something on you, and you're so focused on thinking I'm dumb you're not even going to know."
Upton even tells the mag the small cross tattoo she sports on the inside of her right middle finger was inspired by someone who dared to pass judgment on her while she was on the job.
[Best Swimsuit Moments in Pop Culture History]
"I was at a photo shoot and I was wearing a cross necklace that my mom bought me, and somebody made a joke like, 'Why are you wearing a cross? Like you would be religious.' And then they took [my necklace] away. I was really affected by that. The whole thing made me realize that I do want [a cross] with me, at all times."
What do you think? Do you feel bad for the supermodel? Tell omg! in the comments!
For more of Upton's interview, pick up the September issue of Elle, on newsstands August 20.
'Red 2' (2013) Movie Review
A satisfying comedic actioner that delivers beyond expectations
BY: BRAD BREVET
PUBLISHED: THURSDAY, 
Mary-Louise Parker, Bruce Willis and John Malkovich in Red 2
Photo: Summit Entertainment
I had little interest in seeing Red 2 as I walked into the theater. The 2010 film was middling at best. In my review I described it as "one of those films you don't mind watching just as much as you don't seek it out." The same could be said of Red 2 and yet, it's a far better film that drops the need to focus energy on the fact the characters aren't your stereotypical, young CIA agents and international assassins. Instead it tells a story that just so happens to feature such characters.
At just under two hours I walked in worried I'd want to leave 15 minutes in. Fact of the matter is, the film goes by smoothly, largely benefiting because it gets back to action that's tangible rather than merely a dull exercise in CG overload (aka the official motto of Summer Movie Season 2013).
"Red 2" is a Summit Entertainment release, directed by Dean Parisotand is rated PG-13 for pervasive action and violence including frenetic gunplay, and for some language and drug material. The running time is 1 hour 56 minutes.
The cast includes Bruce Willis, Morgan Freeman, Helen Mirren, John Malkovich,Mary-Louise Parker, Catherine Zeta-Jones,Byung-hun Lee, Anthony Hopkins, Neal McDonough, David Thewlis, Brian Cox andTim Pigott-Smith.
For more information on this film including pictures, trailers and a detailed synopsisclick here
All summer long we've watched as buildings and cities have been laid to waste by human-controlled robots, superhuman aliens, men in robot suits, zombies, monsters from another dimension and nuclear strikes from space, not to mention the post-apocalyptic aftermath of a dystopic future. The factRed 2 is an actioner of a more traditional vein gives it a timely bump in perception, where under any other circumstances it may not have appealed to me as much. "Timing is everything," isn't a phrase without merit.
Beyond the action quotient, I'm was also alarmed to find the screenplay was written by the same siblings that penned the first film, Jon and Erich Hoeber. The first film depended on aging humor and cornball punchlines and was extraordinarily weak on story. The sequel, however, still plays up the goofy one-liners, but here they don't come across as desperate, instead landing nicely within the context of the narrative, which is just as much a romantic comedy as it is a story following the lead characters as they attempt to clear their name while stopping a nuclear strike. Yes, I'm sure that sounds less than appealing to a lot of you, but I'm telling you, it actually works.
The film wastes zero time establishing its characters, and I can't tell if it's because the Hoebers trust we know these people or understand we can get to know them more along the way, but either way, it's a good decision and something I hope even more screenwriters learn to understand. A character isn't defined by how much information you give me upfront, it's about the small things we learn along the way. The first time you meet someone you don't ask for their life story do you?
This isn't to say Red 2 is rife with deep character exploration throughout, but when it comes to action films of this sort, there is only so much information we need to know and unlike movies such as White House Down, the main characters don't need to be saddled with a young daughter for us to take an interest in their story.
Of course, I say this while at the same time much of Red 2 focuses on the relationship betweenBruce Willis as Frank Moses and his girlfriend, Sarah (Mary-Louise Parker), with Sarah taking a massive interest in Frank's past life as a CIA operative with violent tendencies. It doesn't help she's received some encouragement from the colorful Marvin, played by John Malkovichwith just as much energy and eclectic enthusiasm as in the first film.
The difference, however, is that unlike the young girl in White House Down, Sarah's actions are looked at as comedic, not as a constant, mind-numbing attempt at tension and drama. Jealous of Frank's relationship with a past fling she leans to Malkovich and says, "Can't we just kill her?" loud enough for everyone to hear. She's got attitude and a sense of adventure and I liked her for it to the point even if she were to become the stereotypical damsel in distress, I trusted the film wouldn't play that card for the duration, and it doesn't.
The first film centered on this band of Retired and Extremely Dangerous (R.E.D.) operatives — which also includes Helen Mirren as Victoria, an MI6 agent still working in the field — as they were being tracked for what they knew. This time around they've been charged with information they are complete unfamiliar with and must get to the bottom of the mystery and at the same time clear their names, the process of which will take them from the States to London, Paris and Moscow.
Willis and Parker bicker like the new couple they are. He wants to protect her while she only wants to get in on the action. Malkovich, like the first movie, is as paranoid as ever and consistently one step ahead as the U.S. Government, led by Neal McDonough, believes Willis and his gang are after a Cold War nuclear device referred to as Nightshade. McDonough's character proceeds in an act first, ask questions later fashion and the global adventure begins.
Catherine Zeta-Jones, Anthony Hopkins and David Thewlis are added to the mix, adding their own flair to the proceedings and director Dean Parisot (Fun with Dick and Jane, "Justified") keeps things moving as each scene leaves very little fat to slow things down.
The youthful addition to the film is Byung-hun Lee (G.I. Joe: Retaliation) and yet even he has just turned 43-years-old even if he looks only 30 at most. His addition, however, is vital as his martial arts talents bring a close-combat aspect to the story, breaking the monotony of continuous gun fire and car chases. For what it's worth, Red 2 runs the gamut of action beats, never settling on just one option as any scene could feature a variety of alternatives including gun shots, car chases, poison, roundhouse kicks or nuclear explosions.
As surprising as it may seem, Red 2 worked for me in more ways than one. The comedy was light but satisfying, the action wasn't over-bearing and for the most part engaging and it's hard to beat the cast, all of which own their roles and give themselves over to the material.
I'm not above admitting my impression of Red 2 may have a lot to do with the lackluster actioners this summer has offered. It might be because I finally saw a movie that dealt with action on a human level rather than the spectacle of watching a building tumble and the assumption people probably got out of the skyscraper before it crashed to the street below. Movies don't exist in a vacuum and in the case of Red 2 I'd say it benefits largely from the cinematic world around it. Whether I'll find just as much enjoyment out of it a few years from now I'm unsure, but at this moment in time it delivered beyond expectations. Something I haven't been able to say about a summer movie all year.
GRADE: B
Anna Chapman Is Still Living the High Life
Super sexual Russian spy Anna Chapman continues to be super and sexual in the motherland, where she stars in a television show, drives a black Porsche, and hangs out with Vladimir Putin — underwater. Capital New York has a huge feature on the international gossip darling and she's as alluring as ever, maintaining her magical spell over ex-boyfriends and flirting relentlessly with the article's author, Brett Forrest. But she'll never forget those who got her where she is today: New York City tabloids.
 

Alec Baldwin's Epic Twitter Meltdown
Leave my poor Gatsby alone
Okay, so it's not the most original position. But someone has to say what we've all (hopefully) been thinking: Namely, that there's nothing to be gained from transforming "The Great Gatsby," one of the world's best-loved novels and a paragon of powerful prose, into what will likely prove to be a mediocre movie at best. After all, it's a well known and near universally accepted axiom that the film is never as good as the book — especially when the book is "The Great Gatsby."
True, arguments against film adaptations of books rely largely on sentimental appeals to bibliophilic sensibilities. Book lovers the world over aver that there's no stand-in for the feel of yellowing pages beneath eager fingers, for the trails of marginalia that we leave as pathways to our former thoughts throughout the chapters of our most beloved texts. The weight of a book in the book lover's hand is a singular and invaluable pleasure, a secret between a text and its reader not unlike the secret of a private romantic embrace. 
Anyone who's ever clutched a newly finished book to their chest, in awe of its contents, in awe of language's ability to transcend its own limitations, if only for the span of a few precious sentences, feels intuitively that this new "Gatsby" movie — which looks to be little more than an elaborate advertisement for various "luxury" brands — is shaping up to be pure sacrilege.
Anything goes in the name of fashion! The Metropolitan Museum of Art's annual Costume Gala brought Hollywood's biggest stars to New York City as they celebrated this year's theme, "PUNK: Chaos to Couture." From standout hits to wacky misses, check out all the red carpet looks …
Jay-Z received a write-up by New York City Mayor Michael Bloomberg. "He's an artist-entrepreneur who stands at the center of culture and commerce in 21st Century America,"
Time magazine has released its 10th annual list of the Time 100 most influential people of the year, and not surprisingly, a number of celebrities have been bestowed the honor.
The magazine doesn't rank its picks but divvies up the 100 into five categories: titans, icons, pioneers, leaders and artists. Time includes President Obama, the newly ordained Pope Francis and North Korea's Kim Jong Un but also pays tribute to people like 29-year-old Instagram creator Kevin Systrom (who gets a shout out from Ryan Seacrest) and Egypt's Jon Stewart-esque talk show host Bassem Youssef (whose essay is written by Stewart). The list also includes 35 women.
"This year we are trying something new: seven cover portraits of Time 100 honorees who reflect the breadth and depth of our list, each one profiled inside — as is our tradition — by an equally luminary voice," managing editor Rick Stengel writes. "We commissioned the renowned photographer Mark Seliger to create the covers
Sharon Osbourne is set to make a sensational return to British screens this summer for the 10th series of The X Factor, according to reports.

The sharp tongued music manager will allegedly net £2 million in a deal that will see her returning as a judge on the singing competition, becoming the show's highest-earning judge ever in the process.
The deal will see the 60-year-old returning to the show for the first time as a full-time judge after leaving after the fourth series in 2007.
 Sharon created a lot of drama when she first acted as a judge on The X Factor – Louis may want to buy a waterproof suit when she returns