GLOBALIZE YOUR THINKING
Visual Storytelling: New Language for the Information Age
Each day we bring you the very best in visual journ
Google Search and Gmail censored in Iran
Google's YouTube service has been censored in Iran since 2009
Iran has restricted access to Google's email service, Gmail, and search engine.
A firewall already prevents Iranians from accessing many Western sites.
The latest move coincides with protests throughout the Muslim world – including some in Tehran – against an anti-Islamic film posted on Google's video-sharing site YouTube.
A government deputy minister announced the ban on Sunday on state television.
"Google and Gmail will be filtered nationwide, and will remain filtered until further notice," said an adviser to Iran's public prosecutor's office Abdul Samad Khoramabadi.
The announcement was also sent out as a text message on mobile phones.
The unsecured version of the search engine, which is much easier to eavesdrop on, remains accessible.
The BBC Persian service says: "Google search website is accessible, but is not functioning properly. Google services which need a secure SSL [Secure Sockets Layer] connection are out of reach in Iran.
"Any attempt to get access to those services leads the user to a never-ending waiting phase, where nothing comes up."
Users can only access Gmail accounts by using virtual private networks (VPNs), which allow web surfing behind heavily encrypted firewalls.
Many Iranians already use VPNs to bypass the government's restrictions on other blocked Western websites, said Mahmood Tajali Mehr, an Iranian telecommunications consultant living in Germany.
"This is just a move by the Iranian governement towards a so-called nationwide intranet, to control all the traffic from the outside, and authorities are saying they will implement it in about three years.
"But every schoolchild knows how to bypass restrictions by using VPNs, it's very common in Iran."
Temporary block?
It is not the first time Iranian authorities have cut access to Google services.
Ayatollah Ali Khamenei decided to create a special council to protect Iran from "harm"
Both Google Search and Gmail were restricted in February, ahead of parliamentary elections in March.
Mr Mehr said that he did not think the services were going to stay restricted for long.
"This is just a propaganda tool to demonstrate that Iran is doing something against the US, but it is unlikely to last longer than a few days.
"The current trouble with the anti-Islamic film is helping the government with this propaganda.
"The state is saying that the people are asking to block these services because of the film, but there haven't been such protests as in Pakistan and elsewhere, only small organised protests, so my personal feeling is that it has nothing to do with the film.
"Especially keeping in mind that YouTube has been blocked for some time already."
Google's YouTube site has been censored since mid-2009, following protests and allegations of vote fraud after the re-election of President Mahmoud Ahmadinejad.
The websites of several Western media organisations such as the Guardian, BBC and CNN are also blocked in the country, and a number of other web services, including Facebook and Twitter, are often censored.
"Start Quote
This self-proclaimed superpower is afraid of satellites, internet and people's consciousness"
Twitter user Mnesfahani Iran
In March, Iran's Supreme Leader, Ayatollah Ali Khamenei, ordered officials to set up a body tasked with defining policy and co-ordinating decisions regarding the internet, called the Supreme Council of Virtual Space.
Reaction
Despite the government claiming that the people had requested the censorship, many told the BBC they were outraged by the ban.
The BBC's Persian Service said that the country's Twitter users were protesting, and "even mocking" the decision, with some expressing concern about this being "a preliminary step towards setting up a national intranet".
"This is a pre-determined scenario to block Google in Iran, they wanted to do this since long time ago," tweeted one user, Hadi Khezriyan.
"Now they have found the best alibi to do it."
Another Twitter user, Mnesfahani, wrote: "Students and businesses use Google services the most. This self-proclaimed superpower is afraid of satellites, internet and people's consciousness."
However, some Iranians seem to agree with the ban.
"Google has removed the name of Persian Gulf from its map and has banned users inside Iran to access many of its services because of sanctions," Faramarz from Qazvin wrote in a comment to the same story.
"Banning the service will bring some losses to Google, although not substantial. I agree with banning it."
Another BBC reader, Amir from Karaj, said: "It is OK, because people should not have access to these insulting films."
Special Report: Chinese firm helps Iran spy on citizens
 A Chinese telecommunications equipment company has sold Iran's largest telecom firm a powerful surveillance system capable of monitoring landline, mobile and internet communications, interviews and contract documents show.
'Iran is not telling us everything,' U.N. atomic agency chief says
NEW: "We see Iran in our backyard," Israeli ambassador says
International Atomic Energy Agency director general says "Iran has a case to answer"
World powers agreed to resume talks with Iran over its nuclear program
Iran signaled a willingness to allow a visit to a military base
Iran Crisis: UK Could Send Military Assets To Strait Of Hormuz, Defense Secretary Says Iran car explosion kills nuclear scientist in Tehran
A university lecturer and nuclear scientist has been killed in a car explosion in north Tehran.
Mostafa Ahmadi-Roshan, an academic who also worked at the Natanz uranium enrichment facility, and the driver of the car were killed in the attack.
The blast happened after a motorcyclist stuck an apparent bomb to the car.
Several Iranian nuclear scientists have been assassinated in recent years, with Iran blaming Israel and the US. Both countries deny the accusations.
Standoff Over Iran's Oil and Nuclear Program Isn't Going Away
Iran shows film of captured US drone
Related Stories
Iranian TV has shown the first video footage of an advanced US drone aircraft that Tehran says it downed near the Afghan border.
Iran Nuclear Program: Atomic Agency Shows 35 Nations Intel On Country's Nuke Program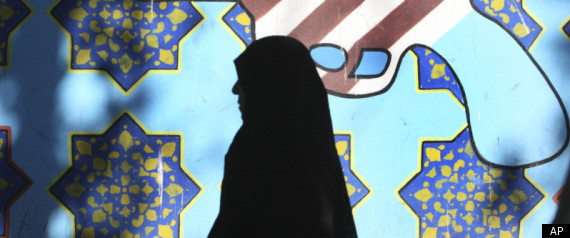 Ayatollah Khamenei, Iran Supreme Leader, Warns Israel, United States
IAEA Says Foreign Expertise Has Brought Iran To Threshold Of Nuclear Capability
Posted: 11/6/11
UN walkout at Ahmadinejad speech
European countries use the Holocaust as an excuse to pay "ransom to the Zionists," he said. The "diabolical" aims of the West are the cause of wars and the financial crisis, Ahmadinejad stormed.
In a repeat of walkouts at the United Nations and other international events in recent years, a US diplomat monitoring the speech in the UN General Assembly left halfway through the 20 minute discourse.
The 27 European Union nations then followed in a coordinated protest move.
"Mr Ahmadinejad had a chance to address his own people's aspirations for freedom and dignity, but instead he again turned to abhorrent anti-Semitic slurs and despicable conspiracy theories," said US mission spokesman Mark Kornblau.
The German delegation said in a statement that it was protesting over the "crude, anti-American, anti-Israeli and anti-West tirade by the Iranian president."
And a French spokesman called Ahmadinejad's attacks "unacceptable."
Iran frees jailed US hiker 'spies' Bauer and Fattal
Related Stories
A pair of Americans convicted as spies and jailed in Iran for two years have been released and emotionally reunited with their loved ones.
Shane Bauer and Josh Fattal, both 29, were flown to Oman after being freed on bail from Evin prison.
They were sentenced in September to eight years in prison on charges of spying.
They were arrested in 2009 after crossing into Iran from Iraq, where they said they were hiking.
'Healthy and strong'
"We are so happy we are free and so relieved we are free," Mr Fattal said to reporters soon after their arrival on Wednesday in the Omani capital, Muscat.
Analysis
The release is as carefully choreographed as their colleague Sarah Shourd's a year ago. Once again Iran's president makes a magnanimous gesture shortly before appearing at the UN.
The question is whether the release of the hikers is designed to defuse tensions between Washington and Tehran. The roots of the antagonism go back beyond the Islamic revolution of 1979 to the coup of 1953 which deposed Iran's prime minister. The current distrust is focused on Iran's nuclear programme – peaceful, and not aimed at building an atomic bomb, insists Tehran, amid Western scepticism.
Washington's criticism of Iran's repression of protests is another flashpoint. Some Iran analysts say Tehran wants better relations after years of distrust, but others see the hikers' release as a chess move by President Ahmadinejad as he tries to shore up his internal political position
6 Filmmakers Arrested In Iran, BBC Says
U.S. hikers jailed in Iran may be released after bail is paid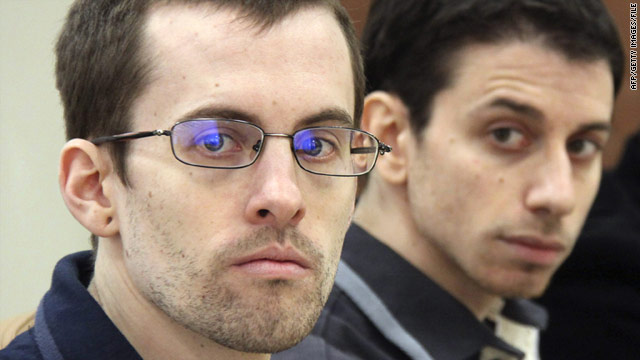 Tehran, Iran (CNN) — Two American hikers sentenced to eight years in prison for espionage and illegal entry into Iran may be released "in a couple of days," according to Iran's president.
Josh Fattal and Shane Bauer will be released from Tehran's Evin prison after a $500,000 bail is paid for each of them, their attorney, Masoud Shafiee, said Tuesday. The attorney said the hikers' families are attempting to get the money.
The two have been imprisoned in Iran for more than two years. They and a third hiker, Sarah Shourd, were seized on July 31, 2009, while hiking in the Kurdish region of northern Iraq.
They apparently strayed across an unmarked border and were unaware they had crossed into Iran. Iranian authorities arrested them, claiming they were spies and had entered the country illegally.
Shourd, who is now Bauer's fiancee, was released last year for medical reasons, although authorities said her case remains open.
"They illegally crossed our borders and they were arrested by the border guards," President Mahmoud Ahmadinejad told NBC in an interview that aired Tuesday. "We tried last year to free one of the three persons and we are also trying to make arrangements for the freedom of the other two. I think these two persons will be freed in a couple of days."
He said Fattal and Bauer are enjoying "very good conditions here in prison … it's like staying in a hotel."
Top Iranian to Pakistan president: US is your real 'enemy'
TEHRAN, Iran — Iran's supreme leader on Saturday told visiting Pakistani President Asif Ali Zardari that the United States is Pakistan's real enemy.
Ayatollah Ali Khamenei spoke during Zardari's second visit to Iran in less than a month.
Khamenei has the final say on all state matters in Iran.
The U.S.-Pakistan relationship has been on a downward spiral since the May 2 U.S. raid that killed al-Qaida chief Osama bin Laden in a Pakistani garrison town.
Pakistani leaders have protested the unilateral raid by kicking out many American military trainers and asking the U.S. to reduce its footprint in the country.
The Obama administration has withheld $800 million of the roughly $2 billion it gives Pakistan in military aid. The New York Times says the aid includes about $300 million to cover some of the costs of posting more than 100,000 Pakistani soldiers along the Afghan border as well as training assistance and military hardware. Officials have said civilian assistance will continue.
The Islamic Republic News Agency said Khameini told Zardari that Pakistanis are a nation who believe in Islam and every kind of progress and success in Pakistan makes Iran pleased.
Where in the world is Ahmadinejad?
Iran's president, Mahmoud Ahmadinejad, is not exactly the shy and retiring type. He loves attention. He makes outlandish claims, bold statements and outright lies – all to get the world to watch.
But over the last few days, we've been seeing his quiet side – so quiet that he actually disappeared from sight. For ten days late last month the president of the Islamic Republic of Iran skipped cabinet meetings and canceled official visits. He wasn't even seen in his offices.
He wasn't ill. He wasn't on pilgrimage.
What in the world was happening?
Ahmadinejad was staging a boycott.
Now, why would the country's leader have to stage a boycott?
Because in Iran there's someone more powerful than the president – that's the Supreme Leader, Ayatollah Khameini.
We're witnessing a power struggle, and it's getting more intense. First, Ahmadinejad fired the minister of intelligence. The Supreme Leader blocked the move. Then, the president fired his foreign minister, another Khameini protege. This time the Ayatollah wrote a letter – not to President Ahmadinejad but to the deposed minister – reinstating him to his post.
This open tension is unprecedented in modern Iranian politics. Never before has the president of the Islamic Republic wielded so much power and never has he clashed so openly with the clerics.
Ahmadinejad has also been mounting an ideological challenge to the mullahs. He says that he, too, gets divine revelations, even though he is not a priest. He's talked about Iran's pre-Islamic past with great pride, which is something the clergy regards as sacrilegious.
Those in the know are watching closely to see who wins this internal struggle, and here's why it matters: These are the first major moves by Tehran's power players to position themselves ahead of next year's elections. There's a school of thought, which holds that President Ahmadinejad senses that people are tired of the clergy, so he thinks he could gain mileage by distancing himself from them.
Another theory holds that Ayatollah Khameini himself wants to be seen as separate from the government. Remember, inflation in Iran is at 25 percent. Some assessments show that unemployment is at 30 percent. So Khameini may need a scapegoat.
And, of course, this all comes as leaders of Iran's opposition movement, the Green Movement, remain under house arrest and many other opposition figures and journalists have been jailed. The Nobel Peace Laureate Shirin Ebadi is so worried for her safety that she is not returning to her country.
The big picture here is that the revolutions in the Middle East have gotten all dictatorships in the region worried, including the one in Tehran. Even as its key ally, Syria, descends deeper into chaos, the Iranian government has managed to rein in disaffection with a mixture of money, bribery and repression. Iran has learned from its own protests of 2009, and so far it doesn't seem likely that it will go the way of the Arab world yet.
Meanwhile, Washington is worried that Tehran is gaining mileage out of the regional unrest. Secretary of State Clinton says, "We do see activities by Iran to try to take advantage of these uprisings. They are trying to exploit unrest. They are trying to advance their agenda in neighboring countries."
But I think the Iranian regime is more nervous than it reveals. Sure, it will gain some foreign policy advantages – a better relationship with Egypt, for example. But it faces the much larger problem of the dissatisfaction of its own people who have now seen democratic revolutions in the Middle East that have succeeded. Perhaps that's why President Ahmadinejad took a break and went AWOL.

Iran's Revolutionary Guard Acknowledges Attacking 'Enemy' Websites
Monday, March 14th, 2011
Iran's Revolutionary Guard Corps has made a rare acknowledgement that it is involved in cyber warfare against the websites of perceived enemies.
Iranian state media quote a commander of the Guards' paramilitary Basij force as saying that the Basij has established a "cyber army" including university professors, students and clerics. General Ali Fazli says the Iranian hackers have attacked "enemy" websites in retaliation for cyber attacks on Iran. He gave no details about the types of attacks Iran has carried out.
A group of hackers labeling themselves the "Iranian Cyber Army" attacked the Voice of America's Internet site last month. The group temporarily defaced scores of VOA news pages with an anti-U.S. message below images of an Iranian flag and an AK-47 assault weapon.
Iran had announced the creation of a cyber police unit in January, aimed at helping the government monitor websites used by opposition groups to organize anti-government protests.
Iran also has been trying to boost its cyber defenses in response to the Stuxnet computer worm that has infected computers involved with the country's nuclear program. Western nations fear the nuclear program is aimed at producing weapons, a charge Tehran denies.

photo: AP / Vahid Salemi
Iran: Mir Hossein Mousavi and Mehdi Karroubi 'arrested'
Iranian opposition leaders Mir Hossein Mousavi and Mehdi Karroubi, and their wives, have been taken from their homes by security forces, reports suggest.
Mr Karroubi's son told the BBC he had heard his father had been moved, but did not know where he had been taken.
A website close to Mr Mousavi claims the men have been taken to Heshmatiyeh jail in Tehran.
Iranian government officials denied the report, the semi-official Fars news agency said.
It comes ahead of planned protests that are due to be held on Tuesday.
Fars quoted an unnamed official in Iran's judiciary as denying that the men had been taken.
"The two are currently in their homes and there have only been restrictions on their contacts," the official said.
'Security vans' Both Mr Mousavi and Mr Karroubi have called for demonstrations in Iran in the light of the recent uprisings in Tunisia and in Egypt.
Earlier this month the two men, along with their wives, were detained in their respective homes in Tehran as protests were staged on the streets of the capital.
On Monday one of Mr Karroubi's sons told BBC Persian service he had been told his father had been "taken by security forces to an unspecified location".
Mr Mousavi's Kaleme website reported that the men and their wives "have been arrested and were transferred to the Heshmatiyeh prison of Tehran".
"According to credible sources, the arrest and the transfer to jail is sure but the date when it occurred is still uncertain," it said.
A neighbour said that he had seen eight security vans outside Mr Karroubi's home late on Thursday night. Shortly afterwards the vans then left the area along with one car, he said.
Earlier on Monday, Iran's state prosecutor Gholam Hossein Mohseni Ejehi was quoted by the official Irna news agency saying that the country's authorities have restricted the two men's meetings and phone calls.
"Should circumstances arise, other measures will be taken," he added.
Thousands of supporters of Mr Mousavi and Mr Karroubi took to the streets of Tehran on 14 February, amid clashes with security forces which left two dead.
Some 1,500 people were detained, opposition groups said, but official figures put the number at 150.
Following the clashes, Iranian MPs called for the two opposition leaders to be tried and executed.
Iranian Ships move thru Suez Canal

This is one warship and a supply vessel. Quite frankly, it won't change the strategic picture a whole lot. It's certainly one more thing to keep track of. Iran has meddled in Lebanon in the past, and I can see where it's a concern. But I just don't see where [Israel] coming out ahead and publicly trying to make the international community focus on this and putting pressure on Egypt to deny them passage was really effective.






Iran is mostly limited by its capability. It's very hard to do out-of-area operations. This is analogous to China sending ships to do anti-piracy operations in the Gulf of Aden or Russian warships in Venezuela. It's a show-the-flag sort of thing. It's not as though Iranian ships can now operate routinely or comfortably away from their home base.
updated 2/22/11
Iranian computer hackers on Monday hijacked the website of the Voice of America, replacing its Internet home page with a banner bearing an Iranian flag and an image of an AK-47 assault rifle.
The group called on Secretary of State Hillary Clinton to "hear the voice of oppressed nations."
The banner stated that "we have proven that we can."
The message called on the United States to "stop interfering in Islamic countries."
Tehran Updates: 1 Esfand / February 20
by JOSH SHAHRYAR, HOMYLAFAYETTE, DAN GEIST, TEHRAN BUREAU STAFF, and CORRESPONDENTS
20 Feb 2011 23:59

Press Roundup provides selected excerpts of news and opinion pieces from the Iranian and international media. Click on the link to the story to read it in full. Tehran Bureau has not verified these stories and does not vouch for their accuracy. The inclusion of various opinions in no way implies their endorsement by Tehran Bureau. Please refer to the Media Guide to help put the stories in perspective. You can follow other news items through our Twitter feed.
Iran Standard Time (IRST), GMT+3:30
10:45 p.m. Hamid Farokhina has a piece for us describing his first-hand impressions of the scene in Tehran today and what it bodes for the future. By his estimate, the crowd was a third of Monday's. Here's an excerpt:
The length of Enghelab Avenue was filled with tens of thousands of protesters. Valiasr Square was the site of clashes. So was Haft-e Tir. One person is rumored to have been killed there. Other than central Tehran, heavy security presence — including special anti-riot NAJA police, Basijis, and vigilantes — were seen by this writer in western Tehran (Shahr Ara) and northern Tehran (Tajrish). I was told by several people that Tehran Pars and Imam Hossein Square in the western parts of the city were likewise inundated with various security forces. Many of the security personnel wore masks to conceal their identities, as was also true on Monday. In last year's protests, only a handful of these men wore masks. Today, most of the Basij and Intelliegence Ministry personnel did so. Even some of the regular NAJA cops, whom many people regard as civil servants with batons, were wearing masks. Some Basijis were wearing ski masks that gave them a seriocomic look, especially when they were seen eating snacks with their masks on.
9:40 p.m. The live blog's cartographically skilled arm has provided this map showing the locations of today's reported protests, confirmed and otherwise:
9:25 p.m. Our correspondent quoted in the immediately preceding post provides more details:
updated 2/20 / 2011

BBC Persian reports that security forces are actively trying to disperse protesters and not letting them form a core. It adds that witnesses inform them that hundreds of protesters are present near Darwazaye Shiraz in Isfahan.
On CNN's website, Reza Sayah has a lengthy report. Here's an excerpt:
Thousands of security officers cracked down on landmark sites in Iran's capital and other major cities Sunday, at times striking at throngs of protesters with batons and rushing others on motorcycles, witnesses said.
A few plainclothes security agents stood in the middle of Tehran's Revolution Square, countering anti-government protesters with signs of their own in support of Supreme Leader Ayatollah Khamenei and chanting "I will give my life for the leader," an eyewitness told CNN. Hundreds of other security personnel cheered the group.
Meanwhile, another witness said large crowds chanted "Death to the dictator" at the intersection of Gharib and Enghelab (revolution) avenues. Security forces on foot and motorcycles there beat several protesters with batons and detained at least four, the witness said.
Earlier, witnesses reported that security officers doubled up on motorcycles charged a group of 150 people gathered on Vali Asr Avenue, striking at least 15 fleeing protesters with batons as crowds of people grew near Revolution Square.





updated 2/18/2011

Iran government calls hate rally against opposition
"The noble people of Tehran will take to Enghelab Square after Friday prayers with their solid and informed presence," the Islamic Propagation Coordination Council said Wednesday.
The demonstrators will "scream out their hatred, wrath and disgust against the savage crimes and evil movements of sedition leaders, their Monafeghin and monarchist allies", it added.
Monafeghin – the farsi for hypocrites – is a reference to the outlawed armed opposition group, the Mujahedin-e-Khalq.
Opposition leaders Mir Hossein Mousavi and Mehdi Karroubi called Monday's rally in support of uprisings in Egypt and Tunisia. Two people died and several were wounded during the demonstration.
Iran's prosecutor has warned that legal action will be taken against Mousavi and Karroubi, who were already both under house arrest on Monday.
They issued defiant statements Wednesday, as government supporters called for them to be hanged.


Updated 2/17/2011
Iran's beleaguered opposition movement, under enormous government pressure but encouraged by popular uprisings throughout the Middle East, is calling for another round of protests Sunday, raising the stakes in its confrontation with Tehran's hard-line Islamist government.
A statement posted Thursday to the website of former prime minister and 2009 presidential candidate Mir Hossein Mousavi called on Iranians to take part in memorial services to mark the religiously significant seventh day after the deaths of two Iranians during raucous Feb. 14 opposition protests in Tehran and other cities.
The scope and magnitude of those demonstrations, inspired by the uprisings that overthrew Tunisian president Zine el Abidine ben Ali and Hosni Mubarak of Egypt, appeared to catch security forces and even demonstrators by surprise. They were the largest public displays against Iran's authoritarian system since a similarly scattered and violent December 2009 day of unrest that followed the disputed reelection of President Mahmoud Ahmadinejad.
UPDATED 2/16/2011
Today's protests in Iran may have had some amount of organization occur through social media, including a Facebook page called the 25th Bahman.

I qualify the extent to which protest organizers may have used Facebook because Iran blocks access to the social network along with many other types of media,  so people in the country have limited ability to get any message from Internet sources. Granted, some Iranians have found ways to circumvent the blockage, but that doesn't mean everyone in the nation has figured out how to access the site.
Now a post on Wired makes it sound like Facebook played a more definitive role in organizing the protests than what an (emigrated) Iranian friend told me this morning regarding censorship in the country. The blogger had spoken with someone affiliated with the 25th Bahman page on Facebook, who said:
Within days of the announcement for the solidarity rally, almost 50,000 users came onto the Facebook page and the hits and the views were upwards of 12 million. When we ran the numbers, up to 90 percent of them were coming from Iran.
The rally itself had about 4,000 participants show up at Tehran's Imam Hossein Square, and the objective of the protest was to show solidarity with Egypt and Tunisia. The organizers of the rally, Mir Hussein Muosavi and Mahdi Karroubi, were denied permits for the event.
From Mousavi's Facebook page:
On the day of proposed demonstrations by Mousavi and Karroubi in support for the popular uprisings in Egypt and Tunisia against dictatorship, cell phones of Mir Hossein Mousavi and Zahra Rahnavard — Mousavi's wife — as well as land lines of their residence all have been disconnected by government. All communication channels including internet networks of their residence have also been disconnected. Additionally since this morning security forces have blocked the alley where Mousavi's residence is located at with their cars and prevent anyone from entering or exiting.
Encryption Software: The Needle in the Haystack
After last year's disputed elections in Iran, social networking sites like Twitter helped protesters organize and also served as a way to send news, videos and photos out to the rest of the world, showing what was really happening in the country. Iranian security forces worked to stop people from using these sites to communicate, just as other countries, such as China, have done in the past and continue to do so.
Government censors are becoming more sophisticated, and this is where encryption software comes in.
Privacy is a right, not a privilege, and we've already lost so much of it. Financial privacy, for example, has nearly been vanquished from this earth, and with things like RFID passports anti-terrorism provisions, governments can track most aspects of our lives.
Fortunately, though, online privacy is much easier to safeguard, and there are a variety of cheap (or even free) electronic tools to do this.
We've talked before about planting electronic flags; this includes using an email provider that's based outside of your home country. If you're a US resident and use Hotmail, or you're Canadian and use Shaw, any bureaucrat can freeze or seize your email with little effort.
Switching to a number of overseas providers can substantially mitigate this risk, and most of the offshore services are absolutely free.
When browsing the web, you also have to expect that your activity is being monitored and logged. Google, which has the world's greatest market share of search traffic, routinely archives users' search requests along with IP addresses and click history.
Needless to say, this information is frequently subpoenaed, and Google complies with lawful requests.
If this sounds OK to you, then you should probably stop reading here.  Otherwise, I'd suggest a number of ways to take back your online privacy.
It honestly takes very little effort to cover your digital tracks these days.  Plenty of free proxies are available– these are websites that mask your IP address and provide a superficial level of privacy. On the downside, they're not terribly secure, and they have annoying banner links as well.
I use a professional service that's pretty much the Rolex of online privacy. Not only does it fully mask IP and other identifying information (that the free proxies miss), but it also encrypts all web traffic so that no intelligible information can be monitored.

THIS SOFTWARE IS NO LONGER FREE OF CHARGE
The service is called Cryptohippie for your consideration if you're serious about your online privacy. You can learn more about their service here.
( Independent Research Network receives No compensation from this suggestion )
Effectively, the spooks are going to think that you're in Timbuktu, and even if they could monitor the web activity, all they'll see is a bunch of gibberish. For me, this not only safeguards my online privacy, but it also protects me when I'm using an open WiFi network in a coffee shop or some other public place.
UPDATE 10/25/2010
BY DEMAND

YOUR OPPORTUNITY ABOVE IS THE STATE OF ART TODAY
Company
Cryptohippie, Inc. was formed in 2007 through the acquisition of MeshMX, Diclave, and Roque Holdings – all of which were little-known but highly regarded providers of superior privacy enhancing technologies. In fact, some of the best-known privacy protection and security services licensed (and still license) earlier versions of our products. We were the first to provide VPN-based privacy protection services to the market, beginning in early 2003.
Both our management and development teams are composed of seasoned professionals with long experience both in running enterprise-grade secure networks and operating businesses in the privacy market.
Mission
Cryptohippie's mission is to protect individuality and privacy on the Internet – to prevent all transgressions against privacy, from whatever source. This is much more than pretty talk for us. Every person on our management team has a successful professional life outside of Cryptohippie. We do not have to do this – we do it because it matters.
Philosophy
We believe that human beings should live by reason, as individuals, with integrity, and with passion. Privacy allows that. Furthermore, we demand of our clients what we demand of ourselves: To demonstrate honesty and to show respect for the dignity of man, privacy, and for sound economic PRINCIPALS