Whatever The Guardian is, just like The New York Times, The Washington Post, CNN, MSNBC, NPR, and the rest of the Western presstitutes, journalism is not present on its pages. What the West has is a Ministry of Propaganda. The public is lied to and brainwashed, not informed.
We can see the total failure of The Guardian, and all the rest as well, in the reporting on the arrest of the alleged Russian spy, Maria Butina by the utterly corrupt US Department of Justice (sic). The principal evidence against Maria is that she met with a former Russian ambassador to the US, Sergey Kislyak. According to the utterly corrput US Department of Justice (sic), an assistant US attorney, Erik Kenerson, "cited Butina's encounter with Kislyak as proof that she was in touch with diplomatic or consular officials and must be detained while awaiting trial."
So, in America if you get your photo taken with a former Russian ambassador to the US it is evidence that you are a spy.
I have read the indictment of Maria Butina. She is not accused of any crime recognizable by Anglo-American law. She is indicted under Jeremy Bentham's 18th century totalitarian argument that she is guilty of the "crime" of possibly intending to commit one in the future. (See The Tyranny of Good intentions by PCR and Lawrence Stratton.)
The U.S. Dollar just had one of its biggest rallies in decades.
Between 2014 -2016, the Dollar soared 29%. This was because the Fed finally ended QE3 (their last round of money printing) and began talking about raising interest rates. This was their tightening cycle.
During this time, U.S. economic growth was in a downtrend. Not too mention the Fed couldn't get their 'healthy' 2% inflation.
But at the beginning of 2017, the Dollar entered a bear market – falling over 12% in 15 months.
Yet in this period, U.S. growth was in an uptrend and inflation finally eclipsed 2%.
Take a look for yourself. . .
Secondly. . .
One of my favorite financial minds is Russel Napier. He wrote 'The Anatomy of a Bear' and it's one of my favorite books (this book is in our must-read list).
It's about the harshest bear markets over the last 100 years. It's insightful and interesting to see how things got that bad after being so good.
To put it simply, this guy knows bear markets.
He recently hypothesized that the U.S. Dollar will keep rallying higher. And this will trigger the next systemic banking crisis and lower growth.
A stronger dollar is also negative for global stocks. And emerging markets could 'blow up' because of their debt ballooning.
I agree with Napier on this – except that this reality won't happen.
If there is any sign of slowing growth or a systemic banking crisis, the Fed will reverse their hawkish tone and (inevitably) restart their printing presses.
Therefore, the recent Dollar rise won't last. It can't last for growth's-sake.
We can deduct from Trump's words and by looking at the strengthening GDP that a weaker Dollar is what the U.S. really wants.
Once investors perceptions realize this reality – the Dollar bear market will resume.
And the Reflexivity feedback loop that recently lifted the dollar up will against it – all the way down.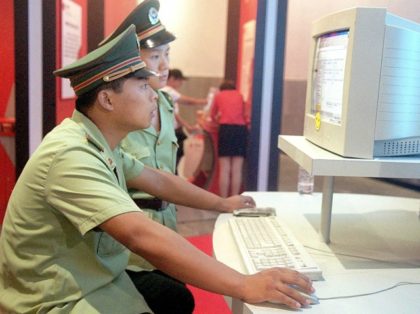 EDITORIAL COMMENT….NOT MY JOB TO WARN PEOPLE…..
Russian banks ready to switch off SWIFT – official
Russian financial institutions and firms are ready to work without SWIFT's interbank cash transfer services, according to Deputy Prime Minister Arkady Dvorkovich.
This odd finding – namely that the VIX ETPs had shifted their traditional vol bias from long to short – prompted the Goldman strategist to ask glibly "Should we worry?"
Less than a month later we have the answer: Yes, Goldman, you should worry, because the historic short squeeze that took place overnight in VIX, which sent it over 100% higher – the biggest jump in history – was precisely a result of this Goldman observation, namely that ETPs were now aggressively shorting vol.
Here is what happened – as Morgan Stanley explained overnight – following this first ever shift by ETPs to net short vega, a move that in retrospect will prove to be suicidal for the entire industry, which now faces one giant termination event.
In short, "the VIX market saw the biggest net buying pressure on record." According to Morgan Stanley calculations, ETPs had to buy 282,000 VIX futures to rebalance their short gamma: "this was the largest VIX buy in history, dwarfing Friday's previous record of 78,000." Dealers hedging their short gamma exposures likely contributed to VIX futures demand as well.
And since most of the rally in VIX futures happened after the 4:00 pm cash close, there was no time for investors or the issuers of the VIX ETPs to react.
It gets better: according to Morgan Stanley this move was "incredible" particularly because VIX and VIX futures were already elevated – and the amount of volatility to buy exceeded the bank's already aggressive estimates (below shows what QDS estimated coming into Monday) and speaks to the size of the short vol exposures in the market:
While this explains the theory, the question is what happens in practice next: will the inverse ETPs – like XIV – continue to exist today? This is up for debate at time of this writing, but for the broader market the implication is clear: the inverse ETPs have effectively delevered down to zero, going from short 230,000 VIX futures to short just 4,000.
The good news from the effective wipeout of a major part of the vol-selling market is that "this means there is much less risk going forward of further vol to buy from rebalancing of these products."
The bad news: holders of the inverse ETPs lost $3.4bn as the products went nearly bankrupt and this removes a steady source of volatility supply over the last year.
US stock futures point to a third day of big losses, global markets plunge
Those curious can read more on what a XIV termination event is here.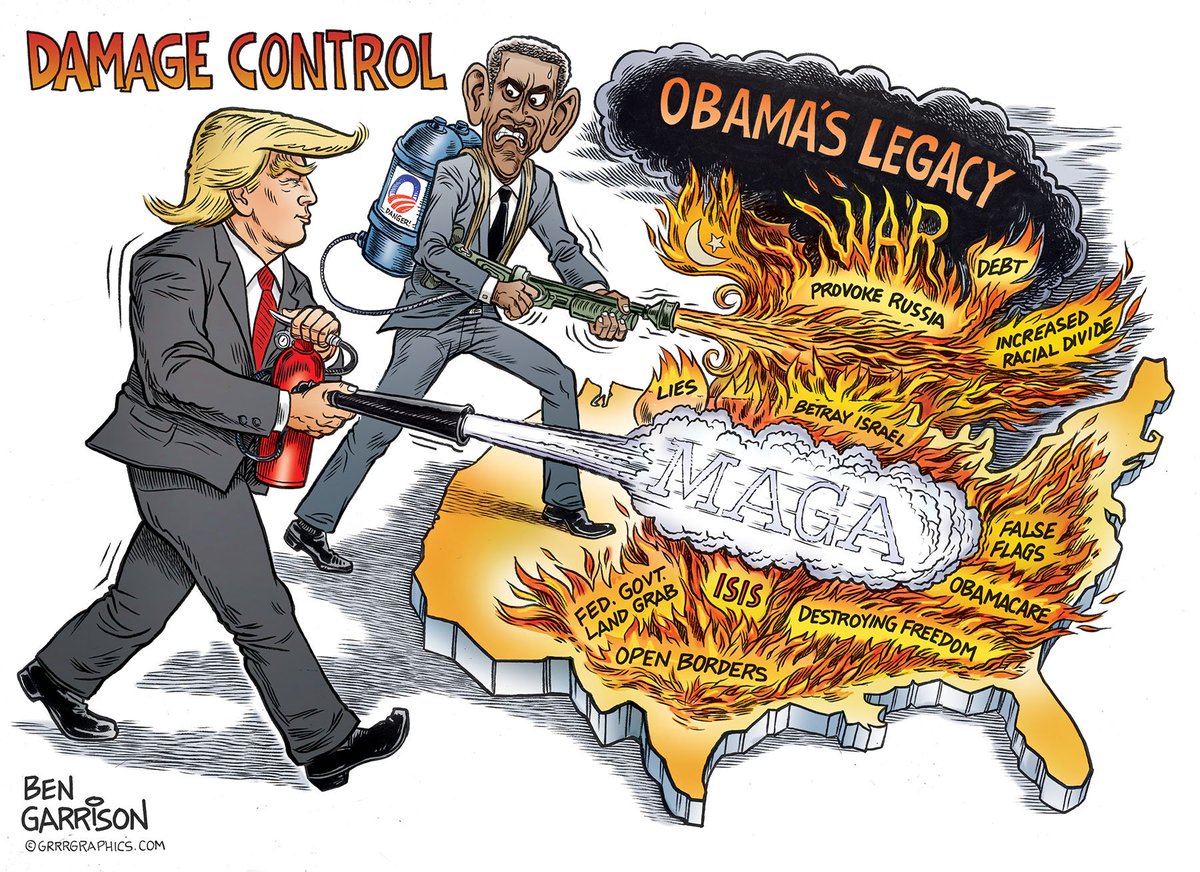 Saudi Oil Company's IPO Has Turned Into A Geopolitical Fist Fight
Buy Gold, Silver Time After Speculators Reduce Longs and Banks Reduce Shorts
Buy Gold, Silver Time After Speculators Reduce Longs and Banks Reduce Shorts
– Gold and silver COT suggests bottoming and price rally coming
– Speculators cut way back on long positions and added to short bets
– Commercials/banks significantly reduced short positions
– Commercial net short position saw biggest one-week decline in COMEX history
– 'Big 4' commercial traders decreased their short positions by 28,800 contracts
– Seasonally, January is generally a good month to own gold (see table)
– "If history is still reliable, January will be a great month to own precious metals"


Have you found the gold price in the last few months to be particularly boring? Well, fear not as it looks like it might all be about to take a turn upwards. Last Friday's Commitment of Traders (COT) report signaled we are close to bottoming and suggest that both gold and silver should have a positive January and Q1, 2018.
As John Rubino wrote in his latest note, 'gold futures traders have finally started behaving "normally."' This simply means that speculators are finally beginning to cut back on long bets whilst commercials and large bullion, the "smart money" and the "inside money" have reduced their shorts dramatically.
This was seen in gold and also in silver, the industrial, technological precious metal. Historically when commercial and speculator positions are brought into balance then this has proven to be bullish for the precious metals.
Previously peaks in net commercial short interest have often happened alongside sell-offs, subsequently valleys in commercial short interest have almost always coincided with nearby rises in price. This could be a positive indicator for the next few months in both gold and silver prices.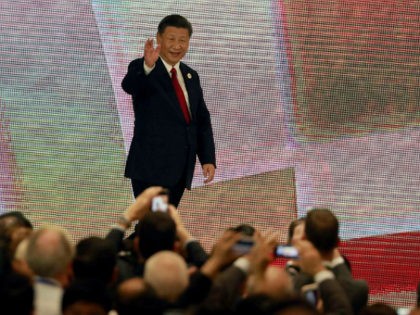 – German gold demand surges from 17 ton-a-year to a 100 ton-plus per year
– €6.8 Bln spent on German gold investment products in 2016, more per person than India and China
– Germans turned to gold during financial crises and ongoing euro debasement
– Evidence of latent retail demand on increased economic concerns
– "Gold fulfils an important long-term, wealth preservation role in German investors' portfolios"

Editor: Mark O'Byrne
India and China often grab the headlines as the world's largest buyers of gold. In 2016 this was not the case.
When measured on a per capita basis it is Germany that takes the impressive crown of largest gold buyer in 2016, all thanks to their investment market. Last year the country set a new personal best, ploughing as much as £6.8bn ($8 bn) into gold coins, bars and exchange-traded commodities (ETCs).
This is impressive considering that back in 2008 the amount of gold purchased by Germans barely registered outside of the country. A new World Gold Council report records that 'average demand between 1995 and 2007 was a modest 17 tonnes'. In some of those years they weren't even net-buyers.
In 2008 this began to change as 'the global financial crisis brought gold to the attention of German investors at large.' By 2009, the German gold investment market became one of the world's largest, with annual coin and bar demand growing four-fold from 36t in 2007 to 134t in 2009.
Since then it has continued to climb, as explained in the latest World Gold Council report:
Germany has established itself as a 100t-plus per year market for bars and coins, and a vibrant domestic ETC market has developed: during Q3 2017, German-listed ETC AUM hit an all-time high of 252.1t, equivalent to €9.8bn.
So what changed and can the country keep up this record-breaking?
What changed?
"The Singaporean banks have regional ambitions, and for them, increasing the size of their private bank is a good way to grow," said Jan Bellens, EY Asia-Pacific banking and capital markets leader and global emerging markets leader.
"For the Swiss players, I think it is a case that Asia is where the growth is at a time when things are more challenging in their home market."
Activity in the Asian private banking space in recent years has primarily been among mid-sized players which are either looking to gain size to compete, or withdraw from the market.
The top six places in the table were unchanged from 2015. UBS, with its US$286 billion of AUM, fended off Citi and Credit Suisse to maintain the No 1 spot.
Despite all the comings and goings, assets under management at the top 20 private banks in Asia grew by 6 per cent in 2016 to reach a record high. Collectively, they managed US$1.55 trillion of the region's wealth in 2016, excluding mainland China, according to the magazine's calculations.
The magazine noted, however, that AUM growth excluding onshore China was dwarfed by that of Chinese banks. China's top five private banks have increased their AUM by an average annual growth rate of 27 per cent since 2012, while the top five Asian banks excluding onshore China achieved CAGR of just 6.4 per cent.
The attractions for international private banks of servicing this onshore Chinese wealth are significant, but doing so involves a number of challenges, most recently the strict controls on capital leaving China.
"A number of the international private banks have stated that their aim is to service onshore Chinese wealth, but it is not yet clear what a successful operating model might be," Bellens said.
China dumping U.S. Treasury debt in record volume… is this a prelude to the globalist assault on Trump's economy?
JP MORGAN GOBBLES UP A MINIMUM OF OVER 31 TONS (POSSIBLY UP TO 186 TONS!) OF PHYSICAL GOLD!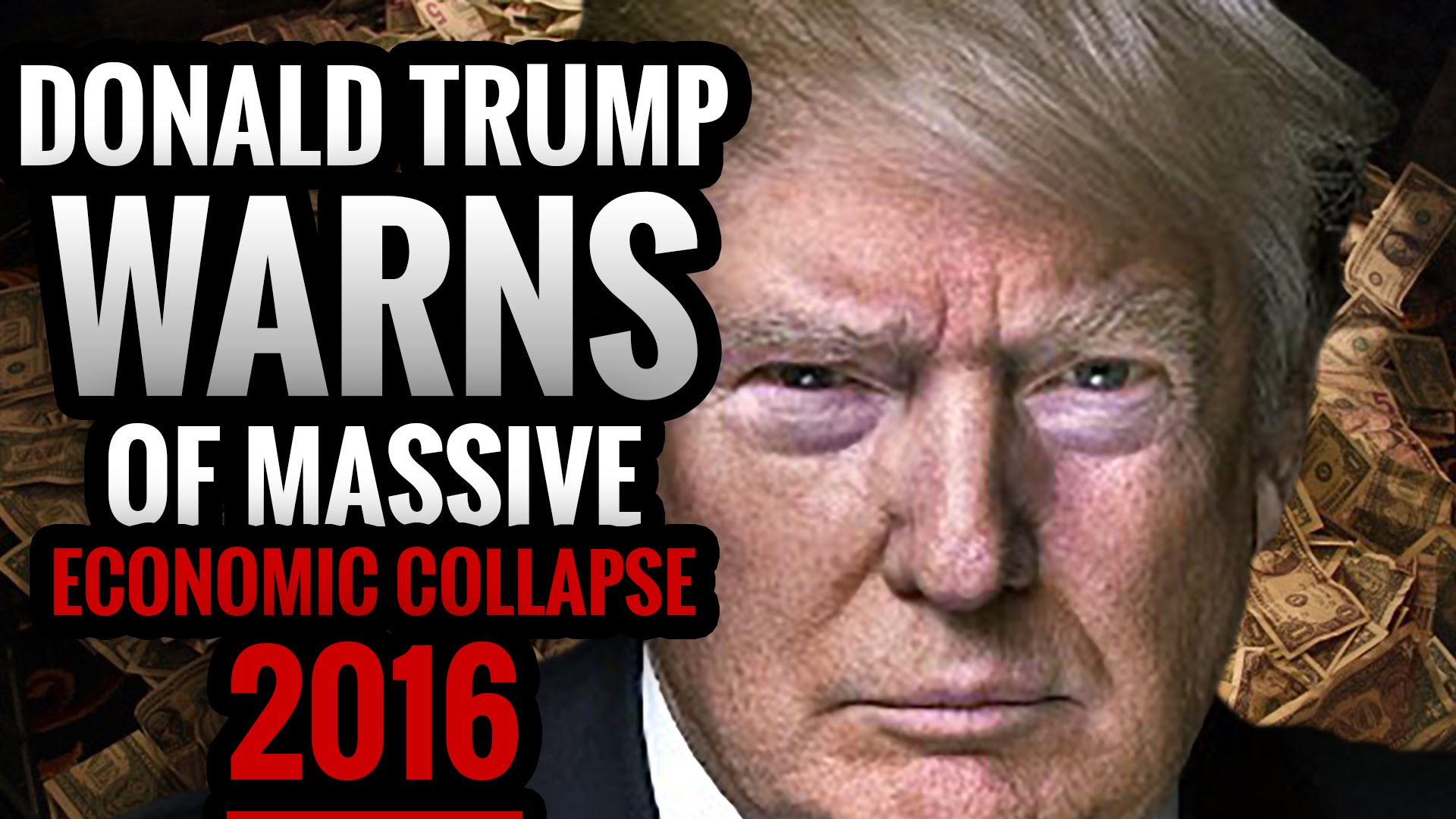 Might the globalists who've been working with impunity to bring down America to install their totalitarian, dictatorial 'new world order' use a collapse of the economy, their ever-present 'shadow government', an assassination attempt upon the life of Donald Trump or a Soros/Clinton funded 'purple revolution' to complete their long-held goals now that they realize that time may berunning out on them with Trump only 2 months away from taking office?
While we pray that the above mentioned possibilities never play out and Trump at least gets into office to show America what we'll look like under his leadership, we should remember that Trump warned that the world faces possible economic collapse, and we should always be prepared for anything and everything that might come our way.
 The establishment is clueless. Hopelessly corrupt. Immeasurably incompetent. The media, the political elite, the criminal bankers, the idiotic academics… they have absolutely no clue about the size of the fervent backlash that's headed their way.
"The Fed Failed …." And that Changes Everything
By Jeffrey Snider, Alhambra Investment Partners
There is a growing body of public work that suggests Federal Reserve officials are prepared now for avery different sort of normalization than what had been envisioned up until this year. That comes, as noted earlier, with the realization that the economy is not just in rough shape but likely to remain that way for the foreseeable future.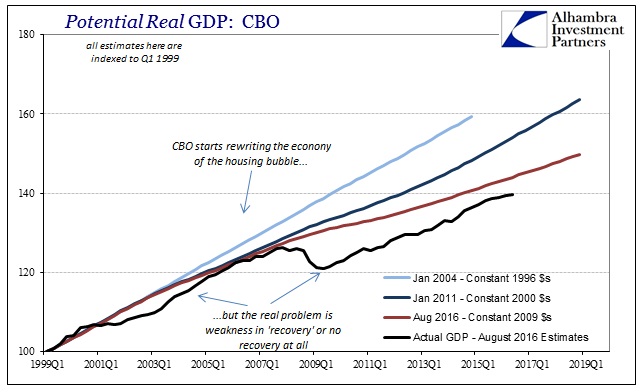 The important caveat left off that bleak pronouncement is actually ceteris paribus. So long as the current policy and monetary system remains firmly in place, there is little hope the global economy will just spontaneously ignite. Since economists and central bankers have made it clear they aren't going anywhere despite being wrong about everything up to now, here we are.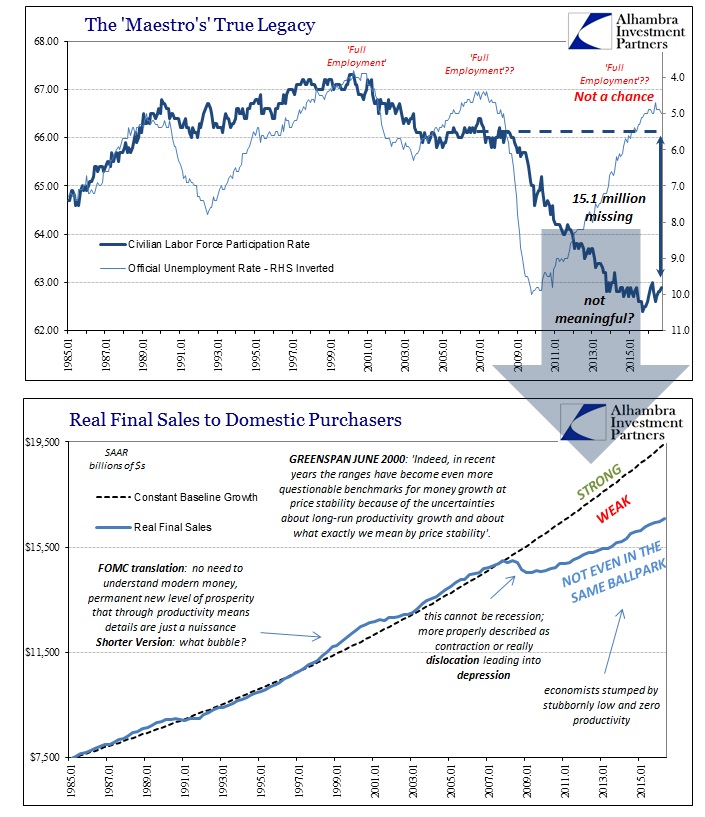 Even Janet Yellen has been forced to concede that even if the Fed does manage to get on with further rate hikes, the ultimate destination for them in nominal terms is much less than prior "cycles." Current thinking seems to be aiming for around 3% for the federal funds rate rather than 5% as had long been accepted. The way things are going, and as the Japanese showed, they will be lucky to get even half that far.
But in what can be only another sign of just how twisted, upside down, and easily receptive to pretzel logic the mainstream is now, that is supposed to be a good thing especially for stocks. Writing today for BloombergView, Mohamed El-Erian, chief economic advisor for Allianz, makes this exact argument.
Equity investors have also been reassured by the growing — and correct — recognition that this Fed hiking cycle will depart drastically from historical norms. Instead of following a relatively linear path of increases at regular intervals, it will have pronounced "stop-go" characteristics. Also, and perhaps more importantly, the endpoint — or what economists call the "neutral rate" — will be considerably lower than recent historical averages.
How in the world is that a good thing that would "reassure" equity investors? Truly rational investors make decisions based on discounted information about the future, and what El-Erian suggests here (and he hasn't been alone) is that stock investors show more preference for "accommodative" monetary policy than actual growth. A lower rate ceiling implies without much ambiguity continued awful economic conditions here and elsewhere around the world. But to the screwed up nature of mainstream thought, so long as monetary policy is lower overall continued stagnation is forgiven, perhaps even to be mildly celebrated?
What does it mean by claiming "accommodation" that gives "investors" so much apparent comfort? It can't mean that in economic terms for obvious reasons; instead we are led to believe that low (meaning desperately insufficient) growth isn't all that bad so long as interest rates don't rise too far. Investors are supposed to be paying for growth, not the failure of interest rate "stimulus" to seed it. If the Fed feels it can't raise rates all that much, with a true "ceiling" yet to be determined, it is a much riskier, not less risky, environment.
The idea of a lower R* or r-star is truly a defining defeat, though it is, like El-Erian's attempt here, being spun into what is nothing more than rationalization. As I wrote in September, the falling R-star can mean nothing else:
There is more complexity when we talk about inflation, of course, but by and large it is commodity prices that have thwarted John William's (or Janet Yellen's) "normalizing" narrative. Commodities have been falling more intensely since the middle of 2014 but really dating back to the middle of 2011. Both of those inflections recall and are related to obvious eurodollar or global wholesale money events. Thus, even subscribing to Wicksell's theory, the current rate must now be, as it has been, above the natural rate, unambiguously indicating "tight" money. Whether it is via Friedman's interest rate fallacy or Wicksell's natural rate hypothesis, both arrive at the same conclusion due to seemingly intractable market prices.

Central banks assume that means they have to "stimulate" more when in fact it is just their math telling them they haven't stimulated at all – at least not where it counts and has been needed. Translating depression into econometrics is a long and costly affair, but it is at least starting to be done, slowly and in discrete pieces. R* may yet be of some great value, insofar as further calculating just how little monetary authorities know about money.
Reception of and belief about QE have been very much cult-like and it was thus too thinly constructed to withstand being so thoroughly debunked. This is not even close to making the best of a bad situation; it is instead claiming positive attributes that just don't exist, being downright offensive to common sense. How anyone, let alone El-Erian, wrote that paragraph (contained within an article further rationalizing the latest of the "rising dollar") without awareness of its very basic flaw can at best be described as intentionally obtuse while still bordering upon nakedly deceiving. The world of the near future is going to be bad, worse than everything "we" have been expecting, but take heart, the Fed's monetary policy will reflect just that. Translating it from the original mainstream thought-bubble language truly reveals its truly absurd premise… The Fed failed, and that changes everything; including and especially what is to be made of "accommodation" and what it is that might have "reassured" equity investors in the past and might do so (or not) going forward.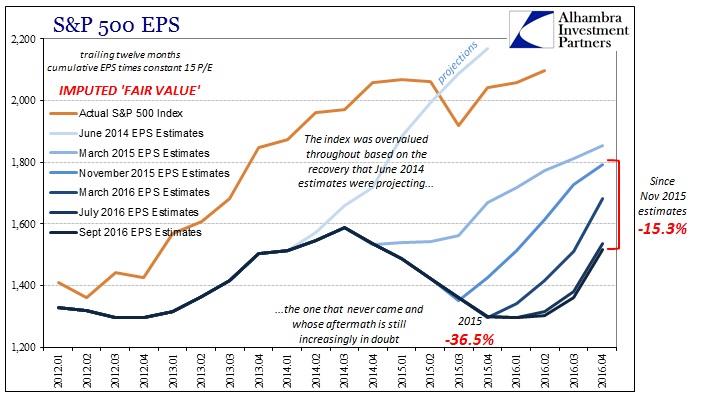 Exclusive: 'Flash Boys' protagonists aiming new exchange at gold
IEX Group, which rose to prominence with its bid to shake up stock trading in the United States, now aims to do the same in the more than $5 trillion-a-year gold market with a new exchange being created by its spinoff TradeWind Markets, a board member of the new venture said on Tuesday.
The protagonists of Michael Lewis's book, "Flash Boys: A Wall Street Revolt," are planning a gold exchange that would use elements of blockchain technology to improve transparency and the clearing and settling of trades, said Matt Harris, a managing director at Bain Capital Ventures. Bain has an investment in IEX.
Blockchain is a tamper-proof shared ledger that can automatically process and settle transactions using computer algorithms.
TradeWind Markets began as an internal project of IEX and was spun off as a separate firm earlier this year. In June, the startup raised $9 million, according to a regulatory filing with the U.S. Securities and Exchange Commission. A person familiar with the operation who asked not to be identified because the plans are not public, said the funding came from IEX and Sprott Inc (SII.TO), a Canada-based investment firm that manages physical bullion funds……