An instant reflection of what Hollywood is smiling about at any given moment.
This Weeks Spotlight
How "The Hunger Games" Challenges Old Hollywood Expectations About Gender Roles
CELEBRITY LIFE, LOVE IT, LIVE IT
Miss Universe photo spark controversy
Hobbiteer Emma Watson's New Day
It's the pixie-cut hair and flawless skin that give her away. Emma Watson is dressed unobtrusively in a cotton flower-print French Connection dress and beige sandals, but she is unmistakable. Fans have accosted her five times in the past half hour alone. Today is the actress's twenty-first birthday, and she is determined to spend it as she pleases—which means a leisurely mid-morning latte followed by a stroll through the Joan Miró exhibition at London's Tate Modern.
Emma ignores the stares and continues to chat animatedly about Miró's willingness to take risks with his art. An avid painter herself—"I love it and have a need to do it"—she can talk eloquently about every picture on the wall. Her favorite is The Farm, a painting once owned by Ernest Hemingway that brought the artist his first taste of success outside Spain. What she admires, Emma tells me, is that Miró was both a draftsman and a painter, unafraid to combine these talents to create something that was simultaneously surreal and hyperreal
`FEMME FATALE`  TOUR KICKOFF
Britney Spears
Meet Petra Ecclestone, the 22-year-old British heiress to the Formula One auto racing empire who just purchased the most expensive home in the U.S

Neil Patrick Harris, Hugh Jackman
Tony Moments

The 2011 CFDA Fashion Awards were announced this week in New York, and now you can get a piece of a collection that's sure to make history. Here are the standout items from each winner that we suggest you co-opt for your closet
GAGA
Friendly Fires – Biz Session
Glitz And Glamour Of The Races


January Jones: Strong Smoky Eyes


More than just films get debuted at the 64th annual Cannes Film Festival. When filmmakers, celebs, and actors gather in the South of France, it's a festival of arts and glamour.
Foo Fighters headline Radio 1's Big Weekend in Carlisle
The US rockers played an 80-minute greatest hits set to finish off a day that also saw performances from Black Eyed Peas, Tinie Tempah
Lady Gaga headlines the second day of Europe's biggest free ticketed music festival with another 20,000 fans expected.
The 64th Cannes film festival is getting under way with Woody Allen's latest romantic comedy Midnight in Paris opening the 11-day event on the French Riviera
An impressive turn out of stars are due to be converging on Cannes, with Johnny Depp and Penelope Cruz expected on the red carpet for 3-D adventure Pirates of the Caribbean: On Stranger Tides.
Twenty films are up for the highly coveted Palme d'Or this year.
Oscar-winner Robert De Niro, who starred in past Palme d'Or winners Taxi Driver and The Mission, is heading the jury which includes Hollywood stars Uma Thurman and Jude Law.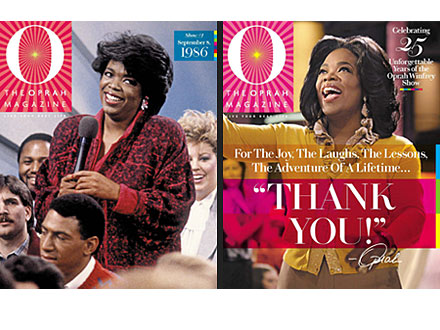 Oprah Winfrey, in 1986 (left) and 2011
Kates Sister Pippa Blast from the Past


Beauty in Vogue
Focus on the eyes. Exclusively for vogue.it Clio shows how to create the perfect make-up for your Spring evenings
CURRENT OBSESSION
Gold Is Gold
Every year, music's hippest fans swarm to the California desert for the Coachella Valley Music and Arts Festival. See our exclusive images from entertainment's wildest weekend.
The annual New York film festival kicks off Wednesday with documentaries featuring Elton John and Carol Channing, and films that zero in on violence in South Africa, miscegenation in the South and AIDS in Zambia. See photos.
Documentaries chronicling the making of Elton John's album with Leon Russell, the struggles of transsexual tennis ace Renee Richards, and the career of Broadway great Carol Channing, along with a new movie starring Oscar winner Adrien Brody and a British buddy comedy are among the features at the 2011 Tribeca Film Festival, which begins Wednesday, April 20 and runs through May 1. Juries composed of such luminaries as Nora Ephron, Dianne Wiest, Whoopi Goldberg, and Atom Egoyan will award $175,000 in cash and prizes to winners in the annual festival's six categories: World Narrative, World Documentary, Emerging Narrative, Emerging Documentary, Narrative Short Film, Documentary and Student Short Film. Here's a look at the lineup:
Water for Elephants
Jennifer Lopez
We're just four months into 2011, but it's already turning out to be Jennifer Lopez's year. After enjoying a career revitalization, following her January debut as a judge on ratings juggernaut American Idol and the release of new music, the actress and singer has been picked to grace the cover of People magazine's Most Beautiful issue. The publication's special issue is scheduled to hit newsstands today.
The 46-year-old comedian has starred in over 35 films and hosted the Academy Awards, but he said he was excited to see how this experience would hone his acting skills.
"In a weird way, this is like the acting school I never got to go to," said Rock, "And I'm very interested in seeing how this affects the rest of my work, 'Cause in a weird way it feels like I knew nothing. It's like, I almost wanna buy back all my movies. It's like, 'I'm sorry, America! I didn't know what I was doing.'"
Framework: Join us for a one-night-only pop-up photography show April 14
April is the Month of Photography in Los Angeles, so we decided we wanted to have a little party with a one-evening-only, pop-up gallery experience. We've put together a curated collection of amazing photography by Times photojournalists in a fantastic and unconventional setting. Join us, meet the staff, talk photography, like us, blog about the event, bring lots of your friends. It's something new for us that we really want to share with you. And it's the same night as Downtown Art Walk, so let's make an evening out of it.
Vogue Italia's April issue — and we would have never recognized the actress, what with the super blunt haircut we thought we could put off circa 1993 and all. But the new 'do goes swimmingly with the labels she's shilling and the cleavage she's showing.
In a behind-the-scenes interview that you can watch here, Alba told the glossy, "My own style is probably a mixture of high and low. I'm definitely into sort of layering and I like mystery so I don't put it all out there. I play dress up for a living — for photo shoots and for working and movies or whatnot — I sort of wear more revealing things that show my body. But in life I like things that have a little bit more mystery. I like things that are elegant and chic, but then a little rock-and-roll."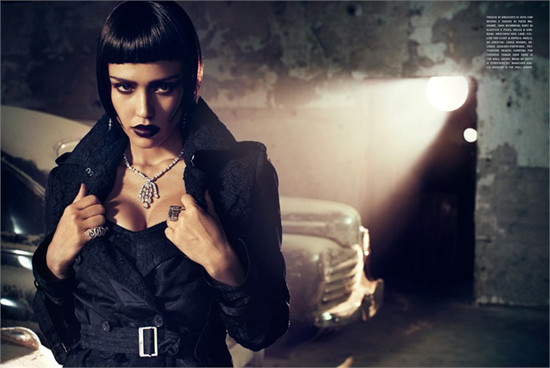 "I have always been very aware of my looks – she continues – and I have worked hard to work on them and keep them". Strict diets and athletic training have always been part of her agenda. But since she has had a daughter, her attitude has changed. "After the pregnancy, I felt liberated. I learnt how to accept my body and I give less importance to my appearance", says the actress, now expecting her second child due to be born in the summer.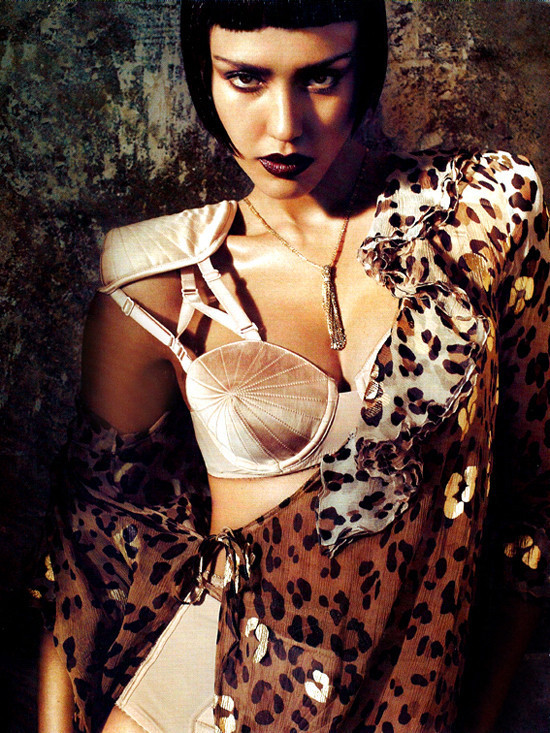 Meet Jack Nicholson's Actress Daughter!
Before joining the cast of Soul Surfer (in theaters April 8), Lorraine Nicholson sought some A-list acting advice from her dad, Jack Nicholson.
"He's my mentor," she told UsMagazine.com at Wednesday's L.A. premiere. "I'm going into the family business because we're so close and he's such an inspiration. I admire him so much."
Still, the 20-year-old actress takes what her Oscar-winning father says with a grain of salt.
"My grandma always told my father, 'Don't toot your own horn,' which in Nicholson speak means, 'Be modest and let your work speak for yourself,'" she said. "That's sort of what I applied to not only my acting work, but my every day work."
3D Sex & Zen: Extreme Ecstasy' Makes the Cut for Singapore
A little less sex was just what the censor ordered for Singapore.
Uma Thurman, Hotties Some of the time, Uma Thurman looks hot. Other times, she definitely does not. What do you make of the metallic Lanvin coat dress and crystal-encrusted Jimmy Choo sandals the "Kill Bill" actress recently wore to a movie premiere in Hollywood
In My Opinion: Natalie Portman's Top Six Films
From 'The Professional' to 'Black Swan', where do the films fall?
Here we have the film that probably contains Portman's "cutest" performance. There is very little not to like about Portman as Sam, the soft-helmet wearing neighborhood cutie. In fact, this film would probably rank a little higher if it wasn't so chock-full of cute, indie moments. I love this movie every time I watch it, but it is also one that sort of sticks with you for a long time, like a soft piece of caramel wedges in your teeth. It's a film I can watch once a year and enjoy, but I need that 365-day separation before I'm ready for another bite.Thinking about this film again also made me wonder just what the hell happened to Zach Braff. After this film he had a string of acting busts and none of this directorial follow-ups came to fruition. Too bad, this film shows some serious promise.
If I wasn't taking Portman's performances into consideration V for Vendetta would be at #1, simply because it is my "favorite" film Portman is in, but I'd say she is about only 25% of the reason for that. I think Portman is great in this film, but I think I love the ideas in this film more than anything else. I love Hugo Weaving's performance and how much he was able to emote simply with his voice as he has to hide his face behind a mask for the duration. But more than that, I love the dialogue and all the credit there goes to Alan Moore.
In terms of Natalie's post-teenage roles, I think her performance in Closer is her best. It's the film she should have won an Oscar for, even as much as Cate Blanchett may have embodied Katharine Hepburn in The Aviator, Portman had the better performance and the film hinged on it. Beyond that, I also love this film, it's sexy, sultry, dirty, emotional and damaging. It forces you to feel something be it disgust, empathy or guilt by association. I'd also equate it to Garden State in that it's a film I can't watch on a regular basis, but I could play this one in the background on a loop just to hear Patrick Marber's fantastic dialogue performed at the highest level.
If we're going to talk Portman performances The Professional is at the top of the list. Because if you like any of Portman's latter performances you can look back to this one film and see hints of everything she's done since from her wide smile, her angular glare and her tear-soaked sobs.Last night I watched Beautiful Girls, The Professional and V for Vendetta to prepare for this write-up and there wasn't a thing from those two other films that wasn't visible in this one performance.Performance aside, this is just one hell of a film and one you'd probably also find at or near the top of my list should I ever decide to rank the films of Gary Oldman, Jean Reno or Luc Besson. It's a film that's hard to take your eyes off of thanks to the powerful acting and unforgiving narrative.
Four years after Britney Spears' breakdown, she's again promoting a new album, Femme Fatale, out Tuesday, though it's far from clear she's fully recovered. But industry sources tell Jacob Bernstein that won't hurt her career.
RELATED:
RELATED: