THE IRON LADY PASSES AWAY
French troops kill 'hundreds' of Islamist fighters in Mali
Quick Fix For Mali: French Troops Can't End Crisis
A crowd cheers the arrival of French soldiers in Timbuktu, in northern Mali, on January 29, 2013. (Arnaud Roine/ECPAD, via AP)
Dutch queen handing throne to son
Hollande Deploys Troops To Mali To Stop Advance Of Islamist Extremists.. Al Qaeda-Linked Militants Seize Key Town.. Mali Declares State Of Emergency.. France Launches Air Strikes.. Operation 'Will Last As Long As Is Necessary'
Julian Assange to make 'balcony speech' from Ecuador embassy
Related Stories
Julian Assange is due to address his supporters from the Ecuadorean embassy in London, marking six months since he was granted asylum inside the building.
It will be the second time the WikiLeaks founder, who took refuge at the embassy in June, has delivered a message from the balcony.
He faces extradition to Sweden over sexual assault claims, which he denies.
Crowds are expected to gather outside the embassy in the Knightsbridge area to watch the speech.
Australian Mr Assange, 41 – whose Wikileaks website published a mass of leaked diplomatic cables embarrassing a number of countries – fears his extradition could lead to him being sent to the US and punished for releasing top secret documents.
Mayan prophecy that predicts the end of the world on December 21 time has been rubbished by the Vatican's chief astronomer.
Former UBS trader Adoboli guilty on fraud charges over huge loss
Former UBS banker Kweku Adoboli arrives at Southwark Crown Court in London on November 16, 2012
NEW: Former trader Kweku Adoboli convicted on a 2nd fraud count, acquitted on 4 others
NEW: Adoboli's actions constituted "pure and simple" fraud, prosecutor says
Adoboli was charged in connection with a $2.3 billion loss in unauthorized trading at UBS
Brooks, Coulson charged over alleged payments to officials
NEW: Rebekah Brooks will appear in court next week, charged over alleged illegal payments
Andy Coulson faces charges over alleged payments to officials in a separate case
Brooks and Coulson edited a newspaper that was part of the News Corp. empire
Coulson was director of communications for Prime Minister David Cameron
Oscar-Winning Director Weighs In On Spanish Crisis
Eurozone unlocks €500 billion war chest
The eurozone unlocked its long-awaited 500 billion euro European Stability Mechanism on Monday amid fresh concerns over the economies of Greece and Spain. The fund will be operational by the end of the month, chairman Jean-Claude Juncker said.


Dogged by Scandal
The worst thing we can do is to divide forces, encourage dissent and deepen wounds"
King Juan Carlos, who on Tuesday appeared with judges and magistrates for the opening ceremony for the new judicial term, was asked by reporters what he thought of last Tuesday's massive turnout in support of Catalonia's independence. The monarch did not want to comment but told journalists that in a few hours there would be a message posted on the Royal Household's website.
Catalan regional spokesman Francesc Homs said that his government doesn't feel "intimidated" by the king's reflections, but said that the Catalonia "will not give up its status as a nation" or "its right to decide" whether to separate from the rest of Spain.
"We are in total agreement that there isn't any need to 'chase rainbows' — this is far from what Catalonia is doing," Homs said.
Barcelona Warns Madrid: Pay Up, or Catalonia Leaves Spain
Sept. 11 always brings Barcelonans into the streets to dance the sardana, sing for their enemies' blood in the anthem "Els Segadors" and chant political slogans in celebration of their national holiday, the Diada de Catalunya. But this year, a new intensity colored the Catalans' nationalist fervor. The independence movement's flag bearing a white star against a blue triangle outnumbered the region's official yellow-and-red-striped standard. A pro-independence march, which in the past has never drawn more than 50,000 people, pulled in a crowd estimated by city police at 1.5 million. And every newspaper in the city carried the results of a poll released this week that reveals a once unimaginable transformation: half the population of Catalonia supports secession from Spain.
"We have no other option since our will has been totally ignored" says Soledat Balaguer, a member of the secretariat of the Catalan National Assembly, organizers of the demonstration that shut down the city center. "Catalonia needs to be its own state."
Debt crisis: Greece to run out of money by August 20
Greece may run out of money and go bankrupt by Aug 20, a British government analysis of the ongoing eurozone crisis has warned.
Assange's appeal to Ecuador is no surprise
Assange's attempt to gain asylum in Ecuador is just the latest turn in one of the biggest media stories of our time. The WikiLeaks co-founder is currently in the Ecuadorean embassy in London, which issued this statement on June 19:
HUGE CROWDS AND THE OLD DUKE IS SICK TODAY
(Reuters) – A star-studded lineup serenaded Britain's Queen Elizabeth and huge crowds at a pop concert outside Buckingham Palace on Monday to mark her 60-year reign, but Diamond Jubilee celebrations were overshadowed by news her husband had been hospitalized.
Kate Middleton Repeats Pink Dress At Buckingham Palace Garden Party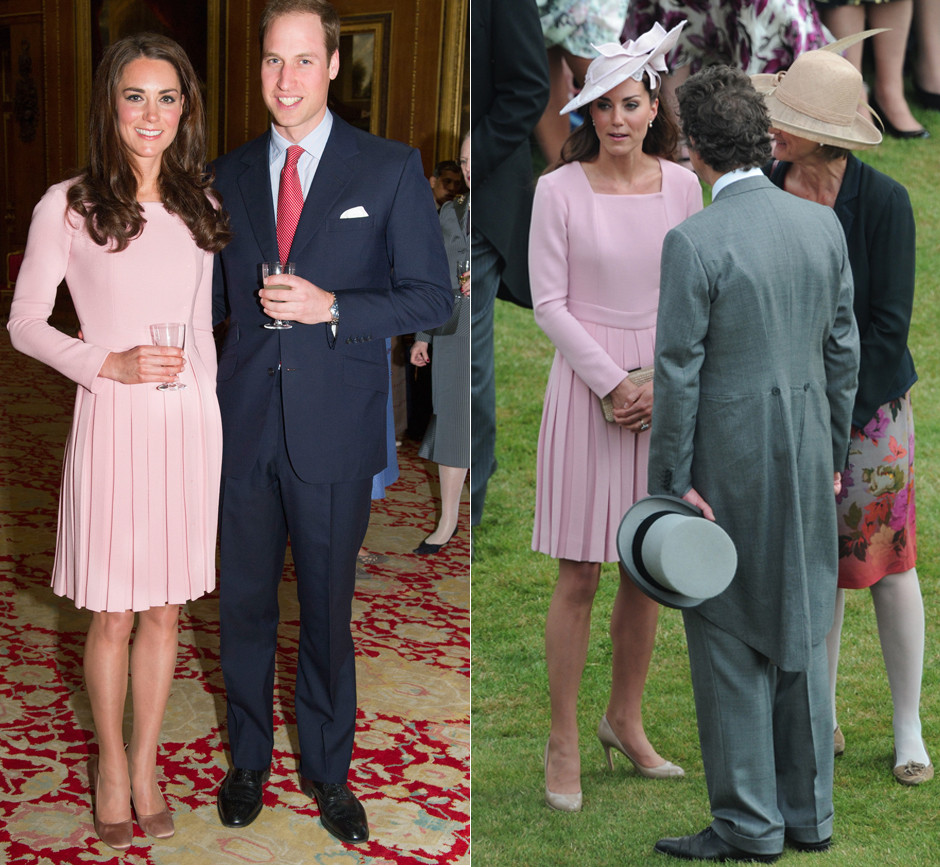 Duchess Kate headed to a Diamond Jubilee garden party at Buckingham Palace with 8,000 guests with her father-in-law Prince Charles and Duchess Camilla on Monday; the queen, of course, was there as well. (Will got held up at work.) Camilla went all-white — it is after Memorial Day in America, after all — and donned a feathery white fascinator, but Kate opted for a more demure look in a light pink dress.
Francois Hollande, France President, Considers French Troops' Afghanistan War Mission Completed
After this year's G8 summit concluded in Camp David, President Obama joined Angela Merkel and David Cameron to watch the end of the Champions League final.
David Cameron cheered on underdog Chelsea as they scored a dramatic win over Germany's Bayern Munich. Merkel looked less than pleased.
The victory was a first for the UK team, who won in overtime.
Check out photos of Obama, Merkel, Cameron, Francois Hollande and European Commission President José Manuel Barroso watching the game below. Images are courtesy of the White House's Flickr account.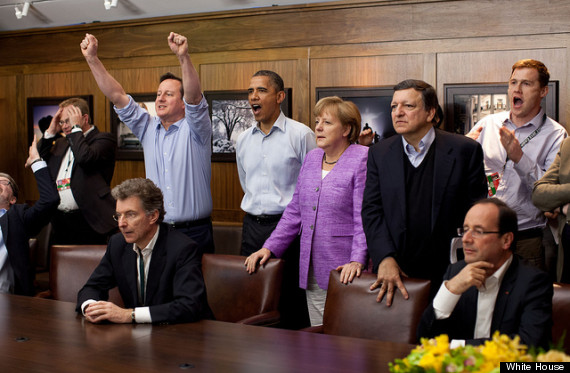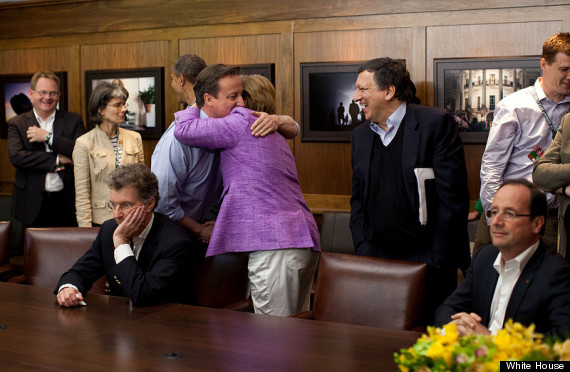 PARIS — France's far-right leader Marine Le Pen told supporters at a rally in central Paris on Tuesday that she would be "voting blank" in Sunday's presidential runoff.
Le Pen, president of the National Front, told the crowd of several thousand people she would not support either incumbent Nicolas Sarkozy or his Socialist challenger, François Hollande.
Voting Begins in France

Arsenal's Robin van Persie (L) challenges Wigan Athletic's Maynor Figueroa during the English Premier League match at the Emirates Stadium in London April 16, 2012.
FRANCE
Athens issues threat to bond holdouts
The statue of King Leonidas of ancient Sparta stands over the battlefield of Thermopylae in central Greece
Greece has threatened to default on any bondholders who haven't signed deal
Move turns up the heat on potential holdouts ahead of a deadline on Thursday
Euro summit tension over debt crisis plan
The EU's 27 leaders are discussing how to create jobs and growth amid calls to go beyond enforcing budget discipline.
The EU has more than 23 million unemployed people and there are fears that wide-ranging budget cuts will harm enterprise and training.
The next installment of rescue funds for Greece hinges on the approval of the team, known as the troika. Athens must also complete a complex bond swap deal.
Demonstrators protest austerity cuts in front of Parliament in Athens. (Milos Bicanski / Getty Images / January 17, 2012)
Dancers of the ExperiDance Company perform on the stage of the National Dance Theatre in Budapest during their rehearsal of a premiere for Liliomfi, directed and choreographed by Hungarian choreographer Sandor Roman. The premiere will be held on 15 January.
Stephen Hawking Celebrates His 70th Birthday Nicolas Sarkozy, France President, Says Syria Regime Of Bashar Assad Is Committing Massacres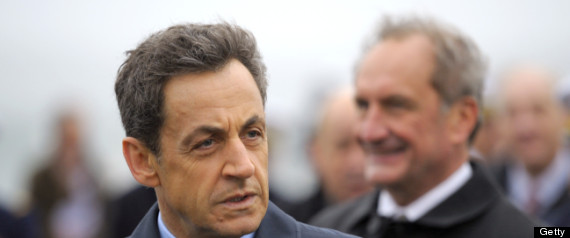 Firefighters take part in protests against spending cuts in Catalonia's public services in Barcelona, Spain. Spain's unemployment rate stands at a 15-year high and is the highest in the eurozone.
Jacques Chirac, France Former President, Found Guilty Of Corruption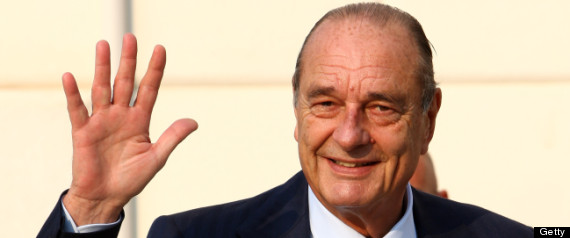 Former French president Jacques Chirac was found guilty in a Paris court Thursday of embezzling funds and violating public trust for hiring members of his political party for non-existent civil jobs while he was mayor of Paris.
Users of "Bath Salts" – a trendy new designer drug that's all the rage in Germany's club scene – say the substance can be hit and miss: often a rush of euphoria, sometimes an attack of paranoia. In a few cases, users have had full mental breakdowns.
A young woman speaks about the effects of MDPV, aka "bath salts"
MUNICH — They may not be against the law, but they are definitely dangerous. "On a good high, I dance for hours – but once I had a down that lasted for days," says Rita Morales (not her real name) describing the game of Russian roulette that an increasing number of young Germans are playing with designer drugs known as "bath salts."
"Wicked," "Ecko," "Rush Hour," "Jungle Dust" – whatever the name, they come in small bright packages, can be sniffed or swallowed, and engender rushes of euphoria. Side effects? Racing heart, hyper activity, shivers, delusions of grandeur, paranoia, aggressiveness and suicidal thoughts.
Euro leaders stand by single currency

Senate voted 156-12 on Friday to pass the countey's budget bill, which included the reform measures.
Berlusconi had promised to resign as soon as parliament passes the reforms.
There are mounting indications that economist Mario Monti will be tapped to head a transitional government to push through even more difficult reforms.
Italy is facing a Greek-style economic crisis that many fear would threaten the existence of the entire eurozone and cause a global recession.
Paving the way for Monti's appointment, Giorgio Napolitano, Italy's president, made him a senator-for-life on Wednesday, in a surprise move that raised his already high profile and instantly made him a legislator.
Berlusconi 'to step down'
The law is due to be approved by the lower house Chamber of Deputies on Saturday.
Mario Monti's potential role as Italy's leader
That would mean Napolitano may accept Berlusconi's resignation as early as Saturday night, and formally mandate Monti to try to form a new government soon afterwards.
Napolitano has urged parliament to act fast, and some analysts say a new government made up mostly of technocrats could be in place as early as Sunday night before markets open on Monday.
Napolitano moved quickly to calm markets on Wednesday after Italy's borrowing costs reached levels that could close its access to market funding, a development which would threaten the future of the eurozone.
He gave assurances that Berlusconi would honour his pledge to step down after parliament approved reforms geared to placate markets, and he would waste no time in either appointing a new government or calling new elections.
Austerity plan
At first Berlusconi had insisted that early elections were the only option. But he has since softened his stand and is said by sources to be open to a new government.
Monti has been pushed by markets for weeks as the most suitable figure to lead a national unity government to urgently push through further austerity measures.

Greece swears in Papademos at head of unity government
Athens, Greece (CNN) — Economist Lucas Papademos was formally sworn in Friday as the head of Greece's new unity government, as the nation seeks to regain political and financial stability after weeks of uncertainty.
Papademos, a former banker and European Central Bank vice president, becomes the country's interim prime minister after several days of political wrangling.
His ministers were also sworn in at a ceremony attended by the president and the head of the Greek Orthodox Church.
Finance Minister Evangelos Venizelos has retained his post in the new government, the prime minister's office said.
Stavros Dimas, a former EU environment commissioner, is the new foreign minister. He belongs to the New Democracy party, the main opposition to the previous government.