These Stories Are Shaping The Future
An instant reflection of what the world is talking about at any given moment.
National Rodeo Competition Las Vegas
Photo  on the personal effects left behind by Occupy L.A. protesters on the lawn surrounding City Hall after the Los Angeles Police Department shut down what was the nation's largest remaining Occupy camp.
Santa Ana winds wreak havoc across Southern California
The Legend of Elizabeth Taylor
Senate Votes To Let Military Detain Americans Indefinitely, White House Threatens Veto
Gays in the Military Aren't So Bad
Reuters
Gen. James F. Amos, the head of the U.S. Marines who wasn't too thrilled with Don't Ask Don't Tell being repealed in September, is thrilled today with how the lift on the ban of gays in the military has gone so far.
Fed Bank Bailout Was Way Bigger Than Anyone Thought
The amount of money the central bank parceled out was surprising even to Gary H. Stern, president of the Federal Reserve Bank of Minneapolis from 1985 to 2009, who says he "wasn't aware of the magnitude." It dwarfed the Treasury Department's better-known $700 billion Troubled Asset Relief Program, or TARP. Add up guarantees and lending limits, and the Fed had committed $7.77 trillion as of March 2009 to rescuing the financial system, more than half the value of everything produced in the U.S. that year.
THANKSGIVING  TRADITION
Turkey and Laughter and Love
Cookies in the shape of singer Lady Gaga go on display inside Gaga's Workshop at Barneys department store in New York. The shop is teaming up with the flamboyant pop singer for a Christmas holiday campaign with her interpretation of Santa's Workshop.
The Rise And Fall of Hope
'THIS IS NOT OVER'
Cops Evict Zuccotti Protesters.. Demonstrator: 'We'll Survive This'
LATEST: Judge Says Protesters Can Return To Zuccotti With Tents
Bloomberg: Occupation Became Public Safety Threat.. WATCH: Police Clash
Toy Lego characters join the Occupy Wall Street movement in Zuccotti Park, New York.
Heavyweight Champ Joe Frazier Dies
Former boxing champion Joe Frazier passed away late Monday at age 67. The heavyweight champion, who battled in the ring with Muhammed Ali three times and was the first to beat him, suffered from liver cancer.
Camp Pendleton honors Marines killed in Afghanistan
Breeders' Cup campaign feeds horse trainer's lifelong passion
November 3, 2011
Bill Spawr gets to the racetrack way before the crack of dawn and could be in line for a big career highlight if 5-year-old gelding Amazombie wins the sprint race at the Breeders' Cup this weekend
LAND OF THE POOR
Rise In Extreme Poverty Leaves Millions Stranded
THIS IS 'COMING HOME'?
U.S. Plans Major Post-Iraq Troop Buildup In Persian Gulf
GETTING PERSONAL
Romney, Perry Character Contest Dominates GOP 2012 Race
THE GREAT RETURN
Generations After The Great Migration, Many Blacks Return To Southern Roots
The Electric Daisy Carnival
The Electric Daisy Carnival, a three-day rave in Las Vegas this weekend,  was expected to draw more than 70,000 people each night. The annual music festival previously took place at the Los Angeles Memorial Coliseum, where last summer a 15-year-old girl attending the festival died, spurring scrutiny of the event. The company that produces the festival, Insomniac Productions, subsequently moved the event to Las Vegas. The Electric Daisy Carnival, spread across five stages at the Las Vegas Motor Speedway, features electronic dance music and  performance artists
1955-2011
'Remembering That You Are Going To Die Is The Best Way I Know To Avoid The Trap Of Thinking You Have Something To Lose'
QUOTES.. PHOTOS.. MOMENTS.. CREATIONS
Iraq: The War Is Not Over In Country's South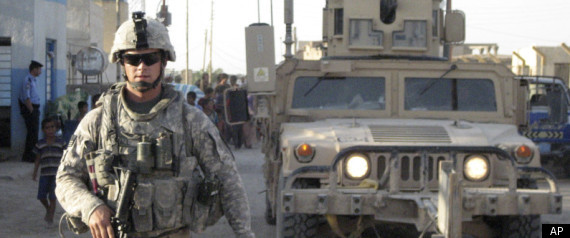 America, Aug. 29, 2011 photo, U.S. Army Staff Sgt. Trevor Hall, 28, walks through the village of Bani Hashem, Iraq after a group of American troops handed out water and toys.
WORLD TRADE CENTER GROUND ZERO NOW
Record 46.2 million Americans live in poverty, Census Bureau says

High joblessness and the weak economic recovery pushed the ranks of the poor in the U.S. to 46.2 million in 2010 — the fourth straight increase and the largest number of people living in poverty since record-keeping began 52 years ago, the Census Bureau reported Tuesday.
The share of all people in the U.S. who fell below the poverty line rose to 15.1% last year from 14.3% in 2009. That matched the poverty rate reached in 1993 before falling steadily to 11.3% in 2000. Since then the poverty rate has risen, accelerating after the recession began in late 2007, and is now approaching levels not seen since Lyndon B. Johnson launched the War on Poverty in 1965.
Last year the share of children under 18 living in poverty jumped to 22%, from 20.7% the previous year.
The Census Bureau's report also showed an increase in the number of people without healthcare coverage rose to 49.9 million last year from 49 million in 2009, though the percentage of uninsured was statistically unchanged. And there was a further erosion of incomes at the middle of the middle class.
Inflation-adjusted median household income in the U.S. fell 2.3% in 2010 from a year ago, to $49,445.
Taken together, the data all point to the severe and widespread financial strains of a nation in the throes of an economic crisis. And the report, coming shortly after President Obama's proposed package of $447 billion in tax cuts and spending to revive job growth and the recovery, is almost certain to intensify the debate over the government's role in helping the poor and unemployed at a time of budget deficits and painful cutbacks in public services. Extended federal unemployment benefits, for example, helped some people rise above the poverty line.
Analysts had widely expected the poverty rate for last year to edge higher, given that the nation's unemployment rate averaged 9.6% in 2010 compared with 9.3% the previous year. The latest jobless figure, for August, was 9.1%.
By the Census Bureau's latest measure, the poverty threshold last year was an income of $11,139 for one person and $22,314 for a family of four.
The government's official poverty rate doesn't count food-stamp benefits and low-income tax credits as income. If those programs, which totaled about $150 billion last year, were included, many more people would have been counted as being above the poverty line.
At the same time, analysts say other factors understate the real level of poverty in the U.S. Many more young adults have stayed or moved back home because they can't find jobs, and others have doubled up with friends and relatives. Moreover, experts agree that the poverty thresholds, designed in the early 1960s, doesn't capture people's spending and living needs in today's economy.
IT`S  WAR
Expanding to Los Angeles, the Affordable Art Fair Hopes to Woo a New Pool of Budget-Conscious Buyers
Courtesy LAFORCE + STEVENS
Hacker Group Anonymous Promises To 'Kill' Facebook Over Privacy
And Your  Favorite
THE TERMINATOR IS BACK IN HOLLYWOOD
Then Governor Arnold Schwarzenegger makes the announcement that money had been raised to purchase and protect the land around the Hollywood sign in April, 2010. The former governor will return to the big screen in 'The Last Stand.' (Mark Ralston/AFP/Getty Images/Newscom)
Arnold Schwarzenegger will test his post-marital scandal popularity by starring in director Ji-Woon Kim's western action film 'The Last Stand.' 'The Last Stand' will feature Schwarzenegger as an aging U.S. sheriff.
A LOOK BACK: The Most Historic Images.. Scenes From Atlantis' Final Launch.. PHOTOS: 30 Years Of The Space Shuttle.. Inside NASA's Secret Beach House
AP Photo
SIPA-Getty Images
A NEWSWEEK investigation reveals how Pentagon billions are flowing to strongmen in the Middle East.
'Obama Has Simply Not Made The Case For Action'
It's Still the Economy, Stupid
With 14 million Americans still out of work, in this week's Newsweek the 42nd president offers more than a dozen ideas on how to attack the jobs crisis—from painting roofs white to offering cash incentives and cutting corporate taxes.
June 19, 2011
D.C. Flag Tattoo Day: Show off your city pride
By Kelly Dwyer
In the Dallas Mavericks' NBA Finals after party, team owner Mark Cuban bought a bottle of champagne for his team, and then left a 22 percent tip. We also should point out that the bottle was nearly half the size of the 7-foot Dirk Nowitzki(notes), it cost $90,000, and his tip was $20,000. The New York Post reports that this made up the entirety of his tab for the night, but we suspect Cuban bought more than that.
Dallas Mavericks owner Mark Cuban spent $110,000 in four hours celebrating at club Liv at Miami's Fontainebleau after his Mavs beat the Heat to take the NBA Championship. Cuban spent most of it on a $90,000 bottle of Ace of Spades Champagne for teammates Dirk Nowitzki, Jason Terry(notes), Brian Cardinal(notes) and Shawn Marion(notes). After partying with the trophy until 5 a.m. yesterday and taking in a performance by Lil Wayne, Cuban left a $20,000 tip for the wait staff. "Worth every penny," he cheerily told us via e-mail.
You can tell the measure of a man, or woman, by how well they tip. There are ridiculous and pointless unwritten rules about tipping that make the whole exercise frustrating to some who don't understand the practice, but at its core it shows a sincere understanding for what other people have to do at their jobs. Which is sort of the point of empathy.
Oh, and you can also tell the measure of a man's bank account by their ability to finance a parade, which is what Mark Cuban is doing for Dallas sometime this week:
Cuban repeated Monday that he will personally pay for the celebration. Dallas Mayor Dwaine Caraway says the city is in a budget crunch but still plans a parade, with details to be announced later.
According to Forbes, Cuban is ranked 459th on the "World's Richest People" list, with a net worth of $2.5 billion, so while he can't grab the check like this every day, this month's fun has been well within his means.
No word on the rumor that Cuban then returned home to make a delicately prepared club sandwich from the comfort of his kitchen, because "we had to use the rest of that turkey up, before it went bad." Before jetting off to the Cayman Islands to kibitz with Lorne Michaels and Alec Baldwin.
It is a stunning image and one that is bound to be reproduced over and over again whenever they recall the history of the US space shuttle.
MAD AS HELL
As unemployment hits 9.1 percent, Americans are losing their cool. A Newsweek/Daily Beast poll finds rising anger levels affecting everything from work to sex drive.
John Edwards Indicted: Charged With Conspiracy, Campaign Finance Violations By Federal Grand Jury
Honoring Memorial Day
Scores killed as tornadoes batter Midwest
Schwarzenegger says he's putting Hollywood comeback on hold
Days afer acknowledging that he fathered a child outside of marriage, the former governor says he'll be devoting time to his personal life, according to his entertainment advisors.
Former Gov. Arnold Schwarzenegger, pictured in April at his Santa Monica office, holds pages from "The Governator," an animated children's series that is now on hold — along with other projects — after he acknowledged fathering a child with a member of his household staff. (Don Bartletti / Los Angeles Times)
Tracking Inflation: How Fast Are Prices Really Rising
Fringe Players
CLASS WARFARE
Alex Brandon / AP Photo
What's all this talk about "shared sacrifice"? New Daily Beast columnist Michael Medved says the GOP needs to blow the whistle on rhetoric that's merely an excuse for more big government.
Pakistan Hints China Wants a Peek at Secret Helicopter



America's Middle Class Crisis: The Sobering Facts



Two recessions, a couple of market crashes, and stubbornly high unemployment are all wreaking havoc on America's middle class.
In the accompanying interview, The Daily Ticker's Aaron Task discusses the state of the middle class with Sherle Schwenninger, director of economic growth and American strategy programs at the New America Foundation. Schwenninger's recent report "The American Middle Class Under Stress" has some stunning facts that highlight the struggles the average American is having getting a decent-paying job and keeping up with rising cost of living.
Ron Paul Launches Presidential Campaign
EASTER WEEKEND
Peter Cottontail was originally conceived in 1914 by children's story writer Thornton W. Burgess. But Thornton's adventuresome bunny really rose to fame in 1949, when Steve Nelson and Jack Rollins wrote the catchy tune, "Here Comes Peter Cottontail." In 1971, Thornton co-wrote a TV special of the same name, based on a 1957 book entitled The Easter Bunny That Overslept. In 2005, the show was made into a far less memorable movie sequel.


April 23, 2011Sat, 23 Apr 2011 04:00:00 GMT11:04 PM EST
CHUCKLES
It is not clear who is benefiting more – the tabloids that profit from giving the sordid details or offering photos that show the train wreck that Sheen's life has become, or perhaps Sheen himself who is having the last laugh with tweets worth millions and lucrative merchandising contracts.
In any case, Chuckles (as he's been nicknamed by the American press, comparing him to a famous clown from a 1970s sitcom), is raking in the dough. And everyone is having fun, pretending to forget that Charlie Sheen is most likely not just crazy and a cokehead (these two things could be related) also has a long history with domestic violence. Definitely someone to have a few laughs with, right?
It would be interesting to know if he will be making a profit off of the upcoming comic book that shows him looking incredibly young (not even in the Platoon era did he look like this), to be written by Mark Shapiro. A comic book that promises not to sugarcoat any of his exploits and will obviously focus on his most recent trials and tribulations. Having been fired from Two and a Half Men, Charlie Sheen is now forced to reinvent himself; his own madness could be his all-time best role.
It was surely only a matter of time before Hollywood's biggest studios set their eyes on the world's most famous hacker-activist's incredible story. There you have it: Steven Spielberg has secured the rights to WIKILEAKS: Inside Julian Assange's War on Secrecy, the book authored for PublicAffairs by David Leigh and Luke Hardin, two journalists of the British Guardian –media partner, together with the New York Times and Der Spiegel, of the revelations from the highly confidential diplomatic cables.
In order to tap into a broader source of information, the American producer and film-director bought also the rights to Inside WikiLeaks penned by former executive, Daniel Domscheit-Berg. Apparently Spielberg is planning to turn the books into a thriller along the lines of "All the President's men" to be produced in association with DreamWorks, the company he founded about seventeen years ago with Jeffrey Katzenberg and David Geffen.
Looking back on this year's edition of the Coachella Valley Music and Arts Festival — that three-day extravaganza in Indio, California, which drew to a close on Sunday — one will perhaps recall Kanye West, riding onstage on a mechanical arm and then bursting into tears during his rendition of "Hey Mama." Or maybe one will recollect the seemingly infinite array of flowing knitwear, oversize sunglasses, and floppy hats sported by "High School Musical" sweetheart Vanessa Hudgens, who spent the weekend cavorting all over the Empire Polo Fields. But while the music and the various bright-eyed, vintage-sporting starlets have remained a constant feature of the festival over the years, one notable change for in the event could be found in the festival's art offerings, which got a tech-savvy update thanks to Intel and Vice.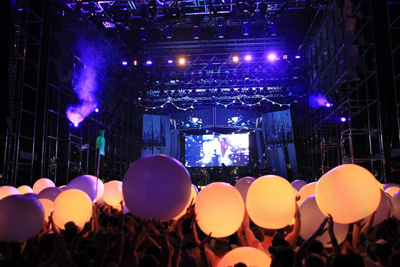 Chris Milk's "Summer Into Dust" LED balloons during Arcade Fire's Coachella set. / Courtesy AFP/Getty Images
While art at the desert affair is usually marked by a DIY, folksy aesthetic — with sculptures imported from Burning Man for the occasion — this year the technology giant teamed up with nefarious-activity-loving publication to deploy their Creators Project, showcasing artists and filmmakers who engage with digital technology. The result was a series of art installations around the festival grounds, as well as enlivening main-stage performances with light shows and futuristic effects courtesy of the U.K.'s United Visual Artists.
America's Top Liars
James Stewart explains how Barry Bonds, Martha Stewart, and others built houses of deceit—and how America lost the truth.
Wall Street's Loan Sharks Prey on Poor Neighborhoods


Three largest online poker sites indicted and shut down by FBI