Deutsche Bank refuses clients' demand for physical gold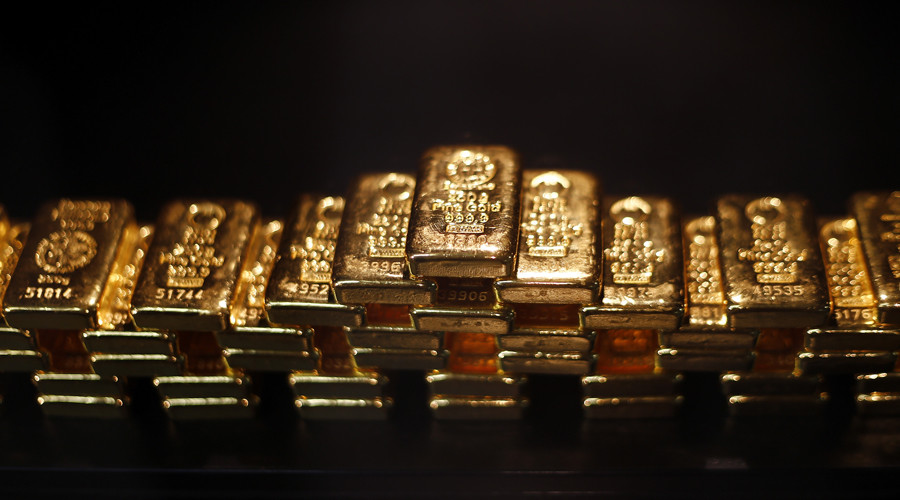 Clients of Germany's biggest bank who have invested in the exchange-traded commodity Xetra-Gold are facing problems when they want to obtain physical gold, according to German analytic website Godmode-Trader.de.
Xetra-Gold is a bond on the Deutsche Börse commodities market, and Deutsche Bank is a designated sponsor. On the website, Xetra-Gold says its clients have the right for physical delivery of gold.
"Physically backed: The issuer uses the proceeds from the issue of Xetra-Gold to purchase gold. The physical gold is held in custody for the issuer in the Frankfurt vaults of Clearstream Banking AG, a wholly-owned subsidiary of Deutsche Börse. In order to facilitate the delivery of physical gold, the issuer holds a further limited amount of gold on an unallocated weight account with Umicore AG & Co.," says Xetra-Gold.
However, despite claims that every virtual gram of gold is backed by the same amount of physical gold, clients have been refused the precious metal upon demand.
Money Mafia/ Midweek Open Lines
Former Minister of National Defense in Canada, Honorable Paul Hellyer, updated his work researching the New World Order, the US shadow government, and the 'Money Mafia,' all of which he believes are at the top of the cabal that's been running the US and much of the world since World War II. This cabal started with the Council on Foreign Relations in 1940, and later included the secretive Bilderberg Group, and the Trilateral Commission, he cited. "There's never been anything like it…where a small group of people call the shots and the politicians are really just talking heads," he stated. He characterized this New World Order as a diabolical and dictatorial empire.
For the cartels, there's no future in using a military to take over a country– instead they use things like money, in which they have monopoly on its creation, said Hellyer. Through currency manipulations, debt, and ever increasing trade agreements, they transfer more and more power to the banking cartels and transnational corporations, he continued. He expressed disappointment that President Obama was peddling the Trans-Pacific Partnership, which he considers to be part of the cabal agenda.
Hellyer also spoke about the evidence for UFOs and alien visitation, which he first became acquainted with when reading Col. Corso's book The Day After Roswell. Climate change is a real and serious issue, he said, and he believes the cabal and US military currently has the technology (Zero Point Energy) to switch over from fossil fuel to clean energy in just seven years, which could help offset the problem.
China's New Silk Road To Make A Big Move In Gold
Submitted by Nick Giambruno via InternationalMan.com,
It's one of the great engineering achievements in history…
At 48 miles long, the Panama Canal cuts through a narrow strip of land in Central America.
It links up the Atlantic and Pacific oceans, allowing ships to pass through the landmass instead of sailing around a whole continent.
Ships pay dearly to use this shortcut… up to $375,000 for a one-way toll.
There's only one other route between the Atlantic and Pacific oceans: a 7,872-mile journey around the tip of South America.
This trip can take weeks and cost hundreds of thousands of dollars in fuel.
The U.S. built the Panama Canal in the early 1900s. At a cost of $9 billion in today's dollars, it was the most expensive construction project in U.S. history at the time.
So when other countries (including Germany and Japan) tried to build a second canal in nearby Nicaragua, the U.S. wouldn't have it. A second canal, just 500 miles away, would dilute its value.
In 1912, the U.S. military even occupied Nicaragua to make sure there would be no Nicaraguan canal.
And there never was.
But that's all about to change…
The Chinese are preparing to build a Nicaraguan Canal. Like the Panama Canal, it will be a shortcut for ships to pass through Central America.
If all goes to plan, China will finish its canal in about 10 years.
And here's the thing…
China's Nicaraguan Canal is just a small piece of a much larger strategy of building strategic infrastructure to bypass U.S. control.
The focal point of this strategy is a project called the "New Silk Road." And if China has its way, the New Silk Road will help China dethrone the U.S. as the dominant world power.
The New Silk Road is the biggest story you're not hearing about. The U.S. media has barely made a peep about it. Maybe because it's just too big and complex to fit into soundbites…
The World's Most Ambitious Infrastructure Project
For over a thousand years, the ancient Silk Road was the world's most important land route. It was a main trade route for lucrative Chinese silk.
At 4,000 miles long, it passed through a chain of empires and civilizations and connected China to Europe. Merchant Marco Polo traveled to the Orient on this path.
Today, China's New Silk Road will include high-speed rail lines, modern highways, fiber optic cables, energy pipelines, seaports, and airports. It will link the Atlantic shores of Europe with the Pacific shores of Asia. It's history's biggest infrastructure project.
New Silk Road Routes
Chinese President Xi Jinping announced the gigantic plan in late 2013. The Chinese government rules by consensus. They're careful long-term planners. When they make a strategic decision of this magnitude, they're totally committed.
Plus, the Chinese have the political will to pull it off… and the financial, technological, and physical resources to make it happen.
There's a saying that the new national bird of China is the construction crane. I was recently in Shanghai, Hong Kong, and Macau, and I can see why. These cities are full of impressive buildings and large skyscrapers.
The plan is still in the early stages, but important pieces are already falling into place. Late last year, a train carrying containerized goods left Yiwu, China. It arrived in Madrid, Spain, 21 days later. It was the first shipment across Eurasia on the Yiwu-Madrid route, which is now the longest train route in the world. It's one of the first components of the New Silk Road.
In short, the New Silk Road is all about building alternatives to U.S. power.
Part of that, of course, is displacing the U.S. dollar, the world's premier currency.
So it should be no surprise that China's New Silk Road project is about to make its first big move in the gold market.
China's Gold, a Threat to Dollar Dominance
According to recent press reports in Asia, China's $40 billion New Silk Road Fund is likely to make a bid for a gold mine in Kazakhstan.
The Vasilkovskoye mine is owned by Glencore, an Anglo-Swiss mining company. It produced 380,000 ounces of gold last year. The New Silk Road Fund is considering buying it for $2 billion.
This is just the beginning…
China will continue to build new infrastructure for the New Silk Road. And continue to accumulate lots more gold.
This is not good news for the U.S.
Most people don't realize it, but if the dollar loses its status as the world's reserve currency, the dollar would collapse. It would cause a financial hurricane of historic proportions. It would be much worse, much longer, and very different than what we saw in 2008 and 2009
Deutsche Bank Profit Plunges 98 Percent As The Outlook For "The World's Riskiest Bank" Darkens
TOPICS:BankingEconomic CollapseMichael Snyder
JULY 28, 2016
What's Starting Now Will Overturn The Entire System: "Complete Collapse of Everything"
"There's too much of everything…" The debt, the currency collapse, the global economy, and the institutions we've all taken for granted.
All of it is head for prolonged collapse, and revolution.
Michael Krieger of Liberty Blitzkrieg warns about the immense scale of the problems that have been triggered by the Brexit – and could lead to the complete disintegration of the European Union.
The status quo is being disrupted, and a major, major event is coming. This one may well be big enough to wipe everyone out, that is those who aren't able to duck out and survive.
As Michael Krieger tells Greg Hunter at USA Watchdog:
Former Wall Street analyst and journalist Michael Krieger contends the recent so-called "Brexit" chaos is signaling something much bigger than coming economic trouble. Krieger explains, "I think the biggest thing with Brexit, and I think it is far bigger than an economic downturn, is the disintegration and ultimately the overthrow of the entire status quo regime, the entire post WWII establishment. That's way bigger than an economic decline. It's way bigger than the economic decline in 2008 and 2009. When you think about it, since 1945, we've had all kinds of economic declines. We've had bear markets and bull markets, but the status quo, the establishment, the basic principles that have been guiding the world for, let's say 80 years now, those are what are going to be overthrown, and that is a way bigger deal than an economic downturn, in my opinion."
On the odds of a financial crash, Krieger contends, "In my writings, when I first came out of Wall Street, I focused on debt, I focused on economics and I focused on financial markets. I did all of that stuff, but I stopped doing that for one simple reason.
It was obvious to me . . . that this thing had only one way to go, which is a complete collapse of everything. We're going to need to start over. There's too much debt. There's too much corruption. There's too much BS. There's too much war. There's too much everything that is bad in this world, and debt is one aspect of it. Are we going to have to wipe out the debts one way or the other? Of course, we will. I guess the reason I have stopped talking about that and writing about that is because it is so obvious. So, what I have been doing over the last three years is getting people aware and engaged on everything, not just the economics, but the political corruption. Every single industry in this world is basically hitting peak corruption, peak shadiness, peak violence and peak everything. So, it's not just the debt or the economies that are going to collapse, it's everything, the political establishment and the social fabric. All of these things we have been living under our entire lives will be replaced by something else. . . . The only question is, are we going to get something better or are we going to get something worse?"
Things have reached fever pitch, and the populists are fed up with the system, and ready to revolt. Technology has changed all the arrangements, and literally everything, not only in economics, but in politics, and throughout society, is about to change in a transformative way.
GETTY
Germany's largest lender Deutsche Bank will shut one-quarter of its branches
Deutsche Bank will close 188 branches across Germany in the coming months, with 51 of them in the North Rhine-Westphalia region.The lender has been forced to implement dramatic austerity measures after share prices plummeted by a staggering 48 per cent, marking an all-time low.It has also pulled out of 10 foreign markets, including Russia and Australia, and is poised to cut around 3,000 full-time jobs.
Earlier this year Wolfgang Schaeuble, Germany's Finance Minister, claimed he had "no concerns" about Deutsche Bank's plunging share prices.And co-CEO John Cryan insisted: "Deutsche Bank remains absolutely rock-solid, given our strong capital and risk position."But financial expert Max Keiser has poured cold water on their claims, saying the bank is "technically insolvent" and runs a "ponzi scheme".
GETTY
The bank has pulled out of 10 foreign markets and will cut 3,000 full-time jobs
It's dead, it's insolvent, the bank is dead
Speaking on Russia Today's Keiser Report, he added: "The bank needs to go out of business, because they are not solvent."But politicians, including Schaeuble, allow for financial engineering products to come onto the market that mask insolvency.
Let us take a look at what is happening in France. Here we have a wildly unpopular government staging fake terrorist attacks in order to extend martial law. The government is doing this because the Italian banking system is collapsing and will take the French banking system down with it. So, in order to distract the French people from th financial troubles they need to create a fake external enemy to unify the country around.
BREXIT-BELEAGUERED BANKSTERS BACK TO BEGGING FOR BAILOUTS!
Nothing is more shameless in a bedazzling sort of way than rich banksters standing on the public curb with their hands out. First, we had the admission this past week by a major French bank that Italian banks are so sick (and so too big to fail) they could cause systemic banking failure throughout Europe if not bailed out by over-taxed taxpayers. 
This article by David Haggith was published first on The Great Recession Blog:
Lorenzo Bini Smaghi — who was a member of the European Central Bank's executive board and who is now Chair of French megabank Societe Generale — said the only way to save European banks, if they start to fall like dominoes due to Italy's banking problems, is with taxpayer-funded bailouts.
Europe's banking market faces the risk of a systemic crisis unless governments accept the idea of taxpayer money as the ultimate recourse in a crisis, Bini Smaghi said. Any intervention should be as swift as possible, he said. (Newsmax)
THE WALL STREET JOURNAL
The big bank bloodbath: losses near half a trillion dollars
Published: July 7, 2016 6:08 p.m. ET
At 20 big banks, plunging share prices this year have erased a quarter of their combined market value
By Michael Snyder, the Economic Collapse Blog.
We did our best to warn stackers..get your gold in hand….
Sweden's Largest Gold and Silver Dealer's Bank Accounts Closed, Shut Out of Banking System!

The cartel have tipped their hand.  The plan is not to come after your gold and silver coins, it is to shut down thegold and silver dealers themselves, and prevent access of safe haven capital flows from reaching the safety ofgold and silver bullion.
Case in point?  Sweden's largest gold and silver dealer Tavex Guld & Valuta, whose bank accounts were suddenly closed Thursday without notice by Swedish bank SEB due to 'a general business decision'Notice posted on Tavex Guld & Valuta's website that as of 15:30 on June 30th 2016, they can no longer accept bank deposits or transfers as SEB has shut down their accounts without notice, leaving the PM firm scrambling to set up alternate payment systems
We Just Witnessed The Greatest One Day Global Stock Market Loss In World History
By Michael Snyder
More stock market wealth was lost on Friday than on any other day in world history.  As you will see below, global investors lost two trillion dollars on the day following the Brexit vote.  And remember, this is on top of the trillions that global investors have already lost over the past 12 months.  It is important to understand that the Brexit vote was not the beginning of a new crisis – it has simply accelerated a global financial crisis that started last year and that was already in the process of unfolding.  As I noted on Friday, we have been waiting for "the next Lehman Brothers moment" that would really unleash fear and panic globally, and now we have it.  The next six months should be absolutely fascinating to watch.
According to CNBC, the total amount of money lost on global stock markets on Friday surpassed anything that we had ever seen before, and that includes the darkest days of the financial crisis of 2008…
By David Haggith, the Great Recession Blog.
In the fall of 2015, I said the Federal Reserve would raise interest rates once in December and then would not be able to fly any higher after that. The stock market would crash shortly after the Fed's pulled up on the interest stick (which it did in what became the worst January in stock market history), and Fed's hopes of recovery would fade away.
I also said that, in spite of a continually degrading economic situation around the world, the Fed would badly want to lift its interest target again in order to prove its recovery had recovered from the first lift. The fact that it would not be able to without stalling the economy completely wouldn't mean it wouldn't try. If it did try, however, it would find out in hindsight that any additional pull back on the stick would crash the economy into the dust of the earth.
Here we are half a year later. The collapse did not continue down as quickly as I thought it would. The stock market and oil market stabilized and recovered after January, but the US and global economy remain on a downward flight path, evidenced by falling GDP stats and rapidly declining job numbers.
The Fed certainly appears to be trapped. Fed officials have pounded the pavement to talk about their intention to raise interest rates, but every month faces additional reasons that the Fed is unable to do so.
Submitted by Tyler Durden on 05/28/2016 – 14:00
"Don't listen to the ruling elite," warns former Morgan Stanley Asian Economist, Andy Xie, "the world economy is on the cusp of a prolonged period of stagnation and instability." Xie points out that the ruling elite is blaming it on people seeing things (skeptic and fiction peddlers), and that "their strategy is to change people's psychology." Unfortunately for them he concludes, "the world is catching fire and that fire will eventually reach their Davos chalets."
Gold Spikes Above $1275 On Sudden Billion Dollar Bid
Submitted by Tyler Durden on 05/18/2016 
 As an equal opportunity information-provider, we thought it worth noting that following yesterday's panic-selling puke in precious metals, this morning we are greeted with panic-buying as Gold and Silver spike higher on heavy volume as US stocks open…
Keith Neumeyer: Silver, More Rare Than the Market Understands – The Daily Coin
By Rory Hall – The Daily Coin
2 days ago
1862 Views
No comments
April 25, 2016
For the past three plus years I have been asking how silver and gold have always been available when we can see stress in the markets all through the supply chain. According to several prominent analyst, and producers, global silver and gold production declined in 2015. In Mexico alone silver production is down approximately 6%. According to some of the information that we reviewed, here at The Daily Coin, silver production increased due to the low price of silver.
Silver has become a just-in-time product. With Eric Sprott, Sprott Assets, recently announcing a $5 billion addition of physical silver to the PSLV ETF we shall see what is happening with the silver market at the institutional level.
Keith Neumeyer also explains how a large electronics manufacturer recently contacted his company, First Majestic, regarding the acquisition of silver for their manufacturing processes. This screams of a very, very tight supply of silver in large quantities. Where is metal coming from?
I sat down with Keith Neumeyer, CEO, First Majestic and Chairman, First Mining Finance, to get his take on Duestche Bank admitting to rigging the silver and gold markets and naming both HSBC and Scotia-Mocatta as being involved with the scheme. The important part is Duestche Bank naming other bullion banks as being part of the scheme.
Keith also shares with us how the gold/silver ratio is so far out balance that when it begins to correct that it will be breathtaking in the way it unfolds. Can you imagine a 8:1 gold/silver ratio price? Currently, the ratio is 75:1. Meaning the price of gold is 75 times higher than silver even thought silver is mined at a 10:1 ratio to gold.
Let's listen to Mr. Neumeyer and allow him to explain the current condition of the market and how the mining production will continue to decline, thereby, putting quality mining operations in the drivers seat for the unfolding next leg of the precious metals bull market.
---
| | |
| --- | --- |
| | Rory Hall, Editor-in-Chief of The Daily Coin, has written over 700 articles and produced more than 200 videos about the precious metals market, economic and monetary policies as well as geopolitical events since 1987. His articles have been published by Zerohedge, SHTFPlan, Sprott Money, GoldSilver and Silver Doctors, SGTReport, just to name a few. Rory has contributed daily to SGTReport since 2012. He has interviewed experts such as Dr. Paul Craig Roberts, Dr. Marc Faber, Eric Sprott, Gerald Celente and Peter Schiff, to name but a few. Visit The Daily Coin website and The Daily Coin YouTube channels to enjoy original and some of the best economic, precious metals, geopolitical and preparedness news from around the world. |
Deutsche Bank Turns on the Gold-fix Cartel
Deutsche Bank, Germany's once-respected giant bank, has admitted being a party–together with a cartel of major Wall Street and select other international banks–in deliberately manipulating the price of gold over a period of years. As well, the German bank, in a court settlement with litigants in a US court, has agreed to name the names of other big banks involved in the criminal enterprise. As this drama unfolds in coming weeks and months, the world may well see the price of gold soar to new heights to reflect the true global market demand. This is huge.
The first time I came across evidence that select Wall Street and other major international banks, in cooperation with the Federal Reserve, were deliberately suppressing the world gold price was in the aftermath of the global stock market crash of October, 1987. That was when the Dow Jones stock index lost 23% in one day. John Crudele, an exceptionally persistent financial journalist with theN.Y. Post and John Williams of Shadow Government Statistics and an exceptional economist, informed me at the time of the gold manipulatipon reports. The reason for the fix, which then-Fed chief Alan Greenspan reportedly orchestrated, was to prevent a stampede by panicked investors out of risky stocks and bonds into gold. Had gold profited from the stock panic, it could well have been an early end to the dollar system. It worked then to prevent a gold rise.
http://journal-neo.org/2016/04/19/deutsche-bank-turns-on-the-gold-fix-cartel/
Moody's places Deutsche Bank ratings on review
A spelling mistake in an online bank transfer instruction helped prevent a nearly $1 billion heist last month involving the Bangladesh central bank and the New York Federal Reserve, banking officials said.
Unknown hackers still managed to get away with about $80 million, one of the largest known bank thefts in history.
The hackers breached Bangladesh Bank's systems and stole its credentials for payment transfers, two senior officials at the bank said. They then bombarded the Federal Reserve Bank of New York with nearly three dozen requests to move money from the Bangladesh Bank's account there to entities in the Philippines and Sri Lanka, the officials said.
Behind the Facade: America, The Bankrupt Hegemon
Fantasy and fairy tales can go only so far when it comes to the true condition of anything or anyone. Sooner or later the truth must out. This is very much the case when looking at the true condition of the nation the Chinese call, The Hegemon, the not-anymore-so-United States of America. The official Obama Administration economic statistics have declared to the world for more than six years that the world's largest paper economy was in a marvelous recovery and that unemployment was a mere 5%. Now, with the most severe collapse of oil prices in 13 years, the last remaining job-creating sector of the economy, the oil and gas industry, is rapidly becoming the domino that threatens to topple a mountain of dicey credits and threaten many banks. Only this time, unlike in 2009, the Federal Reserve is in a real pickle, and the Federal debt has doubled to $18 trillion since the beginning of the financial crisis in 2007.
http://journal-neo.org/2016/03/06/behind-the-facade-america-the-bankrupt-hegemon/

The Federal Reserve is a key component of the American Transfer State.Under the guise of "macroeconomic management," it redistributes vast amounts of wealth on an ongoing basis through inflation. The victims of these transfers are ordinary Americans. The beneficiaries are the government and its elite cronies. It's all a con, and a cheap one at that. Unfortunately, sometimes the most successful con artists are the ones who keep it simple.
Is This The Biggest Crisis In History?
Submitted by Tyler Durden on 02/11/2016 15:40 -0500
Talking of Oil and Gold, last week Deutsche Bank showed a long-term graph of Oil in real adjusted terms, showing that the average real price since 1861 was $47.
Following on from that, Deutsche notes one ratio they occasionally look at is the ratio of various assets to the price of Gold…
Today we update the Oil/Gold ratio back to 1865 and find that the Gold price has just hit an all time high at around 44 times the price of Oil.

The previous high of 41 in 1892 has just been exceeded.

For perspective, the ratio was at 6.6 in June 2008 and only 12 in May 2014. The long-term average is 15.5. While this says nothing about where the ratio is going in the short-term surely this looks a good trade to exploit over the longer-term for those who care about such things.
However, as we noted recently, it merely predicts a crisis and according to the chart above it is the biggest crisis in history…
The previous "biggest crisis in history" was in 1893 when a serious economic depresion hit America. We just topped that in terms of the gold/oil "crisis" ratio, making us wonder: what crisis is just around the corner, and just how big will it be?
Since China devalued its currency, it's spent $400 billion trying to save it
Submitted by Tyler Durden on 02/05/2016 – 15:50
Holistic Approach to View and Manage Risks
The merger of man and technology was the main theme at Davos, highlighting how the trend could drive an unprecedented economic cycle laden with opportunities. But is this a good thing for everyone?
By David Haggith, the Great Recession Blog.
 In the fall of 2015, the world descended into an economic apocalypse that will transform the globe into a single cashless society. This bold prediction is based on trends in nations all over the earth as shown in the article below.
As we enter 2016, we are only beginning to see this Epocalypse form through the fog of war. The war I'm talking about is the world war waged furiously by central banks against the Great Recession as the governments they supposedly serve fiddled while their capital burned.
The governments and banks of this world advanced rapidly toward forming cashless societies throughout 2015. The citizens of some countries are already embracing the move. In other countries, like the US, citizens fear the loss of autonomy that would come from giving governments and their designated central banks absolute monetary control.
The Epocalypse that I've been describing in this series will overcome that resistance during 2016 and 2017 as it wrecks economic havoc to such a degree that cash hold-outs will be ready for whatever holds the greatest promise of saving them from their collapsed monetary systems, fallen banks, deflated stocks and suffocating debt. One has only to think about how quickly and readily American citizens forfeited their constitutional civil liberties after 9/11 when George Bush and congress decreed that search warrants were not necessary if the government branded you a "terrorist."
Oil's whiplash above $30: dead cat bounce or double-bottom base?
Submitted 12/31/2015 – 08:53
Despite such endless financial engineering, sales for the S&P 500 have been declining for the last three quarters. And profits have declined for the first time since the 2009 expansion. Simply put: The recovery is a mirage… It isn't real… And it isn't sustainable.
Submitted by Tyler Durden on 12/09/2015 – 22:35
The U.S. is now experiencing the next stage of the great reset. Two pillars were put in place on top of an already existing pillar by the central banks in order to maintain a semblance of stability after the 2008 crash.  This faux stability appears to have been necessary in order to allow time for the conditioning of the masses towards greater acceptance of globalist initiatives, to ensure the debt slavery of future generations through the taxation of government generated long term debts, and to allow for internationalists to safely position their own assets.  The three pillars are now being systematically removed by the same central bankers. Why? They are simply ready to carry on with the next stage of the controlled demolition of the American structure as we know it.
Submitted by Tyler Durden on 12/04/2015 – 08:19
So how do you grow household wealth by $18 trillion in the face of these dismal real world trends? In a word, with a printing press. But what happened today is that Draghi showed he is out of tricks and Yellen confessed she is out of excuses. Yes, this sucker is going down. And this time all the misguided economics professors turned central bankers in the world will be powerless to reverse the plunge.
Submitted  on 12/04/2015 – 09:52
"We live in a dystopian investment world, whose markets have morphed into an Orwellian backdrop of omnipresent government intervention and manipulation that is increasingly dictated by the quant community — who worship at the altar of prices and price momentum (and are agnostic on values)."
Christine Lagarde and the IMF Executive Board recently announced their intention to include the Chinese renminbi (RMB) in the Special Drawing Rights' (SDR) valuation formula.  This would bring the Chinese currency into an exclusive group – alongside the US dollar, the euro, the British pound and the Japanese yen – of 5 global currencies that make up the IMF's own reserve currency.
Submitted by Tyler Durden on 11/23/2015 – 16:00
"This is the final spasm of a dying bull market that has been entirely fueled by central bank money printing. But if you look at the underlying trends both in the domestic and in the global economy and the outlook for earnings,everything that matters is heading south and the real global recessionary forces are just getting started."
Inside the Money Laundering Scheme That Citi Overlooked for Years
How Citigroup's Banamex USA unit turned a blind eye on the Mexican border.
Submitted by Tyler Durden on 11/21/2015 – 23:35
Spot rates for transporting containers from Asia to Northern Europe have crashed a stunning 70% in the last 3 weeks alone. This almost unprecedented divergence from seasonality has only occurred at this scale once before 2008! 
Flash Update
Submitted by Tyler Durden on 10/16/2015 – 17:10
At $267, Bitcoin has retraced the entire plunge from China's initial devaluation entry into the currency wars and the Black Monday dump. It appears, just as we warned,that China's increasing crackdown on its – until now lax – capital controls has spurred demand for alternate 'currencies' that remain out of the control (for now) of governments – like gold… and bitcoin.
Submitted by Tyler Durden on 09/04/2015 – 16:30
"Time will tell who is right. But remember that we live in an era where computer trading dominates the American stock market. The "robots" that are making a lot of trading calls aren't sitting around pondering China's economy. They are paying attention to whether stocks fall below key levels. What are those levels? No one knows exactly. But these two metrics are worth watching. If these thresholds are crossed, both computer and human traders will consider it a game-changer point."
Submitted by Tyler Durden on 08/28/2015 – 
The US dollar started out backed by gold and silver, then replaced to one backed by oil (hence the concept of a reserve currency).  Now that backing is in question since oil purchases can be settled in other currencies.  So then what's left.  Does is become a currency backed by military force?  How does that work?  In any event, a currency is either purely fiat or backed by something.  I'm trying to figure out the most likely way the lifespan of the dollar ends.
In any event, there can be no question that the "value" of our dollar is on a downhill slide.  Then that means that we'd be better off converting what excess dollars we hold into stuff.  Is that "stuff" precious metals?  Real estate?  Guns and ammo?  All of the above?
I'm a little frustrated because I'm tethered to a sinking ship…
Submitted by Tyler Durden on 08/21/2015 –