Prospero
Misty Copeland Is Breathtaking On September Cover Of Essence
She's got style and grace.
Happy Ever After: 100 Swoon-Worthy Romances
As we get into the hottest, most languorous months of the year, it's the perfect moment for a hot read — and just in time, our big summer book list is here. It's theNPR Books Summer of Love, and we have 100 great romances for you, from historical to paranormal to LGBTQ to the subgenre that started it all, category romance (the slim-spined Harlequins of your childhood).
Tesla's Self-Driving Cars Are About To Get Smarter
Did someone say "parallel parking"? Yes, someone did.
Tesla Motors' autopilot feature is revving up.
Earlier this year, the electric automaker released a limited self-driving function, which allowed Model S sedans equipped with the right hardware to detect other cars and obstacles around it and change lanes on highways. 
On Friday morning, CEO Elon Musk tweeted that Tesla had another update in the pipeline. This one would allow Autopilot-equipped cars to steer themselves better on highways and parallel park on their own.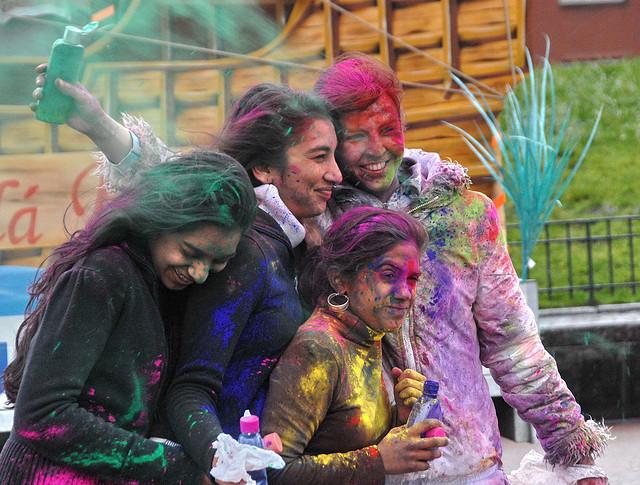 Why do trailers spoil their movies? Because you want them to.

Why the "Food Babe" enrages scientists
Hari then harnesses the power of her massive audience (known as the Food Babe Army) and online petitions to get food chains and manufacturers to stop using the ingredients she deems harmful, based on her pseudoscientific analyses. It doesn't matter that what she says usually isn't backed by research evidence, or that the chemicals she singles out pose no real danger to human health.
Let John Oliver Explain How Petty Municipal Fines Destroy the Lives of Our Most Vulnerable
—By Inae Oh| Mon Mar. 23, 2015 
As demonstrated by the Justice Department's damning investigation into the Ferguson Police Department, police officials often rely on slapping hefty municipal fines to fund government. Such practices are rampant in towns across the country.
On the latest Last Week Tonight, John Oliver took on the issue with an in-depth report explaining how a petty traffic violation—a ticket some people can simply shrug off as a nuisance—can actually wreck the lives of society's most vulnerable citizens, and sometimes even land people in jail.
"Most Americans drive to work," he explained. "If you can't do that, you've got a problem. In New Jersey, a survey of low-income drivers who had their license suspended found that 64 percent had lost their jobs as a result, which doesn't help anyone. You need them to pay their fine but you're taking away their means of paying it. That's the most self-defeating idea since gay conversion camp!"
While Oliver says he's not advocating for minor offenses to go without punishment, people should have the "right to fuck up once in a while without completely destroying our lives."
Watch below:
 A BLAST FROM THE PAST
With mere hours until the release of her new album, Madonna sits behind a closed door in a suite at Interscope Records' office near Times Square. A stylist darts into the room for a few touch-ups. "She wants to look good for you," Liz Rosenberg, Madonna's longtime publicist, tells me. I pass a pair of security guards, then wait to be beckoned into the makeshift chamber. Not much has changed since 1984, when Madonna promised to "rule the world" and subsequently invented modern pop stardom. She is still the one to decide when, where and, most importantly, how we see her.
Monica Bellucci, 50, is the Newest Bond Girl–Is Hollywood Rethinking Age?
The British editor of Cosmopolitan,,

 

says she loves talking about (and having) sex. The key to women succeeding in business? Playing golf, apparently.
Lands' End Customers Are Freaking Out Over GQ Cover
The Tenth of December, George Saunders
George Saunders' collection of short stories appeared on five of the eight "best of" lists reviewed, making it the single most talked-about book of the bunch. In this collection, Saunders ebullient writing style tackles stories about class, sex, love, loss, despair, and war, addressing questions that delve deep into human morality.
PROFILES
Meet Erykah Badu's Favorite Jewelry Designer
Remember the musician's fierce rings at this year's Met Gala? They were designed by Lillian Shalom, whom the singer discovered through a friend that followed her Instagram account.
It didn't take long to bring up the controversial side of Jane Fonda during AFI's Lifetime Achievement Award tribute
Thursday night. AFI Board Of Trustees Chairman Howard Stringer addressed the elephant in the room almost immediately upon taking the Dolby Theatre stage: "What not a lot of people know is that Jane Fonda attended the very first AFI tribute in 1973 to director John Ford. She didn't actually make it into the ballroom 
that night because she was out front picketing. That's right, she was there to protest the appearance of one of that night's presenters, Richard Nixon. Jane, what are we going to do with you?" he said to much knowing laughter and applause. A little while later, AFI CEO and President Bob Gazzale picked up on the theme. "Yes, Jane picketed the AFI Life Achievement Awards. But it wasn't the first time that she'd marched on AFI," he said. "Some years earlier outside the gates of the AFI conservatory there was a protest led by Jane and another Life Achievement recipient, Shirley MacLaine. They were there to draw attention to the lack of women in roles in the AFI Conservatory and they were right. Their effort led to the establishment of  the AFI Directing Workshop for women which this year is celebrating its 40th anniversary. And they also helped to ensure women were admitted to the AFI Conservatory where women have flourished over the years."
But as it became abundantly clear this evening was much more than about Fonda's well-known activism. It was about a film career that has brought her two Oscars from seven nominations — that started in 1960 with Tall Story and is still going strong all the way up to next September's This Is Where I Leave You. Both are from Warner Bros and both show the remarkable career journey this daughter of a very famous star, Henry Fonda, and sister of another twice-nominated actor/writer/producer Peter Fonda, has taken. Among studio heads that included 20th's Jim Gianopulos, Sony's Amy Pascal and Michael Lynton and Disney's Alan Horn, Warners' Kevin Tsujihara was also there. As Fonda was introduced and took the traditional march through the crowded room of stars, friends , executives and industryites, she seemed genuinely touched and teared up. Shortly afterward I caught up with her and asked if she was actually crying. "Do I look like I was crying? You bet I was."  she told me. It made a later clip they showed from her 1965 Western Cat Ballou even more prescient. "You won't make me cry. You'll never make me cry," Cat Ballou says. It clearly didn't apply to Fonda on Thursday night as she appeared overwhelmed by it all.  And actually a couple of weeks ago in Cannes she told me she burst into tears when she got the phone call saying she received this award. "They asked me to present to Bette Davis and I did. They asked me to present to Barbara Stanwyck (her Walk On The Wild Side co-star), and I did. And of course my father, and I did. But I never dreamed I would be getting this award, " she told me. Well she did, and in a ceremony that was a rich as any of these has ever been — and I've been coming to them since Frank Capra got one in 1982. It was a special night as Fonda became the only daughter of a previous winner to receive the same award. Father and Son Kirk and Michael Douglas and brother and sister Warren Beatty and MacLaine also have made the family connection for AFI in previous years.
The room was decorated with lots of iconic magazine covers featuring Fonda but the most interesting was a Time agazine 
cover featuring all the Fondas: Henry, Jane and a silhouetted Peter from his Easy Riderdays. "I am not so sure about that cover," Peter Fonda told me as he stared at the blowup during a break in the proceedings. "I remember that interview very well. They had three different writers interview us se