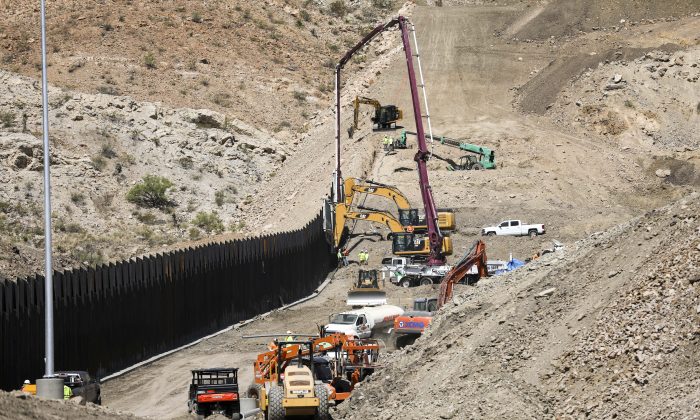 Pentagon: Border Wall Going Up at About 1 Mile Per Day, and Rising
A Pentagon spokesperson has announced that the border wall is going up at the pace of about one mile per day—and rising.
Jonathan Hoffman, the Pentagon's chief spokesman, updated reporters on border wall construction progress during a Sept. 19 press briefing during which he said that by the end of next year, the goal was to have completed 450 miles.
"Right now we're at a pace of about a mile a day. And we'll see that continue to go up," Hoffman said.
"It's going to be a few months but our goal is that by the end of next year, we will have completed over 100—450 miles of wall construction all told across the entire federal government," he said.
President Donald Trump traveled to the southwest earlier this week to review construction progress. Speaking at a press conference in San Diego on Wednesday, he said that the border wall "still, obviously, has a ways to go, but we're building it at a breakneck speed."
"And we think we can get it close to 500 miles by the end of next year, depending on certain terrain conditions," Trump added. "But we're doing all of the most important areas. We have a lot of natural barriers, like mountains and streams and rivers and—some pretty vicious and violent rivers, actually. But it's—it's an amazing project."
Army Lt. Gen. Todd Semonite, commander of the Army Corps of Engineers, told reporters on Wednesday that "66 miles today are already completed. There's 251 miles that are under contract, going in the ground right now at 17 other sites."
The general added that another 163 miles were on contracts that would be awarded in the next 90 days.
Hoffman said that nearly all of the $2.5 billion that had been earmarked for the border wall in February has been obligated and is now on contract.
"That is going to build 129 miles of wall—all of that money is on contract as of—I think there's $3 million left—and that'll be by the end of next week. All of that money is on contract," Hoffman said.
He added that the $2.5 billion in question would go towards border construction projects in New Mexico, Arizona, and California. Hoffman said that a separate pot of funds—$3.6 billion that Defense Secretary Mark Esper transferred earlier this month from military construction—would also be used to build the wall.
"What you're going to see is … it'll take a little awhile, as we do the planning, we buy the property, we do the environmental assessment, and all the other things and assessments that we need to do, and you'll see a rapid increase in the amount," Hoffman said.
Trump Autographs US–Mexico Border Wall
While reviewing border wall progress in Otay Mesa, California, on Sept. 18, president Trump signed one of the posts of the U.S.–Mexico border wall with a sharpie.
Trump applauded the building process and invited reporters to have a close look at the materials used for building the wall.
"If you think you're gonna cut it with a blowtorch that doesn't work because you hit concrete," he said. "It's pretty amazing."
Trump also called the wall a combination of technology and barrier. "Now we have a world-class security system at the border," he said.
Later, while flying to the White House on Air Force One, a reporter asked Trump about what he signed on the wall.
"Just my name. They just said, 'Sir can you sign?' and the border patrol said, 'Can you sign your name?' and I did. I autographed one of the bollards. There are a lot of bollards," Trump said.
Interior Department Transfers 560 Acres of Public Land for Border Wall Construction
Approximately 560 acres of federal land will be transferred to the U.S. Department of the Army to facilitate work on roughly 70 miles of border barrier, the Interior Department announced on Sept. 18.
The transfer of administrative jurisdiction of the federal land is in response to a series of applications submitted by the Army for construction or replacement of barriers along the southern border. The land transfer doesn't include national parks or any Native American land.
"I've personally visited the sites that we are transferring to the Army, and there is no question that we have a crisis at our southern border," Secretary of the Interior David Bernhardt said in a statement. "Absent this action, national security and natural resource values will be lost."
Bernhardt said since the crisis is so vast, it must be addressed "aggressively" and with "extraordinary measures." He added there are serious national security, drug enforcement, and other immigration challenges that staff face along the border.
The affected land includes parts of Luna and Hidalgo counties in New Mexico, San Diego County in California, and Yuma County in Arizona.
The transfer of the jurisdiction to the Army is temporary, lasting for a period of three years, and is solely for border security purposes, according to the Interior Department.