"Thinking doesn't pay. Just makes you discontented with what you see around you."
Robert A. Heinlein, Stranger in a Strange Land
I wish I didn't think when I travel to NYC. It only makes me discontented. My last article about New York City – Uneasy in NYC – produced a lot of commentary pro and con about New York. That two day trip last October was more eventful as we met world renowned financial mind David Stockman. When my son got notice he had to leave for Penn State this weekend to start his job as an RA (saving his old man $6,800 in rent), we decided to do something fun before he left. The choice was a one day sightseeing excursion to the Big Apple.
My wife plotted out the day and the boys and I just went along for the ride. The plan was to drive to the Hamilton Station and catch a NJ Transit train to Penn Station. We got up early and were on the road by 8:10. We should have been able to easily make the 9:22 express. Everything was going smoothly until we were ten miles from the station on Route 1. First there was an accident, then one car overheated in the left lane, then another car overheated in the left lane. We picked a day with a heat index of 100 degrees to go to New York.

We didn't make the 9:22 express. We got the last spot in the parking lot about a quarter mile from the station. We made the 10:00 local. I expected a 50 year old piece of crap train with standing room only to pull into the station, but to my pleasant surprise a brand new double decker train with dozens of open seats pulled in. Life was good again. We got a four seat combo and settled in for our 1 hour and 15 minute trek to Penn Station. The family were pecking away on their iGadget phones while I started reading my tattered copy of Running Man, bought at the used book store – Hooked on Books – in Wildwood a few weeks ago.
It looked good for a 11:15 arrival until the engineer came over the loud speaker (which sounded like the teacher from Charlie Brown) and announced that a train had stalled in the tunnel and we'd be delayed for 30 minutes. The concept of on-time is meaningless in our paradise of crumbling infrastructure. As you get closer to New York, the decay comes into clear view. Dilapidated vacant factories covered in graffiti dot the landscape along the tracks. The disappearance of our manufacturing base is clearly evident. Instead of producing capital goods we produce financial derivatives, debt and despair. As you approach the tunnel into New York you see the Empire State building and off in the distance the new Liberty Tower, where you once saw the Twin Towers.
We eventually made it to Penn Station at about 11:40 and began our day of being tourists in a strange land. Penn Station was bustling with activity. New Yorkers, foreigners, and out of towners mixed in a whirl, as they rushed to and from trains or hustled to their high rise office jobs. Our day was semi-plotted out in a way to try and keep our two teenagers entertained. First lunch on a ferry cruising on the Hudson, then the top of Rockefeller Center, maybe some shopping (not my choice), then Central Park (my choice), then dinner, and the train back to my land of PA. And as luck would have it, walking 5 to 10 miles on one of the hottest days of the summer.
As strangers in a strange land we had to get our bearings once we exited Penn Station. We were at 34th Street and 8th Ave and had to walk to 41st on the Hudson. The kids got to experience the beauty of NYC almost immediately. Two cars attempted to aggressively pass each other at the same time resulting in a side view mirror flying 20 feet through the air into the middle of the intersection. I chuckled.
My wife had found a cruise boat called the North River Lobster Company where there was no charge to get on board. It was essentially a floating restaurant/bar that cruised on the Hudson for 45 minutes while you ate, drank and enjoyed the scenery. By the time we reached the boat, we were sweating, hungry and thirsty. We settled down at a table in the air conditioned interior and wolfed down some lunch. A cup of sangria took the edge off.
The next stop on our journey was Rockefeller Center at 49th Street between 5th Ave. and 6th Ave. It was 25 years ago when the Japanese bought Rockefeller Center for $2 billion, marking the top in their stock and real estate markets. The Chinese bought the Waldorf Astoria for $1.95 billion last Fall, likely signaling another top. History may not repeat exactly, but it does tend to rhyme.
By the time we reached Rockefeller Center we were drenched in sweat again. We needed some overpriced Ben & Jerry's ice cream to sustain us. Then it was time to make our way to the Top of the Rock for the low low price of $30 per person. We took the elevator to the 67th floor and disembarked with the other suckers. The views are spectacular. Until some schmuck gets in the way of your picture.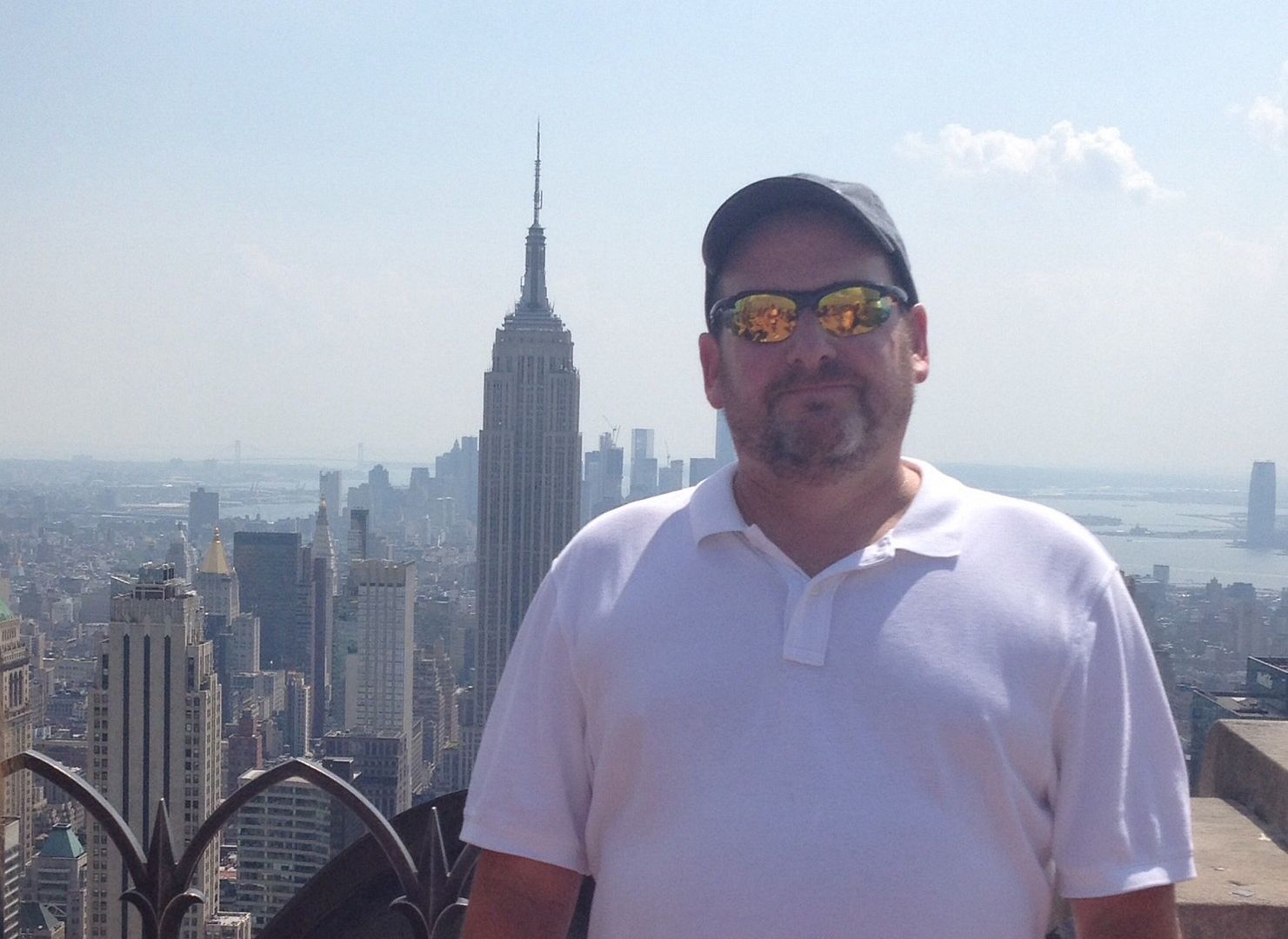 As usual, I couldn't just enjoy the scenery. I had to think about what I saw, resulting in discontent. When you first look out over the vast expanse of concrete jungle, the oasis of green known as Central Park seems completely out of place. Without this sanctuary within the millions of square feet of concrete office towers, retail, restaurants, and luxury penthouses, New Yorkers would go crazy in this madhouse of financial shenanigans.
The city moves at a breakneck pace. Cars, trucks, bikes, and people, rushing like mad in a swirl of activity amounting to nothing. New York City produces nothing. It trucks in baubles and designer clothing from China and sells them at outrageous prices to lemmings with credit cards. It trucks in all the food for its five star restaurants catering to the glitterati, its Hell's Kitchen pubs, and its famous delis. The only thing New York City produces is arrogant Wall Street assholes and financial derivatives of mass destruction – designed to impoverish the masses. It also produces egotistical control freak politicians who enforce surveillance state measures on its population in the name of safety and security.
The second thing I pondered was the engineering marvel that New York City truly is. It's a testament to brilliant engineers and architects, and mostly to the construction workers who risked life and limb to build the hundreds of 50 story skyscrapers. They harnessed all of the ingenuity, mathematical excellence, and technological advancements of our society to create a wondrous spectacle.It's a wonder of the world.
Just the thought of keeping these buildings heated, cooled and supplied with water boggles the mind. But it also reveals the fragility of the entire paradigm. The modern day New York City has been built upon a foundation of cheap plentiful oil, Wall Street profits and taxes, an exponential increase in consumer, corporate and government debt, and endless propaganda creating a delusional population of narcissistic mindless consumers.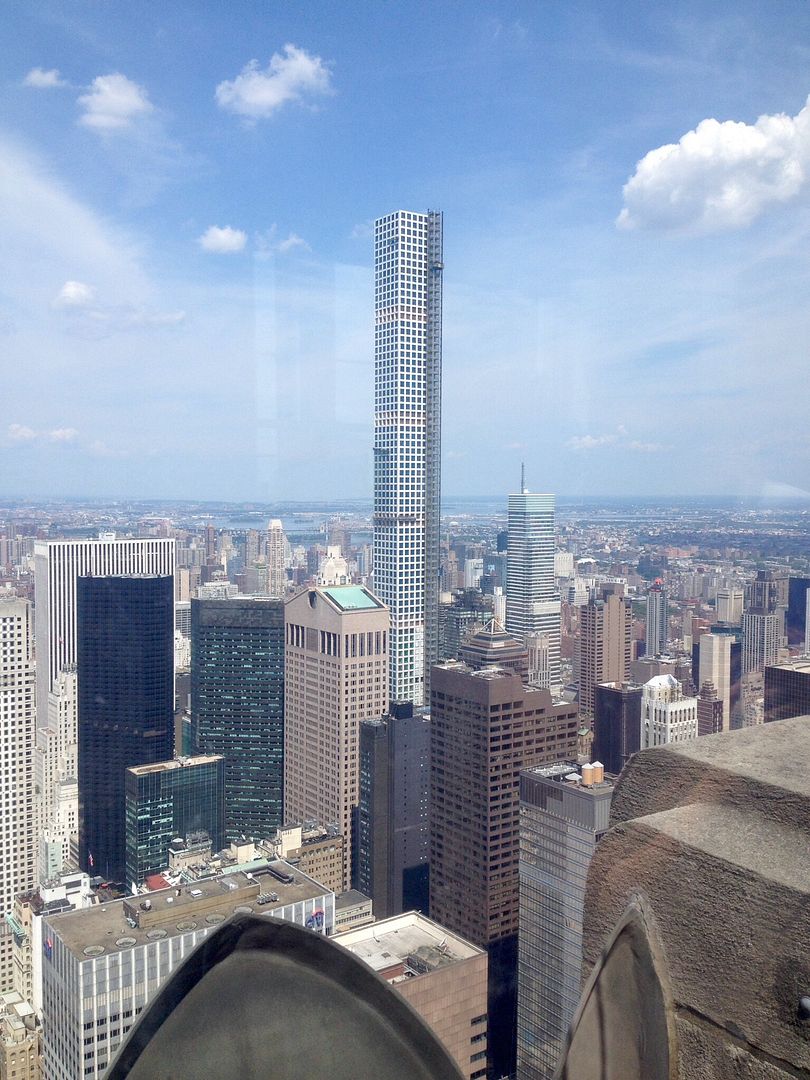 These technological marvels would become concrete and glass tombs within a week if the power grid ceased functioning. We've already seen the helplessness of the population when tragedy suddenly strikes in the case of 9/11 and Hurricane Sandy. There are only a couple bridges and tunnels in and out of NYC. The city is in a normal state of gridlock on an average day. During a crisis the gridlock will lead to the deaths of thousands. If the water supply was disrupted, panic would ensue.
There are 1.6 million people living on the 23 square miles that encompass Manhattan Island, with another 2.3 million workers, tourists, and students piling in on an average day. The entire edifice of debt financed infrastructure is dependent upon the high finance Lords of the Manor on Wall Street generating hundreds of billions in ill-gotten profits by rigging financial markets and luring domestic and foreign serfs into spending money they don't have on shit they don't need.
And so far its still working. The city is bustling. The stores are crowded. The restaurants are overflowing. It's hard to even get a cab. There are very few Store For Lease signs in NYC, as opposed to entire strip malls lying vacant in middle America. NYC is still an oasis of wealth in a nation of squalor. The city does lend itself to Medieval comparisons as the obscenely wealthy tyrants occupy penthouse suites in guarded buildings, while millions of peasants commute onto the island from the boroughs and do the menial labor necessary to keep the wheels turning.
The peasants don't work in the fields. They are the waiters, waitresses, bartenders, cooks, diswashers, window washers, parking attendants, cashiers, doormen, and taxi drivers, catering to the tourists and the financial industry aristocracy. The .1% rule over the 99.9% through the use of debt enslavement and NYC is the crown jewel of our bifurcated have and have not nation.
Of course, to me it all has the smell of impending doom, or was that just the smell of rotting garbage in 95 degree temperatures wafting from back alley dumpsters? I believe NYC is living on borrowed time and borrowed money. The unemployment rate in NYC soared from 4.7% to 10% in 18 months during the 2008/2009 financial crash. It now sits at 6.1%. With a global recession in progress, Chinese stocks crashing, and simultaneous bubbles in stocks, bonds and real estate getting ready to pop in the U.S., NYC will resemble the land of the living dead in the not too distant future.
As Wall Street banks again hemorrhage from self inflicted wounds, laying off thousands, the middle class workers will be screwed again. The small businesses will be forced to close their doors as business dries up. The high end stores on 5th Avenue will contract as the wealth of their clientele is cut in half and the previously rich foreigners can't afford shopping trips to the U.S. anymore. The Potemkin Village on the Hudson will be revealed as a faux wealth fantasy land.
But enough doom, back to my day as a tourist. My wife and her best friend have visited NYC far more frequently than myself. They have found numerous off the beaten path joints to get relatively cheap food and drinks. We departed Rockefeller Center and headed to Mother Burger for a snack and, according to my lovely wife, the tastiest Margarita in the city. She was probably right, but it was pushing 4:00 and the heat was really taking a toll on me. I drank four glasses of ice water and couldn't finish my Margarita.
I really didn't want to get up from our shaded outside spot, but the troops were off to do some shopping and I lagged behind on the ten block trek to the trendy Uniqlo store on 5th Avenue. As we got closer and closer to 5th Avenue the people on the streets appeared wealthier and wealthier, with shopping bags filled with stuff they absolutely did not need. But wants trump needs these days. Speaking of Trump, we passed his glittery gold phallic tower on our way to Central Park. And of course home of the $600 Hillary haircut – Bergdorf Goodman.
But first I was dragged into a trendy Japanese owned clothing store with literally thousands upon thousands of brightly colored clothes stacked in bins from floor to ceiling. My son wanted some new clothes for college. My other son and myself just wanted to find a bench to sit on. We plopped ourselves down for 30 minutes as my wife and son roamed the vast showroom with the hundreds of foreigners jib jabbering in their native languages. I was again a stranger in a strange land.
Based on my day of observations it appeared that more than half the tourists in the city and shoppers in the stores were foreign. To me this is a reflection of the shift in wealth and economic activity to the developing world as the average American sees their standard of living gradually descending.
Then we were off to Central Park for our final tourist destination of the day. It was the first real place we had visited all day. Real trees, real waterfalls, real grass, real lakes, and real quiet. When you walk the streets of NYC you better be on your toes. It seems like every other person is looking down at their iGadget, sending a text, talking to the office, or reading emails as they blunder down the overcrowded streets.
No one makes eye contact. No one smiles. No one says excuse me. No one says good morning. Everyone seems consumed by their digital world, as the real world passes them by. I find it kind of sad. Face to face human interaction is slowly being phased out. Even when people are at a restaurant or bar, they can't put down their electronic tracking devices. They are so self involved, they leave no time to think. I guess that keeps them from becoming discontented with the state of our world. Without an electronic gadget in my hand, I was a stranger in a strange land.
It was pushing 6:00 and the entire family was bushed. We had walked miles in the sweltering heat. We paid a small fortune to a vendor in the park for a few drinks and found a shady bench near where some paunchy middle aged office workers were having a league softball game. New Yorkers were laying on blankets, jogging, riding bikes, pushing strollers, sleeping on benches, and generally enjoying the solitude of a forest nestled within the confines of Skyscraper National Park. It is my favorite place in NYC.
Another positive aspect of NYC is the lack of obesity among its millions of inhabitants. The native New Yorkers are forced to walk because it is prohibitively expensive to drive. The only obese people are tourists from the heartland of America, as the Asians, Europeans, and Latin Americans are also on the thin side. Of course, barely having enough money to feed yourself while living in NYC may also contribute to the lack of obesity among the working class.
Seeing all those in shape people made me hungry. We headed off to another of my wife's reasonably priced restaurants with good food – The Brickyard on Ninth Avenue and 52nd Street. I was just happy it was air conditioned and they served water. I was so inspired by the healthy people in Central Park I actually ordered a chicken Caesar salad – with organic chicken (whatever the hell that means). The food was good, the service was excellent, and the atmosphere was nice. It was after 7:00 pm and our whirlwind day was just about over.
We were a good twenty blocks from Penn Station, so it was time to take a cab. Luck was going our way as we stepped out of the restaurant and were able to hail a cab in about 20 seconds. The wife and kids piled into the back and I jumped in the front seat. The driver was strictly business. No conversation, just the way I like it. He was an experienced NYC cab driver as he weaved, cut off buses, honked, made left turns from the middle lane, and generally put on the death defying show you expect in a NYC cab ride. I gave him $10 for the $7 fare and he seemed delighted.
We entered Penn Station and followed the signs to NJT, and having more good luck in catching an express train. It was all going perfectly as we departed the tunnel and watched the sun setting over the toxic swamps of New Jersey with the refineries lighting up the sky with gaseous flames and tinting the air with noxious rotten egg smells. And then our luck ran out again. A railroad bridge up ahead was stuck in the open position. Another 20 to 30 minutes delayed. The concept of on-time is still unknown to the transit authorities. We eventually reached Hamilton Station and after another hour drive home our 14 hour adventure to NYC was over.
New York City will always be a strange land to me. It's landscape has aspects of the opening pages of the book I was reading on the train – Running Man. The impersonal, distant, angry, myopic attitude of New Yorkers is reflected in the words of Bob Dylan.
"New York was a city where you could be frozen to death in the midst of a busy street and nobody would notice."
The frantic pace of NYC, its attitude of indestructibility, it's pride as the financial capital of the world, and the arrogance of its immensely wealthy ruling elite, hide the insecurities of New Yorkers knowing their entire universe is built on a crumbling foundation of debt, financial fraud, pliant central bankers, and a willfully ignorant populace who continue to spend money they don't have. It seems there is an attitude of living for today, for tomorrow we die. The dynamics which drive NYC are unsustainable.
The fragility of NYC grows by the day and their susceptibility to the coming market crash is greater than it was in 2008. The colossal gap between the haves and have nots in NYC has never been greater. The rich and strong will continue to dominate the poor and weak until this strange land experiences a collapse of epic proportions. The assessment of New York City by renowned author of American Tragedy, Theodore Dreiser, prior to the 1929 Stock Market Crash and Great Depression, harkens to the fact that those who forget the past are condemned to relive it.
"The thing that impressed me then as now about New York… was the sharp, and at the same time immense, contrast it showed between the dull and the shrewd, the strong and the weak, the rich and the poor, the wise and the ignorant… the strong, or those who ultimately dominated, were so very strong, and the weak so very, very weak – and so very, very many."