By Karissa Rosenfield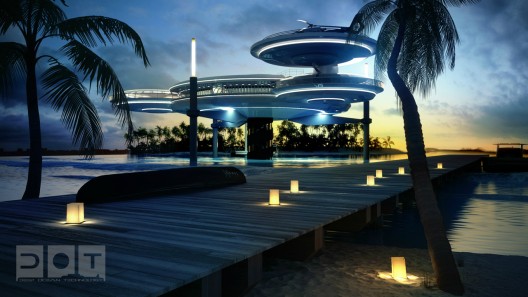 Courtesy of Deep Ocean Technology
Dubai shipbuilder Drydocks World has signed on with Switzerland's BIG InvestConsult, on behalf of partner Deep Ocean Technology (DOT), to become the sole construction contractor of the futuristic Water Discus Underwater Hotels in the Middle East. Tailored to the luxurious lifestyle, aspiring divers and marine life enthusiasts, the patent-protected concept by DOT is comprised of disc-shaped volumes that are both above and below the water's surface, exploring the depths of the ocean while taking advantage of the warm climate.
Continue after the break for more on the Water Discus Underwater Hotels.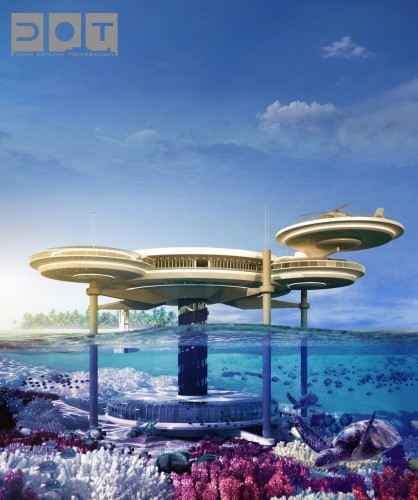 Courtesy of Deep Ocean Technology
The single water discus module works as an independent structure, with the possibility of joining other modules to create a larger resort complex. Each module consists of two discs; one disc is submerged ten-meters underwater and the other floats five to seven-meters above the sea's surface. Both parts are connected by three structural "legs" and a vertical shaft containing a lift and stairway.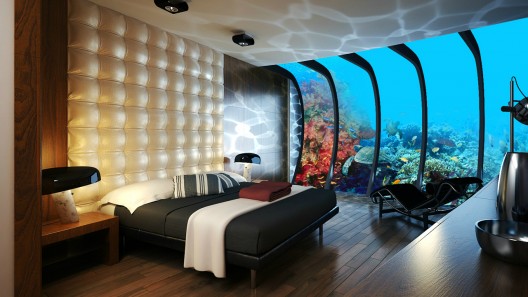 Courtesy of Deep Ocean Technology
Enormous panes of glass frame the vibrant sea life within each of the twenty-one private rooms, located in the underwater disc. A special lighting system is integrated within each room, allowing visitors to illuminate the water world and view the sea creatures. Adjacent to these rooms is an underwater dive center and a fully stocked bar.
Courtesy of Deep Ocean Technology
The above-water disc is comprised of a restaurant, spa, a special recreation area and a multifunctional lobby that is built inside an enormous swimming pool. The swimming pool can be accessed by the roof, along with a rooftop garden and the helicopter pad.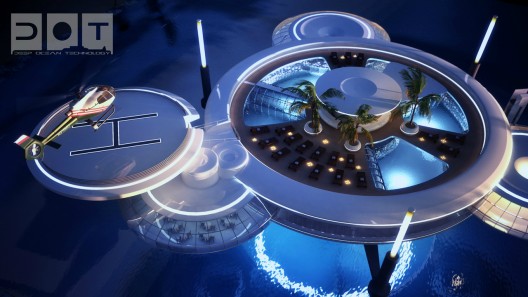 Courtesy of Deep Ocean Technology
The safety of the occupants is placed at high priority. The structure is designed to withstand the most adverse weather conditions. And, in the event of any danger, the underwater disc will automatically surface. However, one must question the safety of the marine life if this hotel is constructed. DOT highlighted the fact that each disc is sized according to the local condition and has the ability to be relocated if "any changes in the environmental or economic conditions occur".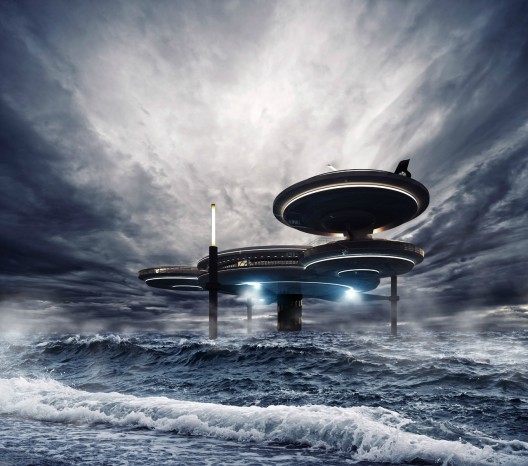 Courtesy of Deep Ocean Technology
Technology:
Lech Rowinski (Technical University of Gdansk)
CEO:
Arkadiusz Majerski
CFO:
Jacek Zdrojewski
Company's Development :
Grzegorz Malenczuk
Architecture:
Pawel Podwojewski
Executive Creative Director:
Pawel Podwojewski