The Maid's Tale
She was paid to clean up after the rich and powerful. Then she walked into Dominique Strauss-Kahn's room—and a global scandal. Now she tells her story.
Nafissatou Diallo Interviews: Dominique Strauss-Kahn Accuser Speaks
The hotel maid who accused former IMF head Dominique Strauss-Kahn of rape has broken her silence with a pair of interviews — one for this week's edition of Newsweek and another with ABC's Robin Roberts, set to air on Monday's "Good Morning America" and then "World News with Diane Sawyer" and "Nightline."
Both are the first mainstream news outlets to publicly name DSK's accuser — Sofitel maid Nafissatou "Nafi" Diallo, 32, of Guinea.
In a three-hour long interview, Diallo recounted to Newsweek what took place on the day of her alleged attack. She said Strauss-Kahn was standing naked in his room when she knocked on his door.
"Hello? Housekeeping." Diallo looked around the living room. She was standing facing the bedroom in the small entrance hall when the naked man with white hair appeared."Oh, my God," said Diallo. "I'm so sorry." And she turned to leave. "You don't have to be sorry," he said. But he was like "a crazy man to me." He clutched at her breasts. He slammed the door of the suite.
5-foot-10 Diallo worried about hurting Strauss-Kahn and told him, "Sir, stop this. I don't want to lose my job," ultimately running from the room "spitting" after supposedly refusing the French politician's advances.
And what of the future? Diallo told ABC News, "I want justice. I want him to go to jail. I want him to know that there is some places you cannot use your money, you cannot use your power when you do something like this."
She added, "God is my witness I'm telling the truth. From my heart. God Knows that. And he knows that."
According to AFP, Strauss-Kahn's lawyers have slammed Diallo's legal team, accusing her attorneys of having "orchestrated an unprecedented number of media events and rallies to bring pressure on the prosecutors in this case after she had to admit her extraordinary efforts to mislead them."
They also claim Diallo's broken silence is meant to "inflame public opinion against a defendant in a pending criminal case."
Diallo's case against Strauss-Kahn is in jeopardy after prosecutors questioned her credibility. Strauss-Kahn has repeatedly asserted that he's innocent.
It was even reported that Diallo could face criminal prosecution for allegedly making misleading statements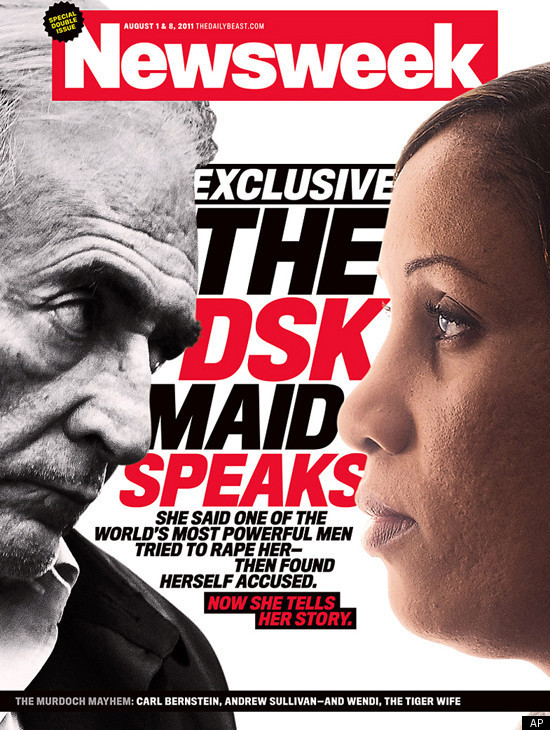 "Nafi" Diallo is not glamorous. Her light-brown skin is pitted with what look like faint acne scars, and her dark hair is hennaed, straightened, and worn flat to her head, but she has a womanly, statuesque figure. When her face is in repose, there is an opaque melancholy to it. Working at the Sofitel for the last three years, with its security and stability, was clearly the best job she'd ever hoped to have, after years braiding hair and working in a friend's store in the Bronx as a newcomer from Guinea in 2003.
Diallo cannot read or write in any language; she has few "close friends," she says, and some of the men she has spent time with, whom she does not call fiancés or boyfriends, but "just friends," appear to have taken advantage of her. One, now in a federal detention center in Arizonaawaiting deportation after a drug conviction, won her confidence—and, she says, access to her bank accounts—by giving her fake designer bags: "Six or seven of them," she says. "They weren't very good." Her face goes almost blank. "He was my friend that I trust—that I used to trust," she says.