GODSON OF SOUL
He 'Splits Open The Room' When He Performs: James Brown Impersonator Gets Own Exhibit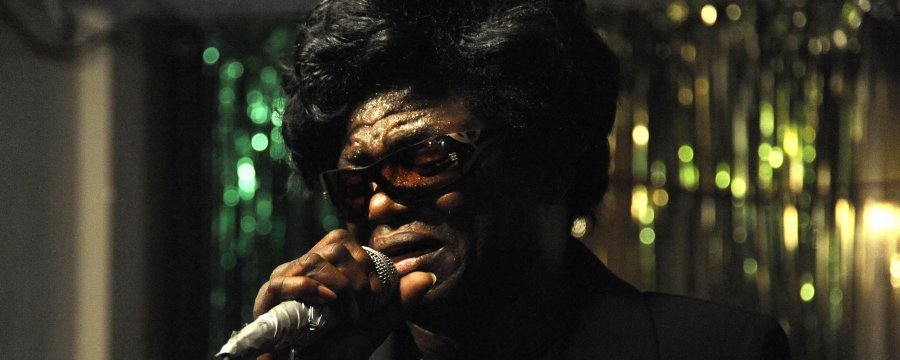 When photographer Kelsey Bennett first saw James Brown impersonator Black Velvet's act last summer, she knew she'd found her next subject. "When you see him perform he just kind of splits open the room," she says. "He has so much passion in his performance, and it's like he's channeling James Brown's spirit."
Bennett was enrolled in a workshop with the Pulitzer Prize-winning lensman David Turnley at the time, and her next assignment was to spend a week photographing a stranger. After watching Black Velvet (otherwise known as Charles Bradley) take the stage at Tip Top Bar & Grill, a club in her friend's Bedford-Stuyvesant neighborhood known for its popular soul nights, she approached the singer and proposed the project. "He didn't skip a beat and said, "Do you think that this will make people happy?'" she recalls.
The resulting images — 10 framed shots supplemented with smaller 8×10 snapshots of Bradley's private life — will be on view at the Christopher Henry Gallery in Soho starting tonight and running through August 14.
In addition to shooting three Black Velvet shows, Bennett spent time at Bradley's mother's home, where she was able to connect with the performer on a more personal level. "If you have a camera in front of your face, you're not making eye contact with someone," she explains. "I think it's really important to be face to face with the person so they know you're not just there to capture them; you're there to know them and you care about gaining their trust, which I genuinely do."
Bennett says one of her favorite shots was taken just after Bradley had finished showing her his elaborate hand-sewn costumes, which include sequined capes stitched together from thrift-store evening gowns. "He has his arm propped up against the closet door and his gold cape thrown over his shoulder, and there's something in his expression… you can tell that he trusts me and that he's happy that I'm there doing what I'm doing."
She also notes that re-creating Tip Top's convivial atmosphere for gallery goers with a video installation was a key part of the project. "My first experience there changed my life, in a certain way. We're building a stage, putting the same tiles on the ground, and I have a recorded performance that's going to be projected on top of the stage as if he's playing."
Working on the exhibit deepened Bennett's own appreciation for the Godfather of Soul. "I always liked James Brown, but seeing how much Charles loves him made me buy more records and want to know more about him. Charles saw James Brown play for the first time at the Apollo in 1962 and he describes it as if he was being brought into a different world." Bradley went home that night, at age 16, tied a string to a broomstick, and practiced Brown's signature mic-stand-whipping moves.