Barry Bonds found guilty of obstruction
Barry Bonds, baseball's all-time home run leader and from 2000 to 2004 easily the most dominant player since Babe Ruth, will wake up Thursday as a convicted felon. One of the game's greatest players — seven times his league's Most Valuable Player — was found guilty on Wednesday of evading and misleading a grand jury in 2003. A San Franciso jury convicted him of obstruction of justice.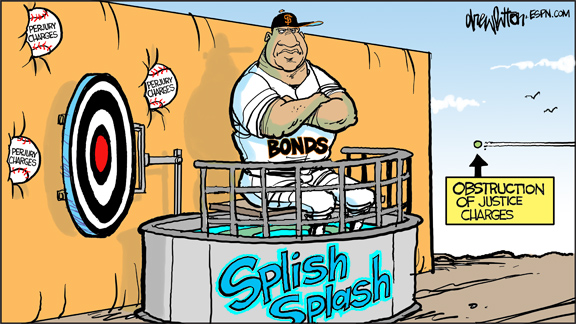 Barry Bonds avoids perjury convictions
Barry Bonds leaves the courthouse Monday as the jury continues to deliberate in his perjury trial. (Marcio Jose Sanchez/AP)
Bonds, the Major Leagues' all-time leader in home runs and a seven-time Most Valuable Player, is standing trial on three counts of making false statements and one count of obstruction of justice based on his appearance before the BALCO grand jury, in which he denied knowingly using performance-enhancing drugs. One charge of making false statements was dropped prior to closing arguments.
update: 4/11/
Bonds jury ends second day without verdictBy Howard Mintz hmintz@mercurynews.comPosted: 04/11/2011 04:05:41 PM PDT
With lawyers sometimes nervously wandering the halls, peering at their smart phones for a hint of progress, the federal jury in the Barry Bonds perjury trial on Monday finished another day of deliberating without reaching a verdict.The eight-woman, four-man jury will return to federal court in San Francisco on Tuesday morning to begin their third day of deliberations. The jurors have been methodical, asking to review two crucial pieces of evidence and clearly sorting through the legal wrinkles in the case before deciding the home run king's fate.Bonds, 46- faces three counts of perjury and one count of obstructing justice for allegedly lying to a federal grand jury in December 2003 about using steroids.On Monday, the jurors began their deliberations by getting testimony read back in the courtroom from one of the prosecution's chief witnesses, Kathy Hoskins, Bonds' former personal shopper. She testified she saw Greg Anderson, Bonds' former personal trainer, inject Bonds in the stomach, which would be the only firsthand account of such an encounter.Bonds has spent deliberations for the most part ensconced in an attorneys' lounge on the 18th floor of the federal building, accompanied by his lawyers and supporters, including his mother, Pat Bonds.
The biggest lie for guys like Barry Bonds and Roger Clemens is they didn't need drugs to stay great
Mike LupicaUpdated: Thursday, March 24th
Antonelli/News
Barry Bonds is using the defense that he didn't know what his trainer was giving him.
Cataffo/News
Roger Clemens is likely to use the same strategy when he goes on trail for lying to Congress.