Global Economic Periscope #3
Indy media starting to admit Adams was right: Crypto industry "riddled with con artists, scammers and fraud"
A Canadian cryptocurrency exchange is reportedly filing for bankruptcy following the highly questionable "death" of its CEO and corresponding "loss" of nearly $200 million worth of customers' crypto assets, once again raising the question: Is there anythinglegitimate going on in the crypto world that isn't a total scam?
QuadrigaCX, which had been Canada's largest cryptocurrency exchange prior to its sudden collapse, was seemingly a trustworthy storehouse of its customers' crypto wallets – its CEO, Gerry Cotten, also a seeming humanitarian who, prior to his alleged "passing away," was supposedly traveling in India where he was "opening an orphanage to provide a home and safe refuge for children in need."
But many are asking serious and pertinent questions following the news that Cotten was allegedly the only person at QuadrigaCX who possessed the "keys" to the company's crypto wallets, and that he somehow failed to share these keys with anyone else – even though he knew he was sick.
The official story is that Cotten let out his final breath after suffering "complications" associated with his "Crohn's disease," and that remaining employees at QuadrigaCX have had "no luck" gaining access to the hundreds of millions of dollars' worth of crypto coins that are now supposedly inaccessible by anyone.
"Since his death, 115,000 customers of the exchange have been struggling with Mt. Gox-style 'liquidity issues' as those trying to withdraw their funds have suddenly found it extremely difficult – if not impossible – to do so successfully," explains ZeroHedge.com.
Crypto  General News
Binance has partnered with Israel-based payments processing firm Simplex to allow purchases with Visa and MasterCard. At launch, credit card purchases will be enabled for BTC, ETH, LTC and XRP – tradable against the 151 other tokens Binance offers.
Boerse Stuttgart Group, Germany's second-largest stock exchange, has launched a mobile app for crypto trading after a year of development. The Bison app is available on iOS 9+ and Android 4.4+ devices in Germany, and allows users to trade in BTC, ETH, LTC and XRP and fund their accounts with euros – along with zero trading fees and a built-in wallet.
B2C2, an electronic OTC trading firm and crypto liquidity provider, has received the green light to offer crypto derivatives in the U.K. The FCA regulated firm will offer crypto contracts for difference (CFDs) for BTC, BCH, ETH, LTC and XRP.
Cboe has resubmitted its joint proposal with VanEck and SolidX after being withdrawn earlier this month due to the U.S. government shutdown.
Cottonwood Vending LLC is the latest company to receive New York's coveted BitLicense and is now the third Bitcoin ATM operator to do so.
Fidelity announced its crypto trading and custody platform is in its "final testing" phase. The release noted the company has on-boarded "a select set of eligible clients" already.
IBM has completed a trial of blockchain technology to track a shipment of 28 tons of mandarin oranges from China to Singapore. IBM created an electronic bill of lading, or e-BL, which sped up administrative processes "to just one second" along with reducing costs.
Prime Trust, the Nevada trust company, announced it has removed all fees for storing cryptocurrencies – in line with what it charges to custody stocks and bonds.
QuadrigaCX, the Canadian crypto exchange, is filing for protection from creditors, a step taken to avoid bankruptcy. QuadrigaCX has asked the Nova Scotia Supreme Court to appoint Ernst & Young (EY) to act as independent third party to oversee its proceedings.
Staked, a startup that provides institutional investors with the infrastructure for non-custodial staking, has received $4.5 million in a seed round led by Pantera Capital. Notably, a Bloomberg article published today suggests proof-of-stake (PoS) token investors have a unique option to survive the protracted crypto market slump: staking their holdings.
Bitcoin News
Customers face further uncertainty after Canada's largest cryptocurrency exchange QuadrigaCX files for creditor pro… https://t.co/kC193TtC0r
2019-02-03
Cryptocurrencies
Ethereum $107.72 USD (0.17 percent) anticipated test net solution, Görli blockchain, launched today. Görli will function as the test network to initiate new validators, as part of "phase zero" – Prysmatic Labs test for Ethereum's shift towards proof-of-stake (PoS).
Stellar's $0.083537 USD (0.32 percent) micropayments startup SatoshiPay is partneringwith Axel Springer, a publishing house owning some of Europe's largest newspapers.
Ripple $0.309756 USD (0.49 percent): SBI CEO Yoshitaka Kitao just gave a speech on the impact Ripple and R3 will have on international payments: "Swift have run out of options, Swift have given up on what they can do internally."
Bitcoin is NOT decentralized: Just 1,000 accounts control 85% of all Bitcoins in the world… and they easily rig market swings to skim profits from the masses
A sizable number of formerly dormant Bitcoin wallets are mysteriously coming alive, new reports indicate – including the relatively small handful of Bitcoin wallets that collectively hold upwards of 85 percent of the world's total Bitcoin supply.
Following the recent mega-decline in Bitcoin's value, where the popular cryptocurrency dropped in value from around $20,000 per coin last year to around $3,500 per coin at present, many Bitcoin wallets that have been inactive for anywhere between six months to two-and-a-half years are suddenly "waking up" – which has investors projecting more wild price swings for Bitcoin in the near future.
It would appear as though Bitcoin's earliest adopters, many of whom have been sitting on somewhat large amounts of the cryptocurrency and doing nothing with it, are suddenly getting in on the action. According to Flipside Crypto, the number of inactive Bitcoin accounts has plummeted from nearly four million back in September to well under three million as of this writing.
"The owners of some of bitcoin's oldest accounts — many of which have long been dormant — have shown signs of life starting in October," explains Zero Hedge, citing data recently published by Bloomberg about where Bitcoin could be headed now that the old dogs are starting to play the game.
"The actively-traded supply of bitcoins has risen 40% since last summer … This is important because a similar pattern preceded large price swings in 2015 and 2017, most recently foreshadowing the frenzy of (manipulation aided) buying that sent the price of a bitcoin to $20,000 briefly before prices cratered the following year."
As rumors about a possible Deutsche Bank merger with rival troubled German lender Commerzbank continue to swirl despite the seemingly never-ending investigations into a suite of alleged misdeeds by the bank, Bloomberg has given would be merger arbs weighing whether to buy the German lender's battered shares one more reason to hold off.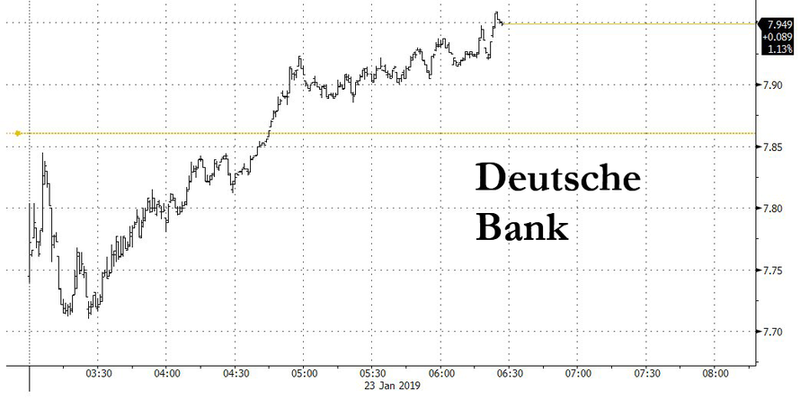 Bankruptcy is a when, not an if… Whether they realize it or not, they're playing with nuclear warheads that could annihilate not just the French, but Europe's and the entire world's financial system…"


Jan 14, 2019
Jan 14, 2019